Welcome
Welcome to the official web site of the Embassy of Namibia to Belgium, the Netherlands, the Grand Duchy of Luxembourg and Mission to the European Union.
Namibia is a modern and accessible country with excellent business opportunities, making it a perfect gateway to Southern Africa.
Namibia offers an excellent transport and communications infrastructure. The port of Walvis Bay has shown exponential growth on a yearly basis. Namport leads the stats of growth, as well as the transport corridors linking Walvis Bay to landlocked countries, but also to Angola and South Africa.
There are many excellent investment opportunities in Namibia. Recently the Ohorongo Cement Plant has gone into operation, with a production of 700,000 tons of cement per year, the most modern of its kind in Africa.
Every year more and more tourists discover the breathtaking beauty of Namibia with its magnificent wealth of cultures, the endless desert, wildlife and scenery.
Please feel free to contact us regarding any further questions you might have.

H.E. Dr. Kaire Mbuende
Ambassador

Press Release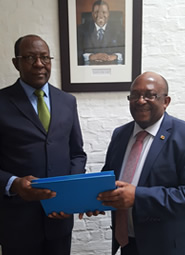 The Ambassador of the Republic of Zimbabwe, H.E. Tadeous Tafirenyika Chifamba, handed over the coordination of the Southern Africa region group of Ambassadors in Brussels to the Ambassador of the Republic of Namibia, H.E. Dr. Kaire Mbuende.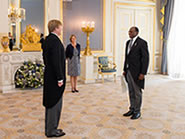 Ambassador of Namibia presents credentials to the King of the Netherlands


Embassy News
24 February 2017
Windhoek-The mining industry remains one of the largest contributors to Gro...
06 February 2017
Windhoek-The National Commission on Research, Science, Technology and Innov...
25 January 2017
Hangana Seafood was recognised as the top performer of the Ohlthaver & List...