Namibia to focus on manufacturing
WALVIS BAY – Deputy minister of industrialisation Verna Sinimbo says they remain imperative for Namibia to continue focusing on expanding the services and manufacturing sectors if Namibia aims to be a fully industrialised nation by 2030 as both sectors account for more than two-thirds of the economy.

Responding to questions raised by the media last week during her familiarisation visit to the coast, Sinimbo explained the industrialisation agenda of Namibia is within the ambit and mandate of the ministry, whose response is limited.
"Namibia aims to be a fully industrialised nation by 2030, with both services and manufacturing accounting for more than two-thirds of the economy. Similarly, within the SADC Industrialisation Agenda, it is the regional wish for the manufacturing sector to attain more than 30% of manufacturing value added to the economy by 2030," she explained

According to her, Namibia has done very well in the service sector; however, both the public sector – but mainly the private sector – need to do more to attain more than 30% of manufacturing value added to the economy by 2030.
Currently, she says, Namibia's regional manufacturing value added to the economy hovers around 11 to 12 %, while the service sector constitutes a larger section, approaching even 60% of the gross domestic product GDP in many countries.

"Therefore, it remains imperative for Namibia to continue focusing on expanding the manufacturing side of the equation whilst equally, also during integration of both sectors as the service component in some of the manufacturers, becomes imperative to the whole value chain. To this end, the Growth at Home Strategy agenda is to infuse the identification and promotion of new value chains to help drive the growth of manufacturing value," Sinimbo said.

She added the ministry in 2016 launched 10 sectoral growth strategies for cosmetics, wildlife products, leather, metal fabrication, handicrafts, gemstones and jewellery, seafood processing, charcoal and taxidermy.
"In 2019, the biomass subsector was identified as a key growth area as well. Similarly, the ministry has initiated key industrial projects to ensure catalytic investment in the industrialisation space such as in automotive and in beef cold storage facilities," explained Sinimbo.
Hence, she says, attaining industrialisation will not only depend on the ministry but should be a collective effort, as major interventions such as supportive project enhancements on energy costs, industrial land availability, viable communication costs and other economic incentives are needed.

"Some of these supportive project enhancements are to be captured in new policy and legislative work such as for the special economic zones regime, which will be tabled soon. Harnessing these strategic areas and sectors will ultimately enable us on a firmer footing to ensure our Vision 2030 and SADC industrialisation agenda is fully attained," she concluded.


Eveline de Klerk
Source: © Neweralive - https://neweralive.na/
Bank Windhoek to host online event on smart-agri practices
Bank Windhoek, in collaboration with the Deutsche Gesellschaft für Internationale Zusammenarbeit (GIZ), the Namibia Nature Foundation (NNF), and Namibian Organic Association (NOA), will host a two-day online agricultural event, on Wednesday and Thursday, 7 and 8 October 2020.

With reputable Australian Soil Ecologist, Dr Christine Jones, as the key speaker, the event will be a four-part series on Transforming to Smart-agriculture Practices, under the following themes: Regenerative Rangeland Management for Climate Change Adaptation; Organic Agriculture and Nutrition, Agriculture Economics, Business and Marketing and the Role of the Bank in Financing Climate Change Initiatives. The Bank Windhoek Agriculture Series will be live-streamed on the Bank Windhoek Facebook and YouTube pages.

Bank Windhoek's Executive Officer of Marketing and Corporate Communication Services, Jacqueline Pack, said that as a connector of positive change and responsible corporate citizen, the bank believes in driving progress in the communities in which it operates. "The agriculture sector is a pivotal stakeholder to Bank Windhoek and our country; thus, we believe it is important to engage and have knowledge sharing sessions that contribute to progress in the agriculture sector," she said.

The importance of agriculture in Namibia
Research has found that 70% of the Namibian population directly or indirectly depends on agricultural activities for their livelihood through employment and subsistence agriculture. The sector annually contributes 3.5% to the country's Gross Domestic Product (GDP). "This shows the imperative role agriculture plays for the country, hence the need for increased investments, productivity, and engagement," said Pack.
The agriculture sector is the biggest employer, constituting 24% of the labour force. However, being a semi-arid country, Namibia receives low rainfall with only 2% of the land receiving good rains, and others sometimes receive below-average precipitation. The below-average rainfall affects agricultural productivity and therefore threatens the 70% of the sector's sustainability.

Meaningful collaborations
The NNF and NOA's collaborative efforts entail undertaking joint sustainable agriculture interventions by seeking to align relevant projects and activities and make significant contributions to such development through education, training, and research and extension activities.
GIZ supports the Namibian government and relevant stakeholders in promoting the sustainable and climate-adapted development of the agricultural sector, ultimately leading to improved food security and rural welfare. Following a multi-pronged approach, GIZ works on policy, institutional, and target group levels to foster agricultural production systems diversification and encourage climate-sensitive production methods, namely conservation and promoting innovative agribusiness developments along the value chain.
In cooperation with Bank Windhoek and other financial institutions, GIZ seeks to investigate suitable financing models that will enable small-scale farmers and agricultural enterprises to enhance the sustainable utilisation of natural resources and improve their productivity and profitability.

"The Bank Windhoek Agriculture Series aligns with both NNF and GIZ's objectives of investing, seeking sustainable solutions, which benefit Namibia's agriculture sector," concluded Pack.
Photo: Smart
Caption: Dr Christine Jones


Staff Reporter
Source: © Neweralive - https://neweralive.na/
Aspiring coders get a playground
TECH enthusiasts and coders can now benefit from a physical space with equipment enabling them to conduct their business efficiently.

This was announced by the DoBox Trust recently.

Paratus Namibia, who is powering the space called CodeCave with internet access, released a statement on Wednesday indicating its aim is to boost the entrepreneurial and technological ecosystem in Namibia.

The DoBox Trust, which is part of the Dololo, will be operating the facility at a fee for all those who need a space to fulfil their coding needs.

To change Namibia´s tech ecosystem the DoBox Trust has partnered with the Finnish embassy´s Fund for Local Cooperation (FLC) to establish the CodeCave.

This space will offer budding entrepreneurs a shared space with access to computer facilities, and it will empower coders and software developers to improve their skills, exposing them to a dynamic network at the same time.

The project will provide shared resources for teaching coding and software development.

Dololo co-founder, Chantal Claassen, says: "We are extremely proud of how far we have come with the DoBox and how we are impacting the tech and entrepreneurial ecosystem by providing platforms such as CodeCave to further grow the economy."

Andrew Hall, Paratus Namibia´s managing director, says the internet sponsorship meets their vision of empowering future generations by bridging the gap of access to technology and information.

He says through innovative services such as the CodeCave entrepreneurs are given a platform to excel, and it provides a much-needed boost for the technology ecosystem and the Namibian economy as a whole.

Hall says information and communication technology will always remain a key enabler for economic growth, and the company will remain committed to creating an unlimited future for entrepreneurs and innovators.

In creating awareness, the CodeCave is inviting freelancers who need a place to code, and coding enterprises to a 30-day user promotion.
Source: © Namibian - https://www.namibian.com.na/
ICT sector rakes in N$2.7 billion
The information and communication technology sector last year generated revenue of almost N$2.7 billion from about N$454 million invested, while 7 141 people are employed in the industry. This is according to the infrastructure development pillar of the Harambee Prosperity Plan (HPP) II.
On the state of ICT development in the country, the government has established 26 multi-purpose community centres (MPCCs) across the country.
The centres have been equipped with internet connectivity. Under the second phase of the HPP, government plans to develop and prioritise the implementation of the broadband policy which dictates the international bandwidths, fibre network expansion, fixed broadband connectivity, mobile broadband connectivity, broadband connectivity to health facilities, schools, and household level as well as the establishment of the National Cybersecurity Incident Response Team.
Under the infrastructure pillar in the first phase, the ICT sector faced some challenges such as the approval and environmental clearance for new towers, availability of electricity, especially in the rural areas, vandalism and theft of communication infrastructure.

Schools connect or learners connect project funding which focuses to connect all schools, all learners and teachers households and to provide them with devices to access online learning requires significant funding.
The small population of Namibia was also a factor in the form of low economies of scale for the sector. Inadequacy or absence of government budget for capital expenditure in ICT infrastructure was another challenge. Through the second phase, the government planned some actions to mitigate the challenges such as to popularise public-private partnerships between government and the ICT industry, introducing of sector-targeted incentives for investors and creating partnerships to embark upon process re-engineering on processes deemed to be directly or indirectly hampering progress. About 83% of Namibia has access to 3G coverage and only 34% has access to 4G. About 81% and 86.2% of schools and health facilities, respectively, have access to the internet.
–mndjavera@nepc.com.na


Maihapa Ndjavera
Source: © Neweralive - https://neweralive.na/
Mcube Investments lists on NSX
The board is pleased to announce that Mcube has been listed on the Development Capital Board of the Namibian Stock Exchange (NSX) as a Capital Pool Company (CPC) on Friday, 31 July 2020.

"The listing of Mcube may be the catalyst needed to increase the number and diversity of local companies represented on the Namibian Stock Exchange. Mcube is most certainly the smallest NSX listing undertaken to date and represents an efficient mechanism for companies to list on the exchange," said John Mandy, founder and executive director.

Mcube was formed and incorporated in Namibia on 1 September 2016, by the founder as a non-operating cash entity, which will participate in the growth of the capital market of Namibia as a CPC. The cash-shell nature of CPCs, and the Listing Requirements for CPCs, requires that at the time of listing these companies have no on-going operations. Mcube, which is listed by way of introduction, will not raise any additional capital in conjunction with the listing.

Tiaan Baziun, NSX CEO, commented: "The NSX is glad to see another CPC listing. This product is ever-evolving, and we hope to see more such endeavours to allocate our capital in the local market usefully."
According to Mcube's board of directors, the CPC product provides endless possibilities to assist in resuscitating the Namibian Economy by broadening the innovative structuring available through the NSX.

"In the current market circumstances where companies struggle to raise capital, we believe that Mcube and the CPC product provides a versatile mechanism to growing companies with capital needs, giving them access to alternative capital markets to fund their new projects and/or growth," said Romé Mostert, co-founder of Cirrus Capital, the sponsor of Mcube.
The board will manage Mcube's business and investment strategies.

According to a statement by Mcube, its board has extensive know-how, knowledge, and experience of the Namibian small and medium enterprise industry, as well as large corporate institutions.
While Mcube is currently considering several acquisitions, no formal or binding agreements have been entered into before the listing.
"The hard work starts now, and Mcube is open for business to assist in determining the optimal capital structure and guide others through the listing process," read a statement by the company.

Mcube and the CPC product is an alternative vehicle for listing on the NSX and, was designed as a response to the growing need for simpler access to the capital markets in Namibia.
"As an entrepreneur, I have always dreamed of listing a company, and this is now a reality that can be realised for other entrepreneurs," concluded the chairperson of Mcube, Amos Shiyuka.
Meanwhile, Mcube also confirmed the proposed appointment of Vincia Cloete, an experienced corporate governance and legal consultant, to the board of directors with effect from yesterday.

Staff Reporter
Source: © Neweralive - https://neweralive.na/
Green bond injects N$66 million in clean energy
NAMIBIA´S first listed green bond has raised N$66 million, funding the generation of various types of renewable energy around the country, envisioned to reduce the country´s carbon footprint.

The funded renewable energy projects are expected to generate 77,9 million kWh of electricity in the next five years and reduce 305 710 tonnes of carbon dioxide-equivalent greenhouse gasses in the next 25 years.

This was revealed by a Bank Windhoek assessment in the Green Bond Impact Report released a week ago.

The report indicated from the initial issuance of the green bond it raised N$66 million from the capital market (from institutional and individual investors), which was used to fund seven solar photovoltaic-generating (S-PV) projects.

Collectively, the projects have an installed power-generating capacity of 6 350,8 kW and can contribute 15,6 million (kilowatt-hours (kWh) of electricity annually to the country´s overall electricity production – which currently meets only around 40% of its local demand.

Out of the seven S-PV projects, three are to power agricultural projects.

Combined, they have installed capacity of 69,8 kW, and can generate 123 570 kWh of electricity together annually.

An S-PV can also be off-grid system provides users the opportunity to produce and store electricity where no connection to the utility grid is available or undesirable.

The other four projects that are also grid-tied-generating systems connected to the utility (NamPower) grid, enabling the consumer to use as much power from the S-PV system possible during the day, and in the event of no electricity being generated by the solar PV system, power is drawn from the grid.

The biggest of all the funded projects is the S-PV ground-mounted system with integrated axis tracking, located at Okatope in the Ohangwena region, in the north.

According to the report, it has a 5,74 MegaWatt (MW) capacity and has a power purchase agreement (PPA) in place, with NamPower to supply renewable energy for 25 years.

On a yearly basis, it can generate 14,6 million kWh of electricity while reducing 14 350 tonnes of carbon dioxide-equivalent (tCOe2) greenhouse gasses.

The Okatope project took up N$57,2 million of the funds raised by the bond.

The second largest project to be funded is the commercial roof-mounted grid-tied solar PV system, with an installed capacity of 300 kW.

The configuration is estimated to generate 452 345 kWh during the first year of operation, at the same time reducing 443,35 tCOe2 annually.

The projected annual savings on electricity costs amount to N$788 168 during the first year and is expected to increase by 6% on average per annum, the report stated.

The severe drought experienced across the country, increasing energy costs and the country´s reliance on Eskom for electricity imports have put sustainability and investment in energy production at the top of many business and household agendas.

Namibia´s hot and dry climate and abundant sunlight for more than 300 days a year, means up to 2 200 kilowatt-hours kWh) per square metre are recorded annually in the country.

This serves as evidence that Namibia is the ideal spot to harness sun energy.

Green bonds are generally fixed-income instruments of which the proceeds are exclusively applied to financing or refinancing new or existing eligible green projects.

The green projects need to be aligned with the four core components of the International Capital Market Association´s (ICMA) Green Bond Principles (GBP).

The bank raises a fixed amount of capital, repaying the capital and accrued interest over a set period of time.

The bond was launched to ensure potential clients have sufficient access to funding that supports Namibia in its transition to an environmentally sustainable and low-carbon economy.

Bank Windhoek is an implementing partner of the Sustainable User of Natural Resources and Energy Finance (SUNREF) programme by Agence Françoise de Development (AFD).

The green bond is part of Bank Windhoek´s aims to obtain additional sources of funding for its green lending activities by raising funds in the debt market through a local green bond issuance.

Namibia is self-sufficient in about 40% of its electricity demand, and imports up to 61% of its power supply, according to the report.

At the time of reporting, the impact report stated 70 MW of renewable energy for the national power grid was generated from 5MW PV as part of the Namibia Renewable Energy Feed-in Tariff (REFIT) programme.

In total, 19 independent power producers have signed power-purchasing agreements with NamPower to supply a total of 175,5 MW from renewable energy sources by the end of 2020.

In addition, according to the National Renewable Energy Policy, Namibia should aim to become energy secure and aim to be a net exporter by 2030 by leveraging renewable resources.

This translates into a commitment that at least 70% or more of Namibia´s electricity capacity should be from renewable sources by 2030.

The Modified Single Buyer Model (MSB) and the IPP policies are envisioned to increase domestic supply and curtail imports.

The MSB market model will allow eligible IPPs to generate and sell electricity directly to customers, such as regional electricity distributors (REDs), large industrial and mining companies, municipalities and local authorities.

– erastus@namibian.com.na
Source: © Namibian - https://www.namibian.com.na/
MTC revenue grows by 4.62% to N$ 2.6 billion
Maihapa Ndjavera

MTC's Chief Financial Officer Thinus Smit yesterday outlined the financial results of Namibia's first cellular service provider when he confirmed an increase in revenue by 4.62% to N$2.614 billion for the 2018/19 financial year.

MTC's earnings before interest, taxes and amortisation (EBITA), which is a measure of company profitability used by investors, decreased by 10.1% to N$1.345 billion (2018 N$1.496 billion), mainly as a result of the adoption of International Financial Reporting Standards (IFRS) 15, which managed the way MTC accounts for postpaid subscription revenue.

At the announcement of the financial results, Chief Commercial Officer Melvin Angula highlighted that MTC has achieved an annual growth compound rate of 4.5% in revenue, which also indicated 9.6% increase in net profit since 2014. He said the company has worked hard in ensuring they can migrate all customers from 2GB services to digital access (likes of 3G, 4G and 4.5G).

"Our revenue growth has been one of those key elements that have shown that amid the economic climate and issues we are going through right now, we have become innovative enough to find other revenue sources and other key enablers and other value-added services that set customers' needs apart from the three basic services MTC has been providing the past couple of years. That is how we came to Taamba services that were recently introduced," noted Angula.

MTC is the largest telecommunications operator in Namibia, serving over 2.5 million subscribers. It reported it has extensive distribution networks of 36 mobile homes, 29 dealerships (airtime sellers and distributors), and 24-hour customer contact centres and network management, as well as technical quality centres. MTC still controls a 91% mobile market share in terms of Namibian communications and provides 97% population coverage, which aims to increase to 100% by 2021.Angula said achieving 97% given the Namibian landscape is a huge milestone in terms of how much MTC is doing in trying to connect all communities in the country. "It is quite a big milestone and a lot of investment being put back in ensuring that all our customers can connect to the MTC family where ever they are," he said. In terms of social responsibility, MTC has donated about N$15 million towards football in the country, specifically the Namibian Football Association, about N$7.8 million to the Namibia Music Awards, as well as over N$16 million to support boxing initiatives. In enabling communities, MTC also has a national internship program taking in about 160 students every year.
– mndjavera@nepc.com.na
Source: © Neweralive - https://neweralive.na/
Preparations for Opuwo Trade Fair on track
PREPARATIONS for the ninth annual Opuwo Trade Fair are underway, says the assistant in the Opuwo Town Council´s economic development division, McSean Makono.

He said the council is organising a gala dinner to be held at the town´s VIP Park this Saturday to raise funds for the trade fair. The gala dinner will also be the official launch for the trade fair which is set to run from 25 to 30 May 2020.

"The gala dinner will be held on Saturday and the keynote speaker will be vice president Nangolo Mbumba," said Makono.

He said this year´s fair will be held under the theme ´Unlocking Trade and Investment Opportunity Towards a Shared Economic Vision´, which was adopted because of the town´s enormous business opportunities and potential.

The town is also hoping to lobby investors in sectors such as servicing and development, the building of private schools and hospitals, a tourist information centre, accommodation facilities, and hotels, as well as promote small local businesses.


Tickets for the gala dinner are available from the council chambers, said Makono, and the next gala dinner will be held in Windhoek on 2 April 2020.

Registration for exhibitors started on 9 February and is set to close on 10 April.

Makono added that this year´s fair will include more agriculture components as the town has partnered with Agra and MSD Animal Health.

– Nampa
Source: © Namibian - https://www.namibian.com.na/
TEN small and medium enterprises represented Namibia at the Vivaness 2020 organic and natural cosmetics trade fair in Germany where they exhibited beauty products made in Namibia from 12 to 15 February 2020.

The group attended the trade fair under the joint support of the Namibian Network of the Cosmetics Industry (NANCi), the Deutsche Gesellschaft für Internationale Zusammenarbeit GmbH ´promotion of business advisory and economic transformation services´ and the Ministry of Industrialisation, Trade and SME Development.

NANCi, the network for the local health and beauty industry, is a direct result of a public-private collaboration driving the implementation of the Growth at Home strategy launched by the trade ministry in November 2016.


NANCi chairperson Stefanie Hümmer, who was part of the delegation with her company !Nara Namibia Natural Cosmetics, said the Vivaness trade fair was inspiring.

The Vivaness fair is one of the biggest and most important trade fairs of its kind worldwide.

"We were able to see our Namibian offering in the context of the international health and beauty products´ market. And I can proudly state that cosmetics made in Namibia are competitive in the global market," she said.


Hümmer said: "The global market has moved away from simply labelling our products under ´fair trade´ and recognises African products under ´real trade´. Meeting our buyers – new and current – at the same level is refreshing and provides impetus to cosmetics made in Namibia to forge ahead in the global market."

NANCi aims at developing and promoting an inclusive, diversified, profitable and vibrant health and beauty industry in Namibia.


The delegation presented certified natural and organic health and beauty products.

All product categories represented were refined natural oils from marula, ximenia, Kalahari melon and jojoba seeds; health products like devil´s claw tea and food supplements; and cosmetics end-products made from Namibian ingredients, including novel ingredients like salt and charcoal powder from Namibia.


The 10 SMEs represented cut deals, which would increase Namibia´s footprint on the international markets, bringing home the much-needed foreign currency and creating both direct and indirect jobs, especially in the rural communities of Namibia.

Email: charmaine@namibian.com.na

Twitter: @Char_Ngatjiheue
Source: © Namibian - https://www.namibian.com.na/
Valentine's Day collaboration sets tone for entrepreneurial landscape
Local entrepreneurs, Shiwomeho Kalla, of Shiwa The Baker, and Mutindi Jacobs of Karibu Flowers, are using the power of collaboration as a business-building strategy this Valentine's Day. No stranger to the phrase, "there is strength in numbers", these trailblazers have shown there is great power in women from different niches, at different stages of their careers, working together to move forward as a united front.

"We launched our first Valentine's Day campaign in 2019, and after overwhelming success with it, we decided to do it again, only this time, bigger and better," said Kalla.

The duo is collaborating on an exciting project aimed at diversifying the products available on Valentine's Day. On offer is a selection of luxury hampers stocked with premium delights including, Shiwa The Baker's "red velvet cheesecake jar," as well as Karibu Flowers' famous "flowerbox". Included in the collaboration are Karibu Flowers' recently launched "Pandora's Box", made up of long-stemmed roses and a classic box of chocolates.

Shiwa The Baker is known for their signature decadent confectionary treats. This will be the second time the cake jar is offered to the public, but the first the jars are personalised.

"We found a way to maintain brand relevance, all the while providing customers with the individuality and personalised experience they desire. The ultimate goal is to create a premium experience for our customers during the month of love and romance," said Kalla.

Jacobs, who introduced preserved flower boxes last year, challenged herself once again to bring something new to Namibia.

"We are excited to be at the forefront of floral innovation and trendsetting, and this time around, we are introducing the "Pandora's Box". Pandora means "the one who bears all gifts" in Greek and is used as a metaphor for curiosity and fascination. Our Pandora's Box is presented sealed. Inside is a bed of a dozen long-stemmed premium roses, sealed in water tubes to keep the roses hydrated throughout the day," said Jacobs.

The collaboration last year between the two started the movement, #collaborationovercompetition. The mission was to encourage more women to work together and support one another to increase power and access to their networks.

"What we have witnessed in the entrepreneurial sphere are numerous collaborative efforts mushrooming, particularly between and by women. We are so proud to be pioneers of the #collaborationovercompetition movement, and look forward to reinventing ourselves with every collaboration," said Kalla.

"Our objective is to continuously improve our product and service delivery, evolve, and reinvent ourselves. This is primarily why we keep introducing new products to the market. There is so much inspiration out there and our goal is to draw from it, "Namibian-ise" it, and make it our own", said Jacobs.

At the core of both their enterprises are the philosophies of empowerment and collective power. As entrepreneurs, Kalla and Jacobs believe in rising and winning together, and it is this similarity that attracted the one to the other.
Source: © Neweralive - https://neweralive.na/
Team Namibia, Finnish embassy train SMEs
NAMIBIAN products and services cheerleader organisation Team Namibia and the Finnish embassy last week concluded the training of 16 Katutura small business owners in an effort to improve on the Namibian economy by supporting local products and services.

The business owners who benefited from the training include those in the production of paper flowers and décor for the extensive wedding and events market, the making of marshmallows, cakes and cupcakes as well as the manufacturing and supply of cleaning materials and washing powder.

Service providers who were trained included those in designing, tailoring and sewing, building maintenance, information technology services and low-cost container housing. Others were in the sphere of imparting knowledge, including training businesses, healthcare for the elderly, and computer software training.

Bärbel Kirchner, the account director of Team Namibia, said out of 400 applicants that wanted to participate in the training project, 16 are running viable businesses. All participants are based in Katutura, and many have been busy in the informal sector.

"These are registered businesses, mostly close corporations. Most have opened their business bank accounts, to increasingly start differentiating between their business and their personal income, which is a good start to gain personal financial control," said Kirchner.

She said the programme allowed Katutura-based entrepreneurs to gain knowledge and insight to run their businesses more effectively through the creation of sustainable ventures, generation of income and the employment of others.

The project, called the Mobilisation of Production and Trade Capacities of Namibian Small Enterprises in Katutura, is aimed at training and mentoring 25 selected small-to-medium-sized business owners from Katutura by equipping them with the ability to establish successful enterprises.

Team Namibia said the small-to-medium enterprise (SME) owners had to attend 25 days of training on basic business principles, preparation of business plans, introduction of marketing, business management and organisation, as well as costing.

Additionally, they were trained on email, internet and social media marketing and as a result, many now have pages on Facebook, Twitter, Instagram, and LinkedIn, and have been taught to create their images by using the graphic design tool Canva.

Finland´s ambassador to Namibia, Pirkko-Lisa Kyöstilä, said it was important to support local entrepreneurs.

"We all can make a difference by supporting local products and services. When you buy a ´Made in Namibia´ product, you not only promote job creation and growth, but you also act in a climate-wise manner, protecting our beautiful planet Earth," she said.

Apart from receiving certificates of attendance, some participants were also awarded prizes. Best commitment and best organisation were awarded to Selma Nampila for tailoring and sewing services. The best marketing and new business leads awards went to Ndahekelekwa Paulus for the production of marshmallows, and Gabriel Uirab received the best turnover for providing training services in healthcare.

Alweendo Shipopyeni scooped three awards – best employment creation, best financing/investment and overall improvement, for providing computer software training services.

The programme was also sponsored by Denu Stationers, First National Bank of Namibia, Kolok Namibia, Namib Mills, Plastic Packaging, Pupkewitz Holdings and Standard Bank Namibia.
Source: © Namibian - https://www.namibian.com.na/
Windhoek East tackles unemployment
WINDHOEK- Khomas regional council's Windhoek East constituency office has once again demonstrated that it remains at the forefront of driving self-employment in its community when owners of income generating projects recently received equipment or materials worth N$150 000 as part of efforts in fulfilment of government promise of assistance to the citizens in accordance with the policy of job creation strategies in all the constituencies.

The beneficiaries received equipment such as electric generator, chest freezer, steel ladder, welding machine, safety construction helmet, gazebo, tents, braai cookware set, plastic cooler boxes, chairs with tables and many other items that aim at poverty-alleviation or employment creation in the constituency.
The projects that received equipment include catering, plumbing, tourism, bread bakery, butchery, construction and hospitality that create self-employment and at the same time give employment to others within the constituency.

The beneficiaries all agreed that the provision of materials or equipment to support small upcoming entrepreneurs, women, men and youth will always be a contribution in achieving a secured livelihood and empowerment of communities or an effort to find solution for those individuals who cannot qualify to get loans at financial institutions for small projects or businesses.

Most of the beneficiaries were grateful and acknowledged the value of the council and constituency office's assistance and support to the growth of income generating projects in the communities of the region.
Presenting the items to the beneficiaries, the councillor of Windhoek East constituency, Joyce Namuhuja, said that the auspicious occasion of yet another handover of equipment to various owners of income generating projects is the eighth time since the inception of the programme in the constituency, contributing to reduction of poverty, hunger and unemployment in the society.

She was also quick to point out that a large section of the country's most disadvantaged populations is engaged in small scale businesses and the government fully recognises the vital role that small businesses or projects can play in the country's social and economic development which can improve the living conditions of people at all levels. In similar vein, the councillor added that the Income Generating Activities Grants (IGA) in the form of materials are given to community economically viable project owners in order to uplift their existing small business activities in becoming big, sustainable and competitive Namibian companies that make progress or working towards creating industry and employment in the constituency. The councillor reiterated the call to the beneficiaries to place full hard working attributes and be productive to achieve the expected goals of poverty-alleviation or job creation that are socially beneficial and economically viable in the constituency.



Staff Reporter
Source: © Neweralive - https://neweralive.na/
Sowing the seeds of entrepreneurial growth
WINDHOEK - The Start-up Namibia 2019/2020 Accelerator programme, led by GIZ on behalf of the German government, is a nine-month programme that recently commenced. Through the programme, exceptional early-stage Namibian companies were selected to develop their products, sharpen their business models, connect with other start-ups and grow their networks.

The five start-ups went through a rigorous judging process and were chosen based on their performance at the Seedstars Windhoek Boot camp and Pitching event in November 2019. Start-up Namibia is a Namibian-German technical cooperation project. It works together with Namibians to support them in realizing their dream of becoming entrepreneurs and business owners.

The five start-ups that will be receiving support are; Derenas Investment, a tyre recycling plant in Rundu producing crumb rubber to be transformed into pavers, astros, tar roads, etc; Tasked, an app that helps you save time (to focus on important stuff) and money (setting the price) by empowering others (through delegation); Ohunguriva Investment, a poultry farm in Okakarara; EstApp, which brings your happy home to your fingertips through three easy steps connecting buyers with sellers, match roommates; and Ngishe Biotech, producing biogas from organic waste; target group: informal settlements.

Namibia is facing strong economic headwinds and jobs are scarce, especially for young people, even if they are skilled and have a university degree. Entrepreneurship is one way to break the cycle of unemployment, economic hardship and other societal challenges. However, people need to be stimulated, motivated, empowered and supported in taking concepts and ideas for businesses to the next level. GIZ believes that start-ups have the potential to drive the creation of new jobs in Namibia, as well as have a fundamental impact on overall economic productivity. Start-up entrepreneurs bring new ideas to the table and are a catalyst for innovation. The companies may be small, the entrepreneurs may be young, but their ideas are valid and they can play a significant role in economic growth. Their concepts, ideas once turned into reality and into a working business will create more jobs which means more employment opportunities and in turn an improved economy. Which greatly improves society for all within and that is why GIZ supports these activities.

Starting a business is incredibly challenging and support is needed to make a success of any business, big or small. The assistance given comes in many forms, but are all focused on practically guiding the entrepreneurs through the minefield of being a start-up. This support ranges from; mentorship, in-kind support like media and public relations work, legal advice, practical training and pro-bono support on bookkeeping, accounting and financial management. The concept, product or service of these start-ups may be excellent, but if the foundation upon the business is built isn't solid, it will not succeed. That is why this support is vital and mentorship and assistance from professionals in the various fields is worth a lot more than just throwing money at the start-ups.

The start-ups that made it through the very discerning boot camp will have access to a dedicated team of experts that will assist in accelerating their businesses. Allowing the entrepreneurs to avoid pitfalls and speed up the growth of their business. It is often said that it takes a village to raise a child...well, it's really not different when it comes to a business. Successful people with their own businesses and expertise will work as a community with the new businesses to make the next generation of start-ups a success, right here in Namibia.

This includes creating visibility with relevant stakeholders such as corporates and investors as well paving the way for access to new market segments and customers in Namibia and beyond. The opportunities are there for the start-ups providing they know and realize it's an opportunity to grasp with both hands and they will be spoon fed. They will still need to do all the hard work and pioneering themselves…albeit with a lot of support.

Anna Vambe of GIZ said when asked what sets these five start-ups apart; "The five selected start-ups in the 2019/2020 Accelerator have one thing in common: they are hard-working, they have grit and a desire to learn. We believe in their business ideas and can't wait to take them to the next stage."
Source: © Neweralive - https://neweralive.na/
Windhoek Country Club hits N$158m revenue
THE State-owned Windhoek Country Club´s revenue grew to N$158 million for the 2019 financial year, and 52% (N$82 million) of it came from the casino and gaming operations, recently released financial statements show.

The financials are part of the company´s annual report released this week, showing that the company made a N$7,4 million profit for the financial year ending April 2019.

The N$7,4 million profit is a 16% increase from the N$6,2 million profit realised during the previous financial year.

Tony Boucher, the general manager of the company, partly owned by the government said against a reduction in the purchasing power of consumers and clients having become price and value conscious, the company will continue efforts to diversify products and customer bases from traditional source markets into local, regional and emerging markets.

"We intend to continue with a strategy of pursuing new business opportunities, enlisting new source markets, increasing brand outreach and driving repeat and incremental business. These measures, we believe, should insulate us from revenue erosion," Boucher said.

Other than the casino and gaming, the company also runs hotel operations that raked in N$75 million revenue, a marginal uptick from N$74 million earned in 2018.

Operational costs over revenue stood at 48% and 44% for the casino and hotel segments, respectively.

Operational costs for the hotel segment decreased against the rise in income, by a minimal 0,5% – when revenue increased by 1,4%.

Accommodation was the biggest driver of the hotel revenue with 57% (N$43 million) followed by food at N$19 million, beverages at N$6,5 million and banqueting at N$5 million.

Assets at the end of the financial year stood at N$393 million, largely vested in property, plant and equipment at N$317 million.

The asset base is matched against a N$62 million accumulated loss, a non-distributable reserve of N$164 million as well as N$269 million as share premium.

Cash at the end of the financial year stood at N$55 million, an increase of almost N$21 million from 2018.

EXPANSIONS

Sven Thieme, the chairman to the Country Club´s board of directors said plans are underway to extend the properties, with construction set to begin during winter in 2020.

A dividend of N$6 million was declared and paid to the shareholders.

Email: lazarus@namibian.com.na

Twitter: @Lasarus_A
Source: © Namibian - https://www.namibian.com.na/
Over 100 jobs created through Sanlam Innovation Works project
WINDHOEK – Sanlam, together with their project partner Namibia Business Innovation Institute (NBII), confirmed the winner of the 2019 Sanlam Innovation Works project. Linda P Ndakolo of Linda P Creations emerged as the overall winner of the 2019 competition and walked away with a cash prize of N$25 000 to further invest in her business. Currently in its fifth year running, the Sanlam Innovation Works is part of the Sanlam Corporate social responsibility initiative, administered by NBII.

The programme aims to foster entrepreneurial development in Namibia, with a special focus on the start-up entrepreneurs. During the year, the top-five businesses who participated in the programme each received a cash prize of N$50 000 to invest in their business, coupled with mentorship, coaching and skills training provided by the NBII.

Speaking at the announcement ceremony, Sanlam Group CEO Tertius Stears said Sanlam was aware that money alone cannot really address the problem faced by start-ups, which is why the Sanlam Innovation Works programme is coupled with the much-needed training, coaching and mentorship provided by NBII. Stears congratulated the 2019 winner and urged the businesses who took part in their programme to continue investing in the businesses and seize the opportunities that lay before them.

In a statement read on his behalf, Minister of Industrialisation, Trade & SME Development Honourable Tjekero Tweya said: "The Ministry of Industrialisation, Trade and SME Development has always driven and encouraged initiatives and programmes of capacity building and business development." Tweya thanked Sanlam and the NBII for this project, which ploughs back into communities and allows everyday Namibians to create employment for themselves and others. He also called on other stakeholders to follow the example of Sanlam and join hands with government in similar projects to address the needs of the people.

To date, 26 upcoming entrepreneurs have been supported, with over 100 jobs having been created as a direct result of this programme. Linda P Creations produces dishwashing liquid and other various cleaning products.

Her Kitchen Captain dish-washing liquid can be found in shops such as Shoprite and Maerua Spar.
Photo: Sanlam
Caption: Linda P Ndakolo of Linda P Creations emerged as the overall winner of the 2019 Sanlam Innovation Works competition, walking away with a cash prize of N$25 000 to further invest in her business. Photo: Contributed
Source: © Neweralive - https://neweralive.na/
Hollard and Pick n Pay open first in-store business office
WINDHOEK - Hollard Namibia and Pick n Pay have joined forces in opening up the very first in-store Hollard Business Office at the Wernhil Pick n Pay. This store will provide Pick n Pay clients with the opportunity to sit down and speak to Hollard agents with regards to the different insurance options available, how these services will benefit them and their families, as well as providing advice and educating the public at large regarding the importance of the life cover and funeral cover.

The in-store Hollard Business Office will offer Pick n Pay clients the opportunity to not only gain greater knowledge regarding Hollard's services, but it will also be able to purchase cover, register claims, and amend policy information to already-owned policies.

"Smart partnerships such as this is of utmost importance to us. We believe in giving our customers the best that value-added services have to offer, enhancing their lives daily. Our partnership with Hollard is exciting and we wish to welcome the Hollard team to Pick n Pay Wernhil Park; we wish them success with this venture," said Victoria Moller, Marketing Manager at Pick n Pay Namibia.

Hollard has over the years placed great emphasis on delivering the best possible solutions and services to its clients and business partners. In a recent statement, Hollard Namibia emphasised that it is a company focused on ensuring better futures for all Namibians, catalysing and enduring positive change by building stronger, longer-lasting relationships with all stakeholders.

"Hollard is, and will always be, at the forefront of ensuring the best client service, promising speedy claims settlements, fast client response and the best client-centric support, and delivering the most efficient, simple and reliable services to those who need it. We will continue to push the boundaries and strive to build and grow, knowing that we can only be successful if that success is shared. We welcome any challenge, knowing full well why we do and what we do to become Namibia's favourite insurer," read the statement.
Source: © Neweralive - https://neweralive.na/
Namibia launches intellectual property policy
WINDHOEK - The Ministry of Industrialisation, Trade & SME Development, through the Business and Intellectual Property Authority, on behalf of the Government of Namibia, launched the first National Policy on Intellectual Property during a high-level breakfast engagement on Wednesday in Windhoek.

The Intellectual Property (IP) Policy establishes the framework conducive for innovation and competitiveness through IP education, protection and commercialisation. It defines the parameters of the use of IP as a strategic catalyst to accelerate transformational growth at home and contribute to socio-economic development. The policy sets Namibia's vision for IP, identifies objectives and key strategies and establishes an institutional framework to serve as the coordinating body in IP-related policy and strategic matters.

Delivering the keynote address, Deputy Minister of Industrialisation, Trade and SME Development, Lucia Iipumbu, noted that intellectual property serves as an effective policy tool to unlock local creative, inventive and innovative potential, stimulate the transfer and use of technologies and creative works, and to encourage fair competition. According to her, this in turn promotes the creation of wealth, and fosters national social, cultural and economic development.

Director of Commerce at the Ministry, Maria Pogisho, noted: "Given the cross-cutting nature and scope of intellectual property, the policy responds to the linkages between intellectual property and other areas, such as: industrialisation, trade, investment, innovation, science, technology, agriculture, education traditional knowledge and genetic resources. It addresses the relationship of intellectual property to communication polices, universities and research and development institutions and SMEs."

The execution of the policy will be achieved through coordinated and targeted deliberations with stakeholders through the establishing of technical committees, and employing the advice and services of professional experts where necessary. The policy provides for its implementation through 14 objectives that will be executed over a 5-year period.

Urgent attention will be given a number of areas, namely: To integrate IP into national development plans and sectoral development policies to ensure meaningful contributions of the IP systems, in support of development goals; to set up and strengthen an effective mechanism to ensure policy coherence and coordination amongst relevant public and private sector bodies; to ensure that the relevant institutions, which are involved in the generation of IP assets, have a policy and institutional framework to support their generation, protection, management and exploitation; to have adequate, effective, dynamic and comprehensive IP and related laws to encourage local creativity, invention and innovation, stimulate transfer of technology, enhance fair competition, maintain balance between the interest of rights owners and public, and to comply with the requirements of relevant international IP instruments.
Source: © Neweralive - https://neweralive.na
UN House introduces electric vehicles to local market
WINDHOEK - UN House Namibia on Friday introduced electric vehicles (EVs) to the local automotive market with Vehicle-Grid-Integration (VGI), which is a system of bi-directional charging or managing the charging time and levels. VGI is a system whereby the electric vehicles can provide benefits or services to the local electricity grid by using VGI charging station-enabled stored energy in the electric vehicles to be sold back to the grid. Using this system enables building load peak shaving and energy shifting, among many other benefits which significantly reduce the cost of owning an electric vehicle.

This pilot project is the first installation of VGI technology in Namibia, and the first at any UN compound in Africa. By demonstrating the solution to internal and external stakeholders, the UNDP hopes to trigger widespread adoption across the country.

"Namibia is making great strides in the energy sector and I am happy to say that by using these cars and charging them through the solar energy here, we will contribute to our greening the blue efforts and reduce our carbon emissions significantly," said Alka Bhatia, UNDP Resident Representative, at the launch of the system at UN House.

The United Nations Development Programme (UNDP) Office of Information Management and Technology (OIMT), which is responsible for supporting UNDP country offices around the world with ICT and green energy solutions, aims to provide a VGI showcase at the UN House in Namibia. The purpose of this showcase is to test the solution, gain experience and collect data during its operation.

In 2017 UN House Namibia adopted solar power with the installation of a 104kWp solar PV system, which has since been combined with electric vehicle connected via bi-directional power charger this year. In this project, the set-up provides energy backup, load shifting, peak shaving and emergency power supply functionalities for the UN House Namibia compound.

The solar energy produced is primarily used to serve the UN compound needs. When excess solar power is produced, it will be used to charge the EVs if they are connected to the charging stations. In the evening, EVs may serve as a power source replacing more expensive energy from the grid (energy shifting).

If the grid power goes down, whether due to infrequent wide-scale grid outages or more frequent outages caused by local disruptions, the EVs may be used as a backup power supply to power the primary appliances like lighting, communication equipment and, if possible, lower priority functions like refrigeration or limited air-conditioning. Two underground parking slots were identified for the project, where charging stations were installed last year.

Through this project the UNDP aims to ensure business continuity, increase the independence from external and diesel-power based sources, lower costs of EVs ownership, manage electricity costs, increase energy efficiency, facilitate environmental responsibility and pilot emergency response services with EV.
Source: © Neweralive - https://neweralive.na/
Pupkewitz Motors strives for all-round success
THE Pupkewitz Group was founded on the pillar of customer satisfaction through service excellence and is uniquely positioned by its diverse and decentralised business outlets.
Grounded in a rich history of entrepreneurship, the Pupkewitz Group is one of the oldest family-owned businesses in Namibia and a recognised contributor to key sectors of the Namibian economy. Pupkewitz Motors currently partners with ten global vehicle brands and operates from over 20 locations around the country – with a team of more than 600 motivated employees embodying excellence, dedication and a willingness to move forward.

Committed to people development as part of the social progression of Namibians, Pupkewitz Motors has offered various training programmes in recent years, spending as much as N$2,5 million and empowering as many as 800 people. Most recently, the company signed an Apprenticeship Memorandum of Agreement with the Namibia Training Authority (NTA). The aim of the programme is to enhance access to training opportunities, address youth unemployment, increase productivity and improve national economic competitiveness. The apprenticeship-training programme is based on a dual vocational training system, whereby apprentices attend classes at accredited training institutions and receive on-the-job training at Pupkewitz Motors.

´GOLDWAGEN´ VEHICLE REPLACEMENT PARTS

By carefully selecting key brand Pupkewitz has managed to keep a reputation as specialists. Customers know Goldwagen for stocking items that are not available elsewhere. Pupkewitz proudly boast over 30 000 different product items, comfortably making them the leaders in the aftermarket parts industry.

In the market they soon acquired a reputation as Volkswagen specialists. After acquiring this reputation as specialists in Volkswagen parts the market opportunity presented itself in expanding to other motor vehicle brands in this niche market.

ACCESSORY FITMENT CENTRE

Accessory Fitment Centre (AFC) is a wholesaler, retailer and fitment centre situated in Ruhr Street in Windhoek´s Northern Industrial area. The centre specialises in high-quality, vehicle-specific lifestyle and off-road accessories, offering leading and well-renowned brands. AFC is the sole distributor of the Ironman 4x4 range since August 2018 and supplies to all Ironman 4x4 dealers across Namibia.

AFC is also the agent for Beekman fibreglass canopies, Rhinoman aluminium canopies as well as CTEK.

Other popular brands and accessories on offer include RSI steel canopies, Takla seat covers, Escape Gear seat covers, Gobi-X accessories, Outback Extreme accessories, Front Runner accessories, Rhino 4x4 accessories, Rhino bar accessories, SYCOR stainless steel accessories, Suntek Vehicle Window and Paint Protection Film, Planetron accessories, as well as Poly-lining for pickup load beds.

A ONE-STOP SHOP

Pupkewitz´s customer base is diverse and focuses on both fleet and retail customers. Each deal is custom made for each fleet or retail customer. Pupkewitz also has in-house finance services available, servicing all Namibian banks. With customer needs always changing, the vehicle models are continuously reviewed and adapted to meet customer needs.

Pupkewitz Motors is not just looking for ways to grow the Namibian economy, but to also increase customer service delivery by bringing it closer to your doorstep. They continue to expand their footprint in Namibia with the following branches: Pupkewitz Volks­wagen North at Ongwediva – a fully fledged state-of-the-art VW dealership, that will include sales and after sales services. For their clients at Swakopmund they are building a new Pupkewitz Haval showroom. They are also reaching out to Katima Mulilo with a satellite service centre for both service and warranties. Despite the harsh economic conditions, and focus on cost control, Pupkewitz Motor Division through all of its franchises, continue to invest in the society they operate in through sponsorships and a number of corporate social responsibility projects. Their view is that sponsorships and donations will most likely not add huge volumes to their sales numbers, however, they believe that this is the right thing to do in ploughing back into society and trying to make a positive difference.

Their focus is on containing their costs in the business. In doing this they have thus far been able not to have to retrench on a large scale like many companies have been forced to do. Pupkewitz Motors places a strong focus on customer service and retention. They understand that customers, too, are affected by the recession, and so they continue to support them in making the right decisions with regard to their mobility, whether it is a new vehicle, or purchasing a used vehicle, or in certain instances to rather keep their existing vehicle and maintain the vehicle very well by continuing to service it and where applicable extend the vehicles´ warranties.Pupkewitz Motors continues to focus on their employees, and equipping them with the relevant training and tools to be able to best serve their valued customers.

For further information visit www.pupkewitz-motors.com.
Source: © Namibian - https://www.namibian.com.na/
Okakarara Trade Fair kicks off
THE 13th edition of the Okakarara Trade Fair is in full swing.
Ernst Katjiku, the chief executive officer (CEO) of the Okakarara Trade Fair society, encouraged local business persons to use the event to engage in business discussions and look for potential joint ventures.

He said this year´s fair had attracted companies such as the Otjiwarongo Indongo Toyota car dealership, which is showcasing their latest edition of the Legend 50 Toyota series, amongst others.

Katjiku explained that they also incorporated the promotion of a fish consumption culture as part of the trade fair this year to enable fishing companies to showcase their products, and promote the consumption of fish by the people. Fish is a good source of protein.

"We expect over 250 stalls to be set up, and more than 10 000 visitors to participate at the show this year," he noted.

Regarding foreign exhibitors, Katjiku added that so far, they already had bookings by exhibitors from Tanzania and Kenya.

One of the organisers, Golden Katjatako, said the event is designed to promote local business initiatives and the marketing of ideas in the town.

"The community, especially students from the vocational training college, should come and get information at the stalls of small and medium enterprises (SMEs), corporate companies, and the government ministries," she advised.

The event will also have a livestock show, with the farming community showcasing their best cattle, small stock and other agricultural products.

The organisers said the show also promises a lot of fun and entertainment for members of the public, with a music bash on Saturday night.

Local afro-pop musician Big Ben, and popular group One Blood will share the stage with disco giants Splash and Matshikos from South Africa.

The fair started on Monday, and ends on Sunday. Vice president Nangolo Mbumba is expected to open the event on Friday, 6 September 2019.
Source: © Namibian - https://www.namibian.com.na/
N$25 million hotel opens at Walvis Bay
WALVIS BAY- A N$25 million hotel, Blue Whale Boutique Hotel has officially opened its doors in the millionaire's lane at Walvis Bay on Monday.

The posh hotel that is equipped with 19 rooms, a swimming pool, and restaurant and bar facilities is the latest addition to the towns growing hospitality and tourism industry.

Speaking at the official opening of the hotel, mayor of Walvis Bay Immanuel Wilfred said the hotel's opening is testimony that the tourism industry is indeed booming and that Walvis Bay is rapidly becoming a destination of choice for local and foreign investors.

"During the past couple of years, we have witnessed Walvis Bay receiving various investments that have definitely put the town in a class of its own in terms of its economic contribution to Namibia's (GDP) Gross Domestic Product. Therefore, we welcome any type of investment," Wilfred explained.

He added that investments such as this hotel not only create jobs but also create opportunities for local businesses to supply in terms of products and service.

He then appealed to the hotel management to source some of their supplies, in the form of products or services from the local business sector.

Furthermore, he said the establishment of the hotel came at a time when the economy is facing hard times and jobs are hard to come by. Naturally, he says employment creation stimulates economic growth and creates a sustainable income for the foreseeable future for the residents of Walvis Bay.

"Hence I want to encourage sound employee relations in order to maintain employee satisfaction which will result in excellent customer service.

Customer service is the backbone of the hospitality industry. To those that are now employed here, I urge you to hold the Namibian flag up high, by doing what we are best known for, showing friendliness, and kindness to visitors at all times," Wilfred concluded.
Source: © Neweralive - https://neweralive.na/
Economic Growth Summit to embark on international roadshow
WINDHOEK – Organisers of the just-ended Economic Growth Summit will soon embark on an investment roadshow to mobilise more resources in addition to the N$50 billion in investments committed at the Summit. Already, N$20 billion worth of investments were validated last week.

According to Johannes !Gawagab, Chairperson of the President's High-Level Panel on the Economy, the roadshow, which is scheduled for September, will take place in the United States, Germany and Singapore.
Speaking at the closing briefing of the Summit, !Gawagab revealed that the Summit was 100 percent funded by the private sector, which raised just over N$4 million for the event. Summit organisers stated that N$3.5 million was budgeted for the event with final event figures remaining well within the budget. According to !Gaxwagab, the remaining funds collected will be used to pay for the roadshow.

Summit organisers last week said about 880 people attended the Summit, about 180 of them local participants and more than 100 international business leaders. Participants also included trade unions, employers' representatives and about 50 national organisations. In addition, each of the country's 14 regions included at least five business people from each region.

And, while !Gawagab and his team were ecstatic about the N$20 billion in validated investment commitments, this figure has been criticised for being dominated by Namibian and South African public institutions as well as for the less than expected N$4 billion committed by the private sector.

During the first day of the Summit, President Hage Geingob stated: "I reiterate once again that in order to revive our economy in a sustainable manner, we all have to play our part – the public sector including public enterprises, private sector, civil society, trade unions and development partners. The private sector, as the engine for economic growth, should therefore subscribe to our common agenda for inclusive growth and shared prosperity. As government, we are prepared to play our part and meet all stakeholders halfway.

This is why we undertook a policy of fiscal consolidation, the deepest since independence, for the purpose of preserving macroeconomic stability through the reduction of non-essential public expenditure. We are however aware that fiscal consolidation alone will not lead to sustained economic growth, job creation and poverty eradication".

Some economic analysts have however placed more value on some of the key policy interventions announced by Geingob at the Summit, saying this will boost business confidence which will eventually enable the country to attract more investors. These policy decisions include: the removal of the compulsory 25 percent stake in the National Equitable Economic Empowerment Bill; a clear definition of Previously Disadvantaged Persons in NEEEB, the equity threshold in NEEEB to be determined by sector charters; the NEEEB to be tabled in Parliament within six months, the Namibia Investment Promotion Act (NIPA) to be operational by the end of the current financial year, the Public Procurement Act review and amendment process to commence during this financial year; and the exception of Visa requirements for diplomatic and official passport holders from 53 African countries.
Source: © Neweralive - https://neweralive.na/
US unveils new initiative to grasp Africa's huge commercial potential
Maihapa Ndjavera

WINDHOEK – The United States of America has unveiled an initiative called 'Prosper Africa' through which it aims to substantially increase two-way trade and investment with Africa. This ambitious initiative, which aligns with the Trump administration's Africa strategy, was unveiled in Windhoek on Friday by US Ambassador Lisa Johnson, and counters US investment flows that have in recent years remained relatively flat compared to countries like China, India and France.

Prosper Africa was first introduced by US National Security Adviser John Bolton in December 2018, when he said it aims to promote prosperity, security, and stability in US-Africa relations. The initiative by the US confirms the Trump administration's prioritisation of trade and investment to reach the three stated objectives and to get into the commercial game on a continent where combined consumer and business spending is expected to reach US$6.7 trillion (more than N$94 trillion) by 2030.

"This approach unlocks opportunities to do business in Africa, benefiting companies, investors and workers both in Africa and the United States," noted Johnson, speaking at the American Cultural Centre in the heart of Windhoek's central business district.

Johnson confirmed that Prosper Africa, as a new initiative, emphasises the value of bringing US and African private sectors together to achieve common goals and called it a strategic investment in Africa's future. She added that the US model of partnership, including with Namibia, "offers sustainable, empowering avenues for economic development and growth that will make both our nations stronger, our people better off, and our futures brighter".

"American companies not only bring significant capital, innovation and proven solutions, but adhere to the highest standards of transparency, quality, and social responsibility. A greater connection between the US and African private sectors will expand markets for US goods and services and contribute to more self-reliant, prosperous and stable African countries," Johnson continued.

She stated that trade and investment is the chosen area to support jobs in the United States and Africa and to ensure US companies can compete on a level playing field. According to Johnson, Prosper Africa will strengthen bilateral ties with African partners to grow the middle class across the continent and to support African partner states in enhancing good governance, rule of law and transparent, fair commercial practices.

Johnson further outlined that in building on the US government's already robust presence in Africa, more than 15 US agencies are working together to modernise and synchronise US capabilities and efforts, facilitate transactions and foster fair and accessible business climates and robust financial sectors.

Despite US and Africa trading flows being mostly stagnant, the US has been present through some of the most transformative programs on the continent, including the US President's Emergency Plan for AIDS Relief (PEPFAR), supporting more than 14 million people with antiretroviral medication, as well as the US Millennium Challenge Corporation (MCC), which has provided grants to qualifying African countries to address constraints to growth, including infrastructure.

Speaking in Mozambique recently, US Deputy Secretary of Commerce, Karen Dunn, said: "We know the US government can and must do more to capitalise on competitive advantages of US companies and the entrepreneurial spirit of the African people, hence I am proud to roll out the administration's new signature initiative, Prosper Africa."

According to the administrator for the United States Agency for International Development (USAID), Mark Green: "Prosper Africa is not a new program. It's a new way of doing business. It capitalises on the reauthorization of EXIM Bank and the new Development Finance Corporation. And, it makes the full suite of US government networks and resources available and accessible to importers, exporters and investors."
Source: © Neweralive - https://neweralive.na/
NSX Stocks and Deals ... Nimbus to pump N$25m into Paratus
INVESTMENT company Nimbus Infrastructure Limited will invest N$25 million in telecommunication entity Paratus Namibia, through a rights issue.
Nimbus announced this week that they have subscribed for 24 000 shares in Paratus Namibia at N$1 048 per share premium. The shares have a face value of N$5 each.

More than 47 000 shares will be issued out of the authorised share capital, with the Paratus Group taking up the remainder. Nimbus shareholding will remain at 51%.

According to Nimbus, the N$25 million will be channelled towards Paratus Namibia´s N$114 million capital expenditure budget.

#Share price on 3 June 2019: N$10,30 per share



MMI CHANGES NAME

SHAREHOLDERS of insurance services company MMI Holdings Limited have agreed to change the company´s name to Momentum Metropolitan Holdings Limited. The company announced last week that at least 99% of the shareholders have agreed to the change of name and the papers to effect the change will be lodged with the registrar.

This week, the company announced that the auditors, PriceWaterhouseCoopers Inc, will be rotated when they finish auditing the books for the year ending 30 June 2019.

Shareholders will be informed of the new firm of external auditors once all regulatory approvals have been obtained, the company said.

#Share price on 3 June 2019: N$18,49 per share



STIMULUS TO PAY DIVIDEND

PRIVATE equity investment company Stimulus Investments Limited will pay out their N$3,51 million dividend today.

This is according to the dividends register of the Namibian Stock Exchange.

For the 2019 financial year, Stimulus´ profit after tax dropped by 22% from N$4,9 million to N$3,8 million.

Plastic Packaging, the Solar Saver Group, Neo Paints, the Namibia Media House Group, Polyoak, Nashua and Walvis Bay Stevedoring fall under investee companies of Stimulus.

#Share price on 3 June 2019: N$121,29 per share



* The Namibian´s NSX stocks and deals briefs are weekly news compiled from announcements made on all boards of the Namibian Stock Exchange. The above updates are for the week 28 June-4 July 2019.

Email: lazarus@namibian.com.na Twitter: Lasarus_A
Source: © Namibian - https://www.namibian.com.na
New agreement with Germany provides targeted development finance
WINDHOEK – Namibia and Germany on Monday signed an Inter-Governmental Bi-lateral Agreement. The agreement, signed by Minister of Finance Calle Schlettwein, and outgoing German ambassador to Namibia Christian Schlagga, aims to provide targeted financial cooperation to finance development projects in the priority areas of national developmental, consistent with Namibia's National Development Plans.

At the signing ceremony, Schlettwein noted that the targeted loans uptake does not constitute additional borrowing, but means funding for budgeted projects. He added that the disbursements provide for local currency arrangement, which eliminates foreign exchange risks.

"It reflects the outcome of the government-to-government negotiations and provides for preferential loans for, inter alia, potable water supply and support programme for national road maintenance and rehabilitation. Notably, the funding for secure water supply is especially important, given the current pressing needs which are exacerbated by the prevailing drought national disaster," said Schlettwein.

The Inter-Governmental Bi-lateral Agreement enables the government, or another borrower determined jointly by the two governments, to obtain preferential financing from Kreditanstalt für Wiederaufbau (KfW) for projects to support the national development agenda as set out in Namibia's National Development Plans. This preferential financing focusses on natural resource management, sustainable economic development, and transport.

Namibia's existing relationship with the KfW includes concessional loan funding towards key national projects, comprising, inter alia of Hardap Dam Rehabilitation, Trans-Caprivi Highway, Rural Basic Communications, Upgrading of the Port of Walvis Bay, Windhoek Water Reclamation Infrastructure, Oshivelo-Oshakati Road Rehabilitation; and Labour-based Road Construction. Others are the Extension of Payment Services, Extension of Smartcard System and Financial Services, Participation at Transport SWAP, Mururani Gate at Rundu and Ondangwa-Oshikango road rehabilitation.

"We are pleased to note that Germany remains a major Bilateral Development Cooperating Partner to Namibia despite our country having graduated into the class of Upper Middle-Income Countries, which has led to other partners withdrawing, reducing or changing their mode of cooperation with us," Schlettwein concluded.
Source: © Neweralive - https://neweralive.na
Investor interest in Nam oil, gas grows
BIG multinational companies are showing growing interest in Namibia´s developing offshore oil and gas frontier, although limited volumes of hydrocarbons have been produced to date.
This was stated in the Southern African Development Community (SADC) Energy Monitor magazine for 2018, released recently.

The theme of the publication was ´Enabling industrialisation and regional integration in SADC´.

The focus is on the much-anticipated Kudu gas-to-power project, a joint venture between the National Petroleum Corporation of Namibia (Namcor), BW Offshore (Singapore-based company), NamPower, and the Namibian government.

The power plant during 2018 was estimated to cost N$9,4 billion, down from the previous estimate of N$15,6 billion.

"The Kudu gas field was discovered in 1974, about 170km off the Namibian coast, and began limited production in 2013 as the gas needs to be produced by a floating production unit before being piped to an 885 megawatt gas-to-power plant onshore," the publication added.

The Energy Monitor stated that the project is expected to play a fundamental role in shaping the energy dynamics of Namibia, and strengthening its international standing.

The magazine quoted Namcor managing director Immanuel Mulunga as saying this is a strategic power generation project for Namibia, which will significantly reduce reliance on imported power, while at the same time accelerating economic development.

Mines and energy minister Tom Alweendo was, however, quoted last year as saying the project might not be viable. He raised his concern with the delay in getting the project out of the starting blocks.

SADC agreed in 2017 to start a regional natural gas committee to promote the inclusion of gas in the energy mix, and in the promotion of industrial development in the region.

The gas committee was formed at an important time as the region made significant findings of natural gas in a number of countries, specifically Mozambique and Tanzania.

"In Mozambique, the gas-to-power industry is gaining momentum, as is evident from Sasol´s planned development of a 400 megawatt gas-to-power plant in Maputo. This comes on the back of clear indications of a very healthy supply of gas in Mozambique," the magazine said.

Meanwhile, South Africa will soon start the exploration of shale gas in the Karoo basin, with the World Energy Council, in partnership with Accenture, showing that South Africa has the potential for the development of that gas.

"It has the eighth-biggest reserves of shale gas in the world. In addition, a new liquefied petroleum gas import and storage facility was recently launched near Saldanha Bay, which would alleviate South Africa´s gas shortage, and broaden its energy mix," the magazine reported.

– charmaine@namibian.com.na; Twitter: Char_Ngajtiheue.
Source: © Namibian - https://www.namibian.com.na/
Nedbank and Lionesses of Africa host second Lean In session in Windhoek
WINDHOEK - Nedbank Namibia in partnership with the Lionesses of Africa Organisation held the second Lioness Lean In women's entrepreneurs networking event in Windhoek on Wednesday, May 22. Lionesses of Africa is the fastest growing network of women entrepreneurs on the African continent with over 730 000 women business owners in all 54 African countries. The event served to inspire the entrepreneurs and provided a great opportunity for business networking.

Entrepreneurs are transforming the world today. It is well known that innovative minds are creating new businesses and jobs, growing wealth of global economies and sparking development change. However, female leaders and entrepreneurs frequently face challenges, including a lack of female role models and mentors as well as lack of access to funding.

The event served to inspire the entrepreneurs and provided a unique opportunity for business networking with women entrepreneurs both in Namibia and across the African continent. The event was hosted by South Africa personality and Lioness Lean In Ambassador for Southern Africa, Hlubi Mboya Arnold.

Participants who attended the event heard inspirational testimonies from the speakers including, Nedbank's Head of Business Banking, Britt du Plessis; co-founder of Kids Emporium, Jamilla Jacobs; founder of Global Institute for Capacity Building, Juliet Madamombe; founder of KOVA, Petrina Auino-Mwandingi and founder of Twafika Consultants, Lelanie Basson. Nedbank Namibia served as an important partner for the event, rallying female Namibian leaders and welcoming them to this insightful, supportive and inspirational community. Participants were able to network and establish meaningful, professional relationships with peers from various sectors.
Source: © Neweralive - https://neweralive.na/
Southern Africa oil discoveries vital for Namibia
SWAKOPMUND – Mines and Energy Minister Tom Alweendo says the discoveries of major oil reserves in Southern Africa will be of importance to Namibia, a country battling a volatile and challenging business environment, characterised by a slowdown in the economy.

He says about 18 exploration wells have been drilled offshore Namibia with no major discovery but which yielded an excellent geological understanding of the country's offshore margin.

Alweendo made the observation during the official opening of the third Namibia international oil and gas conference that is currently underway in Swakopmund.

The two-day conference, held under the theme 'Building partnerships to transform Africa's oil and gas industry', is being attended by the world's key players in the industry. The conference is organised by RichAfrica Consultancy and ends today.

Alweendo told the audience that oil and gas have become an important economic driver on the African continent as many African countries have made discoveries, and that Namibia could also benefit immensely from such discoveries.

"Oil and gas are the world's most important and valuable commodities and constitute a major source of revenue for governments and corporations that control production and distribution. Nigeria and Angola as the leading oil producers in Africa derive the bulk of their revenues from the sale of oil. One can only imagine what such a discovery would mean for Namibia," Alweendo said.

He went on to explain that the 2010 gas discovery by Total in South Africa as well as the Mozambique gas discovery the same year are some of the biggest discoveries in Southern Africa.

"Namibia's own Kudu Gas discovered in 1974 is also worth noting although nobody wants to talk about it," he said.
He added that many countries in the world, including Namibia, are dependent on oil imports and nations with surpluses often exercise disproportionate influence in the world.

"The private sector in Namibia currently controls 100 percent of the imported refined products. Hence the reinstatement of the 50 percent fuel import mandate through Namcor remains a strategic objective of the government," Alweendo explained.

According to the minister, this government objective will be championed by the 75-million litres strategic oil storage facility that was constructed just outside Walvis Bay.

However, he says in order to achieve this, it requires a collective effort from both government and the private sector.
"Through the realisation of the importance of continuous oil and gas exploration activities, government values investment in the oil and gas sector in both upstream and downstream," he explained.

The minister encouraged the private sector to further invest in exploration activities as government is providing a conducive environment by ensuring a stable policy framework.

Alweendo also told delegates that Namibia has one of the most favourable petroleum fiscal regimes and incentives in Africa that encourages equitable sharing of economic benefits when a discovery is made.
Some of its key features, he said, include petroleum income tax, levies, state royalty and negotiable additional profit tax when the internal rate of return is greater than 15 percent.

These, Alweendo said, coupled with the country's attractive petroleum legislation based on international best practices and an approachable government, make Namibia the best place for investments.
He appealed to delegates to share developments and merging trends in the industry which will further galvanise the country to make an immense contribution to the improvement of the sector.
Source: © Neweralive - https://neweralive.na
Namibian uranium sector to lead 2019 growth – Fitch
FITCH Macro Research mining team has said it is only local uranium mining that is expected to push the economy out of the negatives, leading to economic growth in 2019.
The team of researchers at Fitch Solutions Macro Research said this earlier this month.

"We expect increasing uranium output to underpin robust growth in Namibia´s mining sector over the coming quarters, providing tailwinds to the broader economy, and returning real GDP growth to positive territory over 2019", they added.

The economic outlook report released by the Bank of Namibia last week indicated that 8,2% growth is expected for uranium mining, and would be the lead growth stimulator of the whole primary and secondary sectors, followed by grain mill production and rubber and plastic production at 5,2% and 5%, respectively.

The central bank has projected a 0,3% growth in economic activity for 2019, led by the secondary sector at a projected 1,4%, followed by the tertiary sector at 0,8%, and the primary sector, whose average growth is in the negatives at -2,8%.

Fitch had projected uranium output growth of 20% in 2018, and now forecasts production to increase by 40% over 2019, and 10% over 2020, leading Namibia in becoming the third-largest uranium producer globally.

"We believe increased mining sector activity and exports of uranium to countries such as China, where demand for nuclear power is strong, will see the mining sector continue to outperform the rest of the economy," the research agency stated. Key nations hungry for Namibian uranium over the years include Australia, China, Canada, France and the United States of America.

While other nations´ demand has been decreasing over the years, exports to China reached N$5,5 billion in 2018, making it the highest export of uranium ever in the history of Namibia.

In 2018, Namibia had only two fully operational uranium mines, including the Husab mine, 90% owned by China´s public enterprise, China General Nuclear Power Holding Company and the China-Africa Development Fund. The remaining 10% is owned by Epangelo Mining, Namibia´s loss-making state-owned company.

– lazarus@namibian.com.na; Twitter: @Lasarus_A
Source: © Namibian - https://www.namibian.com.na/
Mining sector recorded highest sectoral growth in 2018
Paheja Siririka

WINDHOEK - The Chamber of Mines in Namibia this week lauded the local mining sector as the best performing economic sector in 2018. This top performance was confirmed by the Preliminary National Accounts as released by the Namibia Statistics Agency, which indicated that the sector recorded a strong growth rate of 22 percent compared to 13.3 percent in 2017, which is more than any other economic sector.
"According to these statistics, the positive industry growth was driven by production increases of particulary uranium and diamonds, in comparison with 2017," emphasised the chamber's Chief Executive Officer Veston Malango.
The statistics show that the Husab Uranium mine produced 4 981 tonnes of Uranium in 2017 and 6 514 tonnes of Uranium in 2018, representing a 31 percent increase.
"Similarly, with diamonds in 2017, Namdeb Holdings recorded 1.8 million carats, in 2018 it just recorded over 2 million carats which is a production increase of 11 percent," said Malango this week at the launch of the 2019 Mining Expo.
Malango added that the mining industry faced a lot of challenges last year due to commodity markets. He noted that overall commodity prices have recovered during the last two years, with the exception of uranium. "There are slight improvements but we are still struggling," he said.
"We witnessed a number of mines going under care and maintenance due to challenges of markets of some minerals and this led to 822 job loses which is regrettable but that is the nature of mining," said Malango.
However, he continued that with new interventions, jobs are slowly being reclaimed. "Three old mines will be brought back into operation which is symbolic of where the industry has come from and where we are moving to," said Malango.
He pointed out that those reopening are AfriTin's Uis Tin mine and North River Resources' Namib Lead and Zinc mines, which are both scheduled to enter production during the course of this year.
"In addition, Desert Lion Energy is also in the process of redeveloping the Helikon and Rubicon lithium mines just outside Karibib," said Malango.
The chamber CEO reiterated the importance of capital investments and said it is imperative that Namibia attracts investment into exploration as this will increase the likelihood of new discoveries and the development of new mines.
Touching on the upcoming 8th Mining Expo, slated for May 08 and 09, 2019, Malango said; "This will not be an investor conference but a mining expo."
He emphasised that the mining sector aims to engage with the suppliers of goods and services, noting that the local mining sector has spent over 40 percent of its revenue on supplies. "That's N$11.77 billion, quite a big chunk of what we make stays in the county," said Malango.
"We also want to engage with you for them to explore mining opportunities and how to advance job prospects," emphasised Malango. The theme for this year's mining expo is 'Celebrating 50 years of excellence and dedicated service to Namibia's mining industry'.
The mining expo has been growing steadily during the last few years. In 2017, the expo hosted 73 exhibitors with 103 booths which attracted more than 730 visitors.
According to Malanga, figures in 2018 were satisfying and it was the best year, with 94 exhibitors, 144 booths (including complementary booths) and attracted a whopping 2 748 visitors.
"The expo was started off at Safari Hotel but the venue became too small, and we changed to the Windhoek Showgrounds and currently for this coming expo, we have 67 exhibitors that have booked 120 booths so far," said Malango.
This year is marking 50 years of service to the industry. Malango said from its modest beginnings in May 1969, the Chamber has endeavoured to serve the mining industry with excellence.
"Success of the Namibian mining industry would not have been possible without close cooperation and support from government," said Malango, noting that it is the Chamber's ability to act as an honest broker that is key to its success.
Source: © Neweralive - https://neweralive.na/
Opportunities abound to boost tourism sector
Paheja Siririka

WINDHOEK - Chairman of the Namibia Chamber of Commerce and Industry in Windhoek, Martin Kaali Shipanga said discussions and input on the way forward for the tourism sector needs to be prioritised. According to Shipanga, Namibians should change the conversation surrounding the current economic situation, from one of looking for handouts to rather identify opportunities.

At a media engagement this week, Shipanga noted that tourism is important as it brings revenue and creates employment. He explained that the tourism sector is new to him, as "growing up I used to know about selling sweets at the bus stop and selling matangaras (tripe) and next, we were exposed to either being in the teaching profession or nursing," he said.
Shipanga said more should be done to inform people about the tourism industry, and that "apart from informing people, we need the support from the government," he said.

Shipanga expressed concern regarding policy-making in the country. "The intention of creating policies is great but when it comes to implementing, the intention does not normally support the policy in place," he said.

At the same event, environment and tourism minister Pohamba Shifeta, said people in the tourism industry need to be innovative and come up with new ways. Shifeta said in 2018, the number of tourists traveling worldwide stood at 1.4 billion, of which "a small portion came to Africa, less than 5 percent".

Shifeta also said US$1,3 trillion is invested in tourism worldwide, and "a lump of that amount should come to Namibia so the onus is on the locals and the Namibian Tourism Board to take the country to the world so that more tourists can come here".

"In 2017, Namibia received 1,5 million tourists. The impact is huge - how many days did they spend here, where did they go, what did they eat and buy," emphasised Shifeta. He further stated that for every 13th tourist that comes to Namibia, a job is created, directly or indirectly. Information and exposure are crucial in the tourism industry and people should work together, "those in the industry should provide mentorship to the beginners or newcomers," Shifeta added. The minister continued that they are fixing roads since it has been a huge concern and the fact that dilapidated roads hamper tourism in the country.

"Roads are being fixed and that's the responsibility of the Roads Authority but the roads in the parks, etc, are the responsibility of the tourism ministry," he said.


On opportunities available in the tourism sector, CEO of Namibian Tourism Board, Digu //Naobeb, said one can be a shuttle driver, tour operator where you look, bring and distribute tourists around the country.

Another opportunity includes trophy hunting, "but it can only be done on a commercial farm where there are game animals," he said. //Naobeb mentioned hunting farms as well, but noted that "unfortunately this does not apply to resettlement farms because they are meant for livestock farming".

"For any individual who wants to go into tourism, one can also go for lodges where you can establish 10 to 15 rooms, that's if you have money or can secure funds to set it up," he explained. The list of opportunities in tourism include hotels, bed & breakfast establishments, camping sites (only on communal areas) and guest houses.

According to //Naobeb, Namibians should consider venturing in setting up resorts and looking at opportunities such as cruise ships. "We should also try out theme parks as there are no theme parks in Namibia," he said.
Source: © Neweralive - https://neweralive.na
Vivo's seals the deal with Engen to expand retail services to 23 countries
WINDHOEK - Vivo Energy plc has confirmed the completion of the transaction with Engen Holdings (Pty) Limited previously announced on 18 September 2018. The transaction adds operations in eight new countries and 230 Engen-branded service stations to Vivo Energy's network, taking its total presence to over 2,000 service stations, across 23 African markets. The new markets for Vivo Energy are Gabon, Malawi, Mozambique, Reunion, Rwanda, Tanzania, Zambia and Zimbabwe.

Engen's Kenya operations (where Vivo Energy already operates) is the ninth country included in the transaction.
As per previous announcements, consideration for the transaction comprises an issue by Vivo Energy of 63.2 million new shares and US$62.1 million in cash. The cash element of the consideration has been funded by a draw down on Vivo Energy's multi-currency facility. Following the share issuance Engen will hold a circa five percent shareholding in Vivo Energy.

Commenting on the transaction, Christian Chammas, CEO, Vivo Energy said: "Today's announcement opens an important new chapter for Vivo Energy, welcoming around 300 new employees, adding eight new countries to our network, and increasing our target market by almost 160 million to around 36 percent of the African continent."

On the basis of information provided by Engen, Vivo Energy believes that the 2018 financial performance of the target Group will be similar to 2017. Increased fuel volumes, driven by the commercial segment, are expected to have been offset by lower margins. Vivo Energy will provide full year guidance for 2019, incorporating the 10 months of contribution of the new Engen markets, with its full year results announcement on 6 March 2019.

Yusa' Hassan, Managing Director and CEO of Engen commented: "Engen is excited to embark on this growth journey with Vivo Energy, and add another strong and well respected brand to the Vivo Energy Group." Following the transaction, EHL retains its interest in Engen Petroleum Limited (its South Africa business and refinery) and its businesses in Mauritius, Botswana, Ghana, Namibia, Swaziland and Lesotho, which are not part of the transaction. Engen's business in the Democratic Republic of Congo (DRC) remains under evaluation by Vivo Energy, pending any agreement between Engen and the DRC Government regarding the transfer of the subsidiary holding Engen's DRC interests.

Chammas concluded: "In Vivo Energy's first seven years we invested to grow our business, increasing our service station network and adding new and refurbished convenience retail and quick service restaurant offers. We have an opportunity to replicate this successful business model to drive growth and profitability in our new markets. We must seize this in order to benefit all our customers, deliver value for our shareholders, and move closer to achieving our goal of becoming Africa's most respected energy business."
Source: © Neweralive - https://neweralive.na/
Debmarine Namibia´s revenue up 11% to N$8.9 billion
WINDHOEK – Debmarine Namibia's 2018 revenue increased 11 percent to N$8.9 billion, driven by increased production, improved consumer demand, competitive pricing as well as the weakening of the Namibia dollar against the US dollar. The latest figures of the 50-50 joint venture between De Beers and the Namibian government were announced on Friday morning during an event attended by the Minister of Mines and Energy, Tom Alweendo, Debmarine's executive management and key industry stakeholders.

At the breakfast event, Debmarine Namibia's Chief Financial Officer, Willy Mertens, also revealed that underlying EBITDA (Earnings before interest, tax, depreciation and amortisation) increased by six percent to N$4.6 billion. "The EBITDA increase is slightly lower due to cost pressures led by fuel prices and increased maintenance, but still maintaining a healthy 52 percent EBITDA margin," Mertens explained. Royalties at 10 percent of sales and income tax at 55 percent reduced slightly to N$2.4 billion, following the EBITDA results.

"Return on assets on an EBITDA level remains healthy at 62 percent with gearing levels reducing to 30 percent as we repay existing debt – the SS Nujoma financed by Standard Bank Namibia and RMB Namibia," said Mertens.
Debmarine Namibia's Chief Execuitive Officer, Otto Shikongo, emphasised that the marine diamond mining company is entering a period of significant capital investment, which is evidenced by the increase in capital expenditure and lower dividend payments.

Debmarine's net debt reduced 113 percent to net cash position as it retained some additional cash to prepare for the upcoming investments.

Shikongo was also beaming with pride to state that during 2018, N$10.3 billion in value was generated and distributed. This includes but is not limited to N$3.6 billion to suppliers of goods and services, N$853 million to employees, N$2.4 billion to government for Income tax and royalties, N$388 million to providers of debt funding.

Debmarine Namibia directly contributed N$16.4 billion over the past five years (2014-2018) to the fiscus.
Keynote speaker at the event, Alweendo noted that mining remains one of the most important sectors of the Namibian economy. In 2017, the mining sector contributed over 12 percent to GDP, and it is expected that by 2022, the mining sector's share of the GDP will exceed 15.2 percent.

"This high contribution to our economy suggests that for the foreseeable future, the economy will be dominated by the mining sector. Given the impact the mining sector has on the economy, it goes without saying that we need to take good care of the sector. We need to be pragmatic in the management of the sector. We need to ensure that the mineral resources are utilised to the benefit of both the investors and the state," said Alweendo.

He added that because of the importance of the mining sector, it is no surprise that the Namibians, who are the real owners of the resources, have a heightened interest in the mining sector and want to know how the mineral resources are being exploited and utilised. And, said Alweendo, Namibians have a legitimate expectation that the mineral resources be shared equitably.

Alweendo also questioned whether the mining sector can do more for the economy, such as being leveraged to strengthen the productive capacity of the economy as a whole and being fully processed locally.

"My general answer to these questions is that – yes indeed, all the above issues can be achieved. Yes, indeed the mining sector can do more. There is no reason why we should continue to export all our minerals in raw forms – some can easily be value-added. What is needed is a comprehensive dialogue between all the relevant parties that takes place in an environment of mutual trust. A dialogue that seeks to discover what is in the best interest of both parties," Alweendo continued.

"Value addition will strengthen the productive capacity of the economy, thereby serving as a catalyst for more investment in the economy. I am happy to note that such a dialogue between the mining industry and the Ministry of Mines and Energy has been intensified and I am hopeful that soon we will come to a mutually agreed outcome," he concluded.
Source: © Neweralive - https://neweralive.na
DBN understands Namibian economic liberation struggle better – Mbambo
RUNDU - The Kavango East Regional Governor, Dr Samuel Mbambo, says the Development Bank of Namibia (DBN) is ideally placed to change the culture of reliance on the country's neighbours and other countries. DBN, he says, must be one of the institutions that should take the lead in Namibia's economic development struggle, adding that no other bank understands the Namibian economic liberation struggle better than the DBN.

Mbambo made these remarks on Friday when he officiated at the official openning of the DBN regional office here in Rundu.

"It is my conviction that the Development Bank of Namibia is in a good position to change the culture of dependency on our neighbours and other countries. That is why we are happy in this region to have a regional office of this institution," he said.

Mbambo highlighted that the Kavango East Region has embarked on a food producing project called 'Operation Werengendje' as part of the Harambee Prosperity Plan (HPP). The operation is aimed at fighting hunger and the eradication of poverty as well as to improve food security. Mbambo believes that DBN's immediate presence in the region, which is often called the bread basket of Namibia, will bring positive change, particularly in the agri business sphere.
"I'm convinced that with the DBN in our town, the agro economic industries will expand, I'm therefore happy to see that the DBN openned a regional office in our region. It could not come at a better time," he noted.



Governor Mbambo during the occassion also noted that Namibia is blessed with visionary leaders, the founding fathers and mothers of our republic who had a dream called Vision 2030, in their visionary wisdom they would like to see Namibia being on par with developed countries of this world.

"They would like to see Namibia has moved on from a developing country to a developed country. As a nation that has a vision, we need a vehicle that will take us to that vision. This vehicle that is well-positioned and ready to take us there must be the DBN. It is pleasing to know that DBN has a department or section called the SME Department for the majority of our people who are doing business this is a welcoming development," he said.

"As previously disadvantaged people in the business world, our people will have access to finances through the SME Department of the DBN. Kavango East Region has everything the bank is wishing for, it has a population and the potential, look at how Rundu is growing, I think you will agree with me that Rundu is one of the fastest growing towns in Namibia, we commend you DBN for the decision to bring your office to Kavango East Region," he continued.

"The cattle herder has a philosophy, the philosophy is, if you want to be the best cattle herder you must herd, drive your cattle, herd on the pace of the weakest member of your herd, maybe its a calf that was born or a sick cow, this are the ones to determine the pace of your heard, if you allow the strongest ox or a bull to determine the pace of your movement from the field back home or to the river you will end up with a very small group of herd because others have been left behind," Mbambo said.

"We are moving to Vision 2030 and on our road to that Vision 2030, let us remember the wisdom of a cattle herder, remember the weakest members of our community otherwise we will get to Vision 2030 with a very small number while the majority have been left behind," Mbambo added.
The DBN Rundu branch is in Block A of the MVA Service Centre at ERF 2542 in Eugene Kakukuru Street, Rundu Main Road.
Source: © Neweralive - https://neweralive.na/
Outlook 2019 – The future is not what it used to be
Floris Bergh

The Namibian economy will probably show marginally positive growth in 2019 of 1.5 percent in real terms. This outcome will largely be the result of a "flattening" out of the down cycle rather than a real recovery. The down-cycle has been evident since 2016 and carried over throughout 2017 and 2018. In fact, we expect that the economy as a whole contracted in 2018 in real terms.

Amongst the primary sectors, 2018 was a mixed year with agriculture and fishing struggling, whilst mining experienced a bounce. For the latter, it was only the second positive year over the past five. We look for somewhat positive growth from these three sectors in 2019.

Similarly, amongst the secondary sectors, 2018 was mixed, with manufacturing contracting by an estimated 5 percent, whereas electricity & water and construction are expected to have done reasonably well. Bear in mind that construction contracted by more than 25 percent in each of the preceding two years – a sharp, severe recession in the sector. Looking forward, there should be somewhat of a recovery from a low base in these sectors.

The tertiary sector, encompassing mostly services, is where, amongst others, the role of government is taken into account. The Fiscus has been under tremendous pressure which, of necessity, stifled growth in government spending and, hence, economic growth. Retail & wholesale trade has contracted by an estimated 4.9 percent in 2018. Some other industries like transport, post & telecoms, financial, real estate and business services were positive, but hotels & restaurants were negative, according to the official National Accounts.

Ideally, in a situations like this, a country could use fiscal policy to stimulate the economy. Increasing spending on, say, infrastructure or wages gives final demand in the economy a boost and hence lifts the growth rate. However, Namibia does not have any fiscal manoeuvrability – debt levels, spending levels and deficits are already too high and threaten the country's creditworthiness.

Tax cuts
Another option is a tax cut which leaves more disposable income in the pockets of taxpayers. They then might opt to increase their spending and hence lift the growth rate. However, this means that the government's deficit will increase and therefore, runs into the same fiscal constraints. In fact, the pressures are such that Namibians are likely facing tax hikes rather than cuts. A tax cut may also worsen the balance of payments deficit if it leads to increased imports.

As far as inflation goes, it is quite possible that Namibia will have a somewhat higher rate in 2019, before it decreases again in 2020. Seasonal patterns in the constituents of the inflation basket as well as low inflation in early 2018, the so-called base effect", will probably contribute to a 6 percent plus rate at times during the year. Thereafter, we expect it to average about 5.5 percent in 2020. This means that Namibians should not expect wage increases much above 5 – 6 percent.

The lower petrol price and a stronger-than-expected currency will also help to ensure that, as in Namibia, there won't be a break-out in inflation in neighbouring SA. In fact, the South African Reserve Bank (SARB) lowered its inflation outlook and now does not expect inflation to breach the upper band of 6 percent at any stage over the next three years.

This means that policy driven interest rates will largely be stable in Namibia and SA for the foreseeable future in the absence of black swans (nasty surprises). The weakness in the real economy does not justify higher interest rates. On the contrary it rather calls for policy support, which increases talk that the next move in rates could be down.

Global developments also align with lower rather than higher interest rates and do not offer much support for the real economy. The Chinese economy is slowing due to bruising tariffs, weaker consumer confidence and lower demand for its exports. This is not good news for commodity exporters. Europe is beset with issues that are growth negative – Brexit, Yellow Vests and bad loans. Germany, and for that matter, Japan are struggling to prevent an economic contraction. The USA economy seems to be going strong. However, deteriorating global sentiment and domestic political shenanigans, coupled with rising interest rates are stoking fears that a recession is not far away.

The world is experiencing a growth scare similar to that of late 2015 and early 2016. This has affected financial markets badly, especially equity markets – the S&P500, the JSE, Nikkei etc. Markets usually stop panicking when policymakers start to panic and then, after exhausting all other avenues, decide to do the right thing.

Our wish-list for 2019 and beyond is as follows:
A good rainy season. This will give agriculture a boost. Even though it has become smaller and smaller as a percent of GDP, agriculture affects an outsized number of people directly and the knock-on effects are significant. There seems to be a high degree of uncertainty regarding what to expect from the rainy season. Further afield, a weak form of El Nino seems to be developing, which may or may not have an impact on Namibia's rain as well as global food prices.

An external boost to the economy like good rains may just be the tipping point to get us through the worst. Another positive boost could come from better-than-expected intra-regional trade, which will boost the income pool of the Southern African Customs Union. This in turn will alleviate the pressure on the Fiscus and might prevent tax hikes.

Sanity prevails in the political arena. This includes a sensible resolution to the bruising global trade war, the US government shutdown and Brexit, amongst other things. Add to this the wish that elections in Namibia and SA this year lead to outcomes that are better for all concerned. Remember that the decibels will rise sharply in the run-up to these.
Clarity and sensibility as far as domestic policy issues are concerned. It is critically important that these are settled. The golden thread that runs through the modern economic system and holds it all together is confidence. And confidence is based on clarity of purpose and predictability of policy. Here we refer to things like legislative changes, land reform, NEEEF, tax rates and the currency peg – all of which have been hot topics of late.

Then our entrepreneurs will not lose heart. We desperately need them to create, or, at least, maintain, jobs. This is an environment where we must all show our mettle and draw on the reservoirs of goodwill that exist within the nation.
As far as investment portfolio implications go, then, a cautious approach is still called for. Interest-bearing assets should continue to provide a reasonably attractive, nearly risk-free return in a fluid and uncertain macro environment. This means that money market returns and bond yields, generally, remain attractive vs. other asset classes as well as vs. inflation.
Inflation linked bonds are also an asset class that deserve consideration. It protects income and capital against inflation and as such serves as a hedge against "de-pegging" risk.

Perhaps the best cautious approach is to stick to a plan and/or a strategy that is in line with one's personal goals, circumstances, risk tolerance and time horizon. By all means, rebalance a bit. However, bear in mind that asset values have already adjusted and are now discounting to the present (present value) – a very bleak outlook (future value). The future may not be what it used to be, but it should prove to be better than what is currently expected.
*Floris Bergh is the Chief Economist at Capricorn Asset Management, part of Capricorn Group.
Source: © Neweralive - https://neweralive.na/
How African governments should negotiate better infrastructure deals with China
"You don't negotiate with China!" I was quickly told when I started interviewing African public servants about their infrastructure deals with Beijing. There is a widespread view in Africa that you accept whatever terms are offered, for fear that the money might go somewhere else instead.

China is the leading infrastructure finance provider on the continent – as demonstrated by a recent pledge of $60 billion (£47 billion), most of which is for infrastructure projects. Big projects on the slate include hydropower plants in Angola and Guinea, an oil refinery in Nigeria, and a new city in Egypt.

Yet, when you look closely at what happens on the ground, some African countries are much better at negotiating with the Chinese than others. Railway projects in East Africa appear to be a good example. In Kenya, the Standard Gauge Railway is the largest infrastructure project since independence from Britain in 1963. China Eximbank provided most of the finance for the first phase – 472 kilometres of track between Nairobi and Mombasa – at a cost of $3.2 billion.

In neighbouring Ethiopia, an electric train line from Addis Ababa to Djibouti, which is also Chinese-financed, opened two years ago. The cost for this more expensive type of railway was $3.4 billion – for 756 kilometres. Kenya claims that its railway cost more for reasons like the terrain and the need to carry higher volumes of cargo. At the same time, however, many believe other issues to have been at play – including failures around the negotiation process.

My ongoing research into China-funded infrastructure projects confirms African governments can learn from best practice in this area. The best deals depend on the following four conditions being met.

Involve everyone
The process in Chinese deal-making tends to go like this: Beijing will begin by making financial pledges, often aimed at a number of countries; these are followed by meetings at state level between a Chinese delegation and the African head of state and their senior officials. Infrastructure projects under discussion have often already been passed over by Western donors.

Once a project is broadly agreed, the relevant Chinese contractors, mostly state owned enterprises, will typically contact African civil servants in the relevant branches of government to get detailed negotiations underway – with support from the Chinese trade mission and local embassy. Topics to be discussed will include costs, but also the use of materials and workers; technology transfer; and the effect of national regulations in areas like labour, construction and the environment.



In countries like Togo and Cameroon, key ministries like finance, planning or even the cabinet will lead the negotiation. In the likes of Benin and Senegal, the relevant technical ministry, such as transport or housing, will lead instead or take over. They are supposed to consult with departments like finance and planning, but they often press ahead on their own to speed up the process – sometimes without any experience of dealing with China.

In practice, such deals can be less beneficial to the country in question. Where one arm of government is not clear about what another is doing, it increases the potential for corruption – there has been a corruption investigation in the case of the new Kenyan railway, for example, and I have been told during my research that this was also linked to coordination failures during the negotiations.

When all relevant government departments are involved in a negotiation, it does take longer. The process is more coherent, however, and the resulting project is less likely to breach national regulations.

Empower the negotiators
The president or his senior advisors also frequently intervene during negotiations. This is likely to be politically motivated – a need to fulfil electoral promises around infrastructure development, perhaps, or pressure from the Chinese authorities.
Where civil servant negotiators are being pressed to hurry up, it can mean that national regulations get ignored. In Benin, for example, during negotiations over road projects several years ago, the Chinese contractors were unhappy about certain conditions being imposed. Then president Yayi Boni agreed to intervene on their behalf to bypass national regulations in areas including labour and construction. Such situations are best avoided.

On the other hand, some outside interventions can be positive. In Togo, Senegal and Tunisia, and the current government in Benin, I've seen examples of the cabinet hiring international law firms with experts who have worked in the Chinese government and its development banks. This can bridge the differences in Chinese and African negotiating styles.
The Chinese often adopt a take-it-or-leave-it approach. In many cases, Africans are not confrontational enough in return. They don't appreciate that China has a surplus of domestically produced materials they are seeking to offload, for example. Wiser negotiators will play China off against other countries seeking to finance infrastructure projects on the continent, such as South Korea or the United Arab Emirates.

Keep the public onside
China tends to be popular in Africa – more so than the US in around 60% of countries on the continent. Yet the public also see negatives: many think Chinese products are poor quality, while there is a growing perception that dealing with China tends to favour Chinese labourers.

African governments need to bear these concerns in mind. If not, they risk being denounced by the media or civil society organisations – as has happened in Kenya over the railway, for instance.

Increase knowledge
African governments are still relatively new to dealing with China; they should take every opportunity to share lessons with one another. There is a role for African universities here. They should set up more centres of Asian studies to close the gap in information and knowledge.

Some have argued in the past that many African governments fail to negotiate successfully with the Chinese because they lack a strategy. I actually see plenty of stratagems and tactics on the African side. What is required is a more coordinated and coherent approach – something China has been working on from its own perspective. It is better for African governments to have no deal than a bad deal. With the right approach, they can achieve much more than is often thought to be the case.

• Folashade Soule, Senior Research Associate, University of Oxford
(This article is republished from The Conversation under a Creative Commons license.)
Source: © Neweralive - https://neweralive.na/
Ambassador Mbuende invites Dutch business community to Namibia
Staff Reporter

WINDHOEK - The Namibian ambassador to The Netherlands has welcomed the Dutch business community to come and invest in Namibia. "Our embassy would like to organise a large business delegation from The Netherlands, so they can have Business-to-Business meetings in Namibia," Ambassador Kaire Mbuende said, during the "Doing Business in Namibia" seminar. The seminar was organised in the Dutch city of The Hague by the Netherlands-African Business Council (NABC) and the Netherlands Namibia Trade and Investment Forum (NNTIF) in close collaboration with the Embassy of Namibia in Brussels.

The Netherlands Namibia Trade and Investment Forum is a recent initiative of the Honorary Consul of the Netherlands in Namibia, Servaas van den Bosch, his predecessor and previous Honorary Consuls of the Netherlands in Namibia, Ger Kegge and Honorary Consul of Namibia in the Netherlands, Cornélie van Waegeningh. NNTIF aspires to strengthen trade and investment relations between the two countries and offers support services to companies for market access.


The half-day event, which hosted speakers from the Namibian Embassy, as well as Netherlands entrepreneurs already active in Namibia or planning to be, and Namibia's Meatco, was attended by roughly 40 entrepreneurs. Upon the opening speeches, Namibia's Commercial Councillor, Diana Kuiri Tjiposa, kick-started the discussions with a presentation on trade and investment opportunities in Namibia, which was followed by lively exchange of information between participants.


"Although Namibia may be considered as a small country, it has great potential to be used as the gateway to the rest of the SADC and African region due to its location. We at NABC see that there is quite a number of interesting business opportunities," said Peter de Ruiter, the Managing Director of NABC. "NNTIF decided to focus this forum on trade and investment opportunities on those sectors where the Netherlands business community could have competitive advantages and in which there could be a demand in Namibia," said Ger Kegge, one of the founding members of NNTIF. This pertained to agri-food sector, in particular marketing meat, smart horticulture, and value-added fish processing and marketing, to service delivery, in particular tourism and logistics, and to IT, in particular data processing and automation.


Ambassador Mbuende added that: "The Netherlands is renowned for its agro food, but also has an excellent reputation when it comes to water management and energy, including renewable. Meanwhile, in Namibia we have trade and investment opportunities in nearly every sector."


NABC represents a group of 350 Dutch member companies that do business with Africa. It organises trade missions to African countries and receives incoming trade delegations. Their main aim is to stimulate trade between Africa and The Netherlands.
Source: © Neweralive - https://neweralive.na/
Namibia scoops two wins at startup awards
WINDHOEK - Out of the 15 categories, Namibia brought home two awards from the recent Southern Africa Startup Awards (SASAwards), which was held for the first time to celebrate and recognise the spirit of innovation and achievement in the startup ecosystem in the SADC region. SASA Namibia was represented by 11 regional winners from nine startups at the SASAwards grand finale that took place on 21 and 22 November 2018 in Johannesburg, South Africa.

At the ceremony, 'Founder of the Year' was won by Kennedy Liswani of Elephonic Mobile Technologies, while twin brothers, Demetrio and Devano Möwes, of Solve Namibia scooped the Best Water Crisis Management Solution award.

Every country was expected to produce a country winner in 15 respective categories, such as: Startup of the year, Best newcomer, Founder of the year, Best financial tech startup, Best student startup, and Best food tech and Agritech startup, amongst others. SASA Namibia, like in any other SADC country, uses platforms sponsored the Global Startup Awards.

The Namibia Business Innovation Institute (NBII) of the Namibia University of Science and Technology, in partnership with the National Commission on Research Science and Technology (NCRST), are the node of Southern Africa Start-up Award (SASA). The SASA is an official Southern Africa circuit for the Global Startup Awards, which has been running annually since 2012. The global Startup Award is celebrated in 45 countries across seven regions, including Nordics, Central Europe, and Southern Africa.

Southern African joined in 2018, and has already all 15 SADC countries signed up with the initiative. The Global Startup Award annually interacts with in excess of 100 000 startups, entrepreneurs, investors, and journalists throughout the award shows, and it has over 200 000 fans or followers throughout social media. Some of the organisations that support the Global Startup Awards include: Google, MasterCard, Facebook, Amazon, Microsoft, and IBM.

"On behalf of NBII and our partner: NCRST, we thank all our sponsors and contributors: FNB Namibia, SAIS, and the Namibian government for the contribution in rolling out this important programme. We trust that with their continued support of this initiative, we will establish and strengthen the startup ecosystem," said the Manager of Innovation Marketplace at NBII, Silas Newaka. "Namibia, be ready for 2019 when the SASAwards are coming back even bigger and better" he added.
Source: © Neweralive - https://neweralive.na/
MTC and Huawei's LTE solution doubles network capacity
WINDHOEK - MTC Namibia partnered with Huawei to put the 4T6S solution into large-scale commercial use. The area selected to benefit from this solution is the central business district of Windhoek. This move is a conscious decision by MTC to efficiently improve network capacity and overall user experience while helping to slash site power consumption and total cost of operation.

The move of MTC and Huawei sees the debut of the first-ever deployment of SingleRAN Pro networks in Namibia. The broad deployment of this solution will help MTC Namibia to continuously widen its lead in the MBB market, while supporting its network strategy of prioritising the best possible capacity, coverage, and quality of service.

The huge influx of tourists and people flowing throughout the city generates ultra-high data traffic and brings abundant business opportunities to MTC's mobile networks. To cope with the situation, MTC Namibia decided to deploy Huawei's latest 4T6S solution (as a part of the SingleRAN Pro solution) and perform capacity expansion at 1.8GHz, 2.1GHz bands in advance.

After the 4T6S is deployed, resource congestion is greatly eased and the transmission data rate is considerably faster. With the average upload and download time shortened by 52 percent, subscribers can now access more benefits and perks brought by such mobile networks.

In addition, MTC Namibia and Huawei have provided customised services for small and medium-sized enterprises, leading to 79 percent growth of traffic in the area.

"MTC and Huawei have been working together as strategic partners for a very long time, providing the best telecom network services to consumers in Namibia, and it is a joint innovation between MTC and Huawei to ensure the successful deployment of the latest 4T6S solution. I am glad to see that Huawei's solution has lived up to our expectations. Our cooperation in the innovative SingleRAN Pro and 4.5G Evolution technologies is a milestone of our strategic relation, and it also marks the beginning of gigabit society where consumers could enjoy faster and better mobile broadband experience, and the mobile broadband network with high speed, and big capacity enables the development of virtual reality, 4K high resolution video, internet of things, and many other new business opportunities. The digital economy will be boosted by all these new businesses," said Thinus Smit, MTC's acting CEO.

Chen Chuanfei, head of Huawei LTE FDD Product Line, commented that 4T6S is an important capacity solution under the umbrella of Huawei SingleRAN Pro. "The joint deployment of this solution in Windhoek doubles mobile network capacity and improves user experience without the addition of new sites or spectrum. We are one step closer towards realising a 5G-oriented target network. MTC is a pioneering operator that is hoping to accelerate service monetisation through traffic operation, try new business models, and discover new revenue growth points. Huawei is highly anticipating a long-lasting and fruitful partnership, and is eager to continue working closely with MTC Namibia. Together we can combine our strengths and continuously improve user experience, maximize spectral and operation efficiency, and pursue more and more innovation for greater business success," said Chuanfei.
Source: © Neweralive - https://neweralive.na
MTC invests in fibre optic broadband to increase speed for businesses
WINDHOEK - With an ever-changing global communication ecosystem, the need to invest heavily in infrastructure remains a critical component for the growth of any telecommunications company if their goal is to survive in the cutthroat communication industry.

Spurred by the need to service Namibia, MTC's launch of its fibre optic solutions for businesses, was driven by the aspiration to service its clientele with super-fast fibre broadband connections and bigger capacity

MTC's Acting CEO, Thinus Smit explains, "In technology, changes are unavoidable. Technology continues to change and grow along with the increasing demand for faster and high-quality internet connection," said Smit.

"As a full-service communications solution and internet service provider, MTC continues to keep up with the ever-growing changes and we continue to make new technology innovations to be able to provide the best internet service supported by the latest infrastructure and reliable networks for the people of Namibia, adds Smit.

Fibre offers a reliable and fast internet and allows the management of multiple devices with ease, giving the much-needed convenience for business – one of which is cloud services.

"The need for higher bandwidth in Namibia businesses is rising. We are currently experiencing a trend where services that were previously on local servers at each individual company are now moving to the internet as cloud-based services. In addition, the use of video services in businesses is also increasing, both for live use and for training," says Patrick Mushimba, General Manager of IT at MTC.

Tim Ekandjo, the Chief Human Capital and Corporate Affairs Officer said, "When a customer contacts us wanting a fibre optic connection, we check the company's location along the routes which our cables are laid.

Currently we are laying more fibre cables connected to our roadside cabinets, from the cabinets we will be able to direct fibre lines directly to your place of business or premises, with the least turn over and minimal installation timeframe as possible.

Permanent Secretary in the Ministry of Information and Communication Technology, Mbueta Ua-Ndjarakana (front) being assisted by MTC Chairman, Elvis Nashilongo and other MTC executives to physically lay the fibre optic cable in which MTC has invested for businesses. The increased need for bigger capacity and faster internet speed has created a need for increased capacity in the data network.
Source: © Neweralive - https://neweralive.na
Namibia to promote trade with Indonesia
CABINET has directed the Ministry of Industrialisation, Trade and SME Development to promote trade and investment between Namibia and Indonesia.
The directive follows a state visit by president Hage Geingob to Indonesia at the end of August this year.

Minister of information and communication technology, Stanley Simataa said in a media statement on Cabinet resolutions taken on Tuesday that the promotion would be done to establish a pharmaceutical processing factory for traditional Chinese medicine from cattle kidney stones and seals.

"The factory has the potential to create about 500 employment opportunities and skills transfer in Namibia," the statement said.

Cabinet further directed the Ministry of Agriculture, Water and Forestry to collaborate and exchange information on agribusiness, capacity-building and research and development between the two countries.

The Ministry of Works and Transport was also directed to discuss potential cooperation in areas of infrastructure development such as roads, airports and railways, funded by both the state and the private sector through public-private partnerships.

– Nampa
Source: © Namibian - https://www.namibian.com.na
Business and investor confidence restored after guaranteed property rights at land conference
WINDHOEK – The jitters felt by local businesses and investors prior to the second national land conference that took place in the capital last week seem to have faded resulting in restored and improved business and investor confidence. Local economic analysts agree that much of the restoration of confidence comes from the assurance from the conference that property rights remain guaranteed and that the rule of law and just compensation for expropriated land will be enforced.

"The biggest relief for the financial industry is that a degree of certainty has been achieved. Fears of anarchy inducing land grabbing have been pacified. An environment charged with uncertainty serves as a deterrent to local and foreign investment," commented Claudia Boamah, Economic Analyst at Capricorn Asset Management.

Boamah noted that Namibia's land reform measures are being measured against South Africa and Zimbabwe where land has also been a contentious issue.

"The fact that there was a conference means that Namibians are still open to dealing with reform within the system, which is a signal to the world that the probability of random land seizures is very low and property rights are still secure in Namibia," Boamah noted.

She added that clear parameters established at the conference regarding expropriation were welcomed, where only land owned by absentee owners or underutilised land can be the subject of expropriation and there is an obligation on the state to offer just compensation.

"In theory this bodes well for the economy; the offer of compensation demonstrates adherence to the law of the land and therefore emphasises the strength of and respect for institutions in the country. The expropriation of underutilised land speaks to a commitment to achieving economic efficiency," said Boamah.

"There are extremely divergent views on the matter of land reform in Namibia and it would be difficult to maintain peace in the country if the conference's resolutions leaned too close to one side or the other. Therefore, the most realistic expectation to have of this land conference is the achievement of a good compromise," she continued.

Weighing in on the debate, Klaus Schade, Research Associate at the Economic Association of Namibia, said for the private sector and for investors it was reassuring that property rights remain guaranteed and that there won't be any attempts to change this part of the constitution.

"Although some relevant groups of societies have boycotted the conference, the diversity of the participants as well as the frank discussions have certainly also sent a positive signal out to the private sector and potential investors," said Schade.
He noted however that there are many resolutions from the conference that will impact on investor sentiments and confidence that need further clarification, such as the prioritisation of expropriation over the willing-seller, willing-buyer principle, ownership of urban land by foreigners, absentee landlords, rent control bill, etc.

He pointed out that it is not only the Namibian Constitution that is binding, but international agreements the country has singed, such as the Convention of the Multilateral Investment Guarantee Agency, as well.

"The hard work lies ahead, namely to translate the resolutions into implementable strategies and ensure that they are in line with the various legal instruments or that these instruments are being adjusted accordingly," Schade said.

During last week's conference, Deputy Governor of the Bank of Namibia, Ebson Uanguta, warned that no one would be willing to commit investment in an enterprise where property rights are not secured. "Without clearly defined property rights contracts will not be enforced and it would be extremely difficult to plan for the future. Well-defined property rights are the most basic necessity for a functioning economy and lack of them is the biggest drag on an economy. The less secure those rights are, the poorer the economy gets. Disrespecting property rights in one sector of the economy may have spillover effects or create a perception that property rights in the other sectors may also not be respected," Uanguta cautioned conference delegates.
Source: © Neweralive - https://neweralive.na
Government to invest N$3.6 billion in agriculture during MTEF
WINDHOEK - Prime Minister Saara Kuugongelwa-Amadhila, on Friday said government intervention in the agricultural sector will continue to be substantial during the next three years, until 2021, government plans to invest about N$3.6 billion over the Medium-Term Expenditure Framework (MTEF) into the development of this sector. While speaking at the ground-breaking ceremony of the Asparagus Agro-Processing Factory, by Otjimbele Agriculture, at Ruacana in the Omusati Region, she said the sector in which Otjimbele has chosen to invest is a key sector of the economy due to its growth and employment-generation potential.

Otjimbele Agriculture commenced with a trial research study for the plantation of asparagus in Omusati in 2015, which proved the viability of growing the rare crop in that part of the country.

"Globally, agricultural development is one of the most powerful tools to end extreme poverty and boost shared prosperity. Growth in the agriculture sector is two to four times more effective in raising incomes among the poorest compared to other sectors and 65 percent of poor working adults make a living through agriculture," said Kuugongelwa-Amadhila.

She noted that other key government initiatives in the agricultural sector include the continued promotion and expansion of the Green Scheme, increased investment in agricultural training and continued promotion of National Horticulture Development Initiative with a view to increase the share of local products and to promote value addition.

Government adopted the Green Scheme Policy in 2008 to improve national food security and propel agricultural production. The Green Scheme initiative encourages the development of irrigation based agronomic production with the aim of increasing the contribution of agriculture to the country's Gross Domestic Product and to simultaneously achieve the social development and upliftment of communities. It also aims at harnessing the resources of government and other stakeholders in order to increase agriculture productivity and social development as envisaged in Harambee Prosperity Plan, NDP5 and Vision 2030. Currently, 11 Green Scheme irrigation Projects have been implemented in the country.

"As a government, we envision a private sector led economic growth in order to realise sustainable economic development and accelerated employment creation in the country. This requires us to see increased foreign direct and domestic investments in various sectors of our economy which should naturally result not only in increased business activities but also in the creation of new jobs and speedy eradication of poverty," Kuugongelwa-Amadhila stated.

"The challenges of poverty, unemployment and inequalities require a faster and more equitable economic growth. It is only through faster and equitable economic growth that we can create more opportunities for employment and achieve more equitable distribution of income. While the government's fiscal policy is important in stimulating growth, we need the private sector to show greater confidence in our economy, by increasing investments in the economy, and we see numerous opportunities which our country can put forward for various investors to consider," she said.
Source: © Neweralive - https://neweralive.na
NCCI Swakop to host Women in Business Conference
Staff Reporter

WINDHOEK - The Namibia Chamber of Commerce and Industry (NCCI) in Swakopmund, in partnership with Bank Windhoek, Old Mutual and Air Namibia, announced its annual Women in Business Conference, slated to take place on September 6 at the coastal resort town.

The event, now in its second year, is a platform specifically created to give women in business a platform to forge critical connections in the business community in order to help their businesses thrive, especially in these challenging times.
Speaking on the importance of the event is Branch and Marketing Manager at NCCI Swakopmund Paulina Mbango, who said: "Women empowerment is not a women only issue, but an issue for all of us as a whole. It is an established fact that empowerment of women improves economic and social development of a society as a whole, therefore, NCCI is committed to gender equality and we invite women, in all industries, to join us for this special event."

Jacquiline Pack from Bank Windhoek in a statement said: "Women are a powerful force in the Namibian economy and a smart choice for businesses to invest in. This platform will empower delegates to learn and share their experiences, especially regarding the current challenges facing them in our economy. While we strive to reach our full potential and build businesses we dream of, contributing to society and leaving a legacy, we are also aware of the other equally fulfilling roles of mother, nurturer, provider, wife, daughter, sister, chef and councillor. These roles also contribute to an empowered woman."

The event will be held at the Swakopmund Hotel and Entertainment Centre and will feature eight distinguished speakers, all of whom are well-known experts in their fields of expertise. Topics will include Business Start-up Financing, Funding and Investments, The Legal Side of Business, Marketing for SME's, and Business Survival Strategies for the Current Economy.
Speakers will include Ujama Mushimba, founder of Good Women, Good Business Start-Up fund, entrepreneur and owner of Kauai Franchise Estelle Tjipuka and Afra Shimming-Chase, financial wealth management expert, amongst other experts in the financial, legal and media industries.
The event is expected to be a valuable investment for any women entrepreneurs in the early stages of their business or women that have established businesses and looking to take them to the next level.
Source: © Neweralive - https://neweralive.na
African Investment Forum to drive investment in strategic sectors
WINDHOEK – The African Development Bank (AfDB) is considering increasing its direct funding of bankable projects of the continent's private sector, given the sector's propensity to drive economic growth, generate decent jobs and create increased opportunities for more inclusive and green growth. This was revealed by African Development Bank Executive Director, Mihe Gaomab II, who noted that private sector development is widely recognised by the international community as an engine of sustainable and inclusive economic growth.

Gaomab, a prominent economist and former chief executive of the Namibia Competition Commission, made the revelation yesterday during a lecture at the International University of Management (IUM) on Africa's development agenda. Speaking to a packed hall at IUM, Gaomab said that the upcoming meeting of the Africa Investment Forum (AIF), scheduled to take place in Johannesburg next month, would be used as a platform to pool resources for private sector investment from institutional investors expected at the forum.

"The bank group therefore identifies private sector development as a core operation in the achievement of the five priority areas, referred as the high 5s. These are energy, industrialisation, agriculture, regional integration and improving quality of life for Africans," said Gaomab.

According to the AfDB, the continent's infrastructure requirements amount to between US$130 billion to US$170 billion a year.

"To address these challenges, the African Development Bank is championing the Africa Investment Forum (AIF) as a platform to actively engage the private sector and to facilitate projects that have the capacity to transform the continent. AIF is designed to enhance private-sector cooperation and drive investment in sectors of strategic interest within Africa," said Gaomab.

During the launch of the AIF earlier this year, AfDB President, Akinwumi Adesina, said: "This is not a talk shop. There will be no political speeches. The AIF provides an open platform to organise efforts among multilateral institutions, governments and the private sector to improve a pipeline of projects capable of transforming the continent."

The upcoming AIF is expected to harmonise processes among the bank and its partners, reduce intermediation costs, improve quality of project information and documentation, and increase action-oriented engagements between African governments and the private sector.

AfDB's private sector vision is based on a conceptual framework for development impact that links entrepreneurship, investment and economic growth with the bank's ultimate goal of poverty alleviation and sustainable growth.

This emphasis on the pivotal role of the private sector has also been reaffirmed in all AfDB policy documents, which show that in sectors such as agriculture, infrastructure, education and health, the related policies recognise that the development of a strong and dynamic private sector is crucial to sustainable economic growth and poverty reduction. In addition, the bank has identified private sector development as one of its fundamental areas of focus to reduce poverty and support sustainable growth on the continent.

The bank's previous private sector interventions in 2016, which emphasised co-financing, syndication and strategic partnerships with the private sector, have strengthened its capacity to leverage and crowd-in third- party investors.
These interventions lifted the ratio of private co-financing to bank financing to 6:1, against the target of 5:1, which augurs well for the bank's future engagement with the private sector.

To become involved in a project, AfDB needs to be satisfied that the project is consistent with a country's economic development objectives, has sufficient comparative advantage and is likely to succeed in a sustainable manner.
Source: © Neweralive - https://neweralive.na
SME sector will benefit from the AfCFTA – Meyer
NAMIBIA´s small and medium enterprises sector will gain easier access to bigger foreign markets for goods and services through the African continental free trade agreement, SMEs Compete director Danny Meyer says.
In an interview with Nampa on Wednesday, Meyer said the domestic market is small, which limits growth possibilities for many enterprises.

"Countries with much higher populations like Angola, Zimbabwe, Zambia and Malawi certainly pave the way for business growth, especially for small Namibian firms with export-ready products or services to offer," he noted.

SMEs Compete will develop and introduce a business skills honing training programme to encourage entrepreneurs around the country, especially those to whom it routinely provides business growth support.

Meyer said this programme will help entrepreneurs gain knowledge on exporting procedures and foreign currency payment transactions.

"The aim of the programme is to ignite a spark of interest among entrepreneurs with an interest to grow business through exporting their goods and services," he explained.

Enterprises like Miracle Arts and Crafts, IndigenousBatikDesigns and Dinapama Manufacturing, who have export-ready products, would gain a lot from access to foreign markets, and the local SME sector would expand, Meyer added.

According to the African Union, one of the main objectives of the African continental free trade agreement is to expand intra-African trade through better harmonisation and coordination of trade liberalisation and facilitation and instruments across Africa´s regional economic communities, and across Africa in general.

– Nampa
Source: © Namibian - https://www.namibian.com.na/
Jewellery competition set for SeptemberJewellery competition set for September
THE Namibian coloured gemstone sector will be hosting a jewellery and artefacts competition at the Franco Namibian Cultural Centre in September under the theme ´Namibian FairGems Jewellery and Artefacts´.
The competition is aimed at promoting value-addition to Namibian gems and minerals, and the jewellery and

artefacts pieces must thus have gemstones mined in Namibia, and preferably ennobled (cut and polished) in the country.

Designers are encouraged to create pieces for both women and men. There will be three categories – Bohemian jewellery and artefacts, tribal jewellery and artefacts, and modern jewellery and artefacts – under which the designers can compete.

The best 10 jewellery and artefacts pieces will get monetary prizes, with the best piece being assigned a N$5 000 prize. The 10 best pieces will also become part of the ´Namibian FairGems Jewellery & Artefacts selection´ distribution line, which will be marketed and promoted to potential tourist centres in Namibia.

The competition was launched in July 2018, and any jewellery and artefact designer (including arts students at secondary and tertiary levels, artisans, hobbyists, manufacturers and goldsmiths) in Namibia are invited to participate.

Entries are limited to three finished pieces of artefact and/or jewellery falling under any of the categories and with a selling price of between N$300 and N$3 000 per individual entrant. The finished pieces and the competition´s entry form must be submitted at the FNCC by 17 September 2018.

The entries will be judged by members of the public at the FNCC gallery from 25-27 September, and the 10 best entries will be announced on 27 September.

Members of the public are invited to judge the pieces, and every judge will enter a lucky draw in which the first prize is a Namibian-mined and polished gemstone.
Source: © Namibian - https://www.namibian.com.na/
Sacu members will provide resources – Masisi
THE five member states of the Southern African Customs Union (Sacu) have vowed to commit the necessary human and financial resources needed to complete its work programme.
This was said by Botswana president Mokgweetsi Masisi during the closing ceremony of the 6th summit of the Sacu heads of state and government held in Gaborone recently.

Masisi, who is the Sacu chair, noted with appreciation the progress made on the implementation of the work programme, his speech released by Sacu shows.

Despite the progress made, more work is required in areas such as revenue and the development of suitable architecture for tariff-setting, rebates, duty drawbacks and trade remedies, he added.

"We have also committed ourselves to making available the necessary human and financial resources to facilitate the conclusion of this process," Masisi promised.

In addition, the gathering noted that the implementation of the work programme needs to entail extensive national consultations to ensure an inclusive and comprehensive engagement with relevant stakeholders.

To this effect, the completion date of the programme has been extended by 12 months from December 2018 to December 2019.

The Sacu work programme´s overall objective is to contribute to the development of a sustainable and improved economy in the union with regard to trade, security and social protection through the development of customs authorities as fair and effective trade management partners, as well as modern social protection and revenue collection services.

The two-day summit further reaffirmed the importance of the regional integration agenda that promotes the economic integration, industrialisation and diversification of Sacu economies, a separate statement issued by the union shows.

Furthermore, the heads of state noted with concern the global developments on trade, particularly the rise in unilateralism, reaffirming the centrality of the rules based on multilateral trading as embodied in the World Trade Organisation.

Apart from Masisi, the summit was attended by King Mswati III of Swaziland, President Hage Geingob of Namibia, South Africa´s Cyril Ramaphosa and Thomas Thabane, prime minister of Lesotho.

Masisi will hand over the Sacu chair to Thabane on 15 July.

"Please be assured of my availability to assist and support you in your role in facilitating the full implementation of the Sacu work programme," Masisi told Thabane.

Sacu is a customs union grouping five countries in southern Africa – Botswana, Namibia, Lesotho, South Africa and Swaziland.

– Nampa
Source: © Namibian - https://www.namibian.com.na/
Elso aims to create employment
ELSO Holdings aims to contribute to the local economy by creating employment through the launch of a new range of products while upgrading its manufacturing operations at Ongwediva.
At the launch last week, Elso chief executive Hilton Loring said plans are underway to grow the company into a Namibian world-class manufacturing company. The company also plans to increase production, upgrade its manufacturing facilities and at the same time stimulate employment growth and contribute to the country´s economy.

Elso launched its new range of Citro products during the event at Ongwediva, a brand extension that will complement a range of cleaning products which consumers are already familiar with. The new products introduced are Citro power multi-purpose cleaner as well as Citro shine, glass cleaner.

Elso was acquired just over 20 months ago by the Allegrow Fund, and is managed by Eos Capital. The Allegrow Fund invests in businesses with the potential for growth, and provides them with capital and strategic support to achieve their full potential, giving it the basis from which to grow and successfully build on a 60-year legacy.

"Elso is well-positioned to grow, building on its proven manufacturing track record and strong historical base and stakeholder relationships. The organisation already has a strong manufacturing base, with production facilities at Swakopmund and in Windhoek, employing over 140 people," said Loring.

Over the next two years, Elso will embark on upgrading and modernising its manufacturing facilities to increase capacity and output, he added.

This programme will help realise Elso´s strategic and business goals by creating a strong and sustainable manufacturing business within Namibia, which will also drive job growth. Adding to its consumer product range and giving consumers access to refill facilities for their cleaning products is part of the roll-out.

All the activities announced in the north allow Elso to deliver on its promise to provide affordable, effective products and environmentally friendly products to the Namibian market.

In order to ensure the company delivers its promise, it is embracing the expert cleaning solution clients can always trust throughout its value system.

"It will also be investing behind the scenes, ensuring that its people, systems and processes deliver fully the business strategy and so that Elso may become a high-performing organisation," Loring added.

Looking at future developments, he said Elso has signed a number of innovation contracts with key suppliers to ensure the future of the company. This will enable fast-tracking new ingredients and trends, as one of its primary focuses is bringing value to the current product range, and building on its buy-cleaner buy-greener history.

Loring said: "We are proud of our heritage, and we thank all our partners, customers, suppliers and employees for their support in building Elso into the great business it is today. We invite all of our stakeholders to be part of our next exciting chapter as we grow into our new promise."
Source: © Namibian - https://www.namibian.com.na/
Namibia, Turkey to increase trade volumes
NAMIBIA and Turkey renewed their economic and trade relations as the two countries established and convened the first business council joint meeting in Windhoek last week.
It was attended by some Turkish investors, who were in Namibia on a three-day official visit, and several Namibian business individuals.

The visit emanates from an agreement signed during the 2016 Invest in Namibia conference between the Namibia Investment Centre (NIC) and the foreign economic relations board of Turkey.

The Turkish business delegation will explore business opportunities in the areas of tourism, construction, real estate development, energy and mining.

Turkish ambassador to Namibia Berin Tulun said business councils aim to improve Turkey´s commercial and investment relations with Namibia and the African continent as a whole, "as well as increase the share of Turkish companies in the African geography".

She added that the Turkish delegation would also explore opportunities in the meat and meat products, food products, cold storage, education, health and health tourism, vehicles and infrastructure sectors (roads, bridges, airport, harbour and port).

The trade volumes between Turkey and Namibia stood at US$56 million in 2017.

This, she said, does not reflect the real trade potential between the two countries.

"The new partnerships can be created by sharing developed know-how on agriculture, agro-processing technologies, tourism, construction, automotive and components, and the machinery, textile, health and manufacturing industries.

The Turkish delegation also held a Namibia-Turkey business forum, along with B2B meetings in Windhoek, in cooperation with the NIC.

NIC deputy director Angela Dau-Pretorius said the meetings would serve as a platform to better discover the economic potential of both countries.

She added that the business-matchmaking session was aimed at providing Namibian entrepreneurs/companies with a platform to engage their Turkish counterparts on possible areas of collaboration.

Dau-Pretorius said the business council plans to carry out various activities, including mutual delegation visits to increase commercial and economic relations between the two countries.

At the same event, Namibia´s honorary consulate to Turkey, Haten Yavuz, commended Namibia´s ´conducive environment for investment´, and urged his Turkish counterparts to make use of the friendly environment to grow their businesses.

"Namibia has the platforms and a favourable environment, while the Turks have the know-how. Therefore, I would like to see the unification of industries to learn and do business together. Over 200 000 houses are needed to address the housing problem in the country, so there is the opportunity to grow your businesses," he urged.

He added that Namibia was also the best place for Turkish investors because "there is not much competition, and there is a huge need for housing structures".
Source: © Namibian - https://www.namibian.com.na/
Vivo, Hangala inject N$136m for office
VIVO Energy Namibia and Hangala Group are set to construct offices in Windhoek at a cost of N$136 million, creating a total of 300 jobs during the construction phase.
Vivo Energy Namibia and Hangala Properties last Thursday held a groundbreaking ceremony for the construction of their offices, which would be called Vivo House.

With construction scheduled to be completed in 18 months, Vivo House will be Vivo Energy Namibia and the Hangala Group´s new head office. The building will have office space, residential units and ample parking space.

Speaking at the event, Vivo Energy´s executive vice president for eastern and southern Africa, David Mureithi, said Vivo Energy´s ambition in Namibia was to take the strong Shell brand and continue to strengthen it, adding more investment to grow in Namibia and other markets where the company operates.

Mureithi added: "We have continued to grow across the continent, starting with around 1 200 service stations six years ago, to over 1 800 at the end of 2017. In Namibia, over the last five years, we have grown from 34 service stations to 56 today. This is a demonstration of our commitment to invest."

"In that spirit, it became clear to us that we do not have space we can call our own home in Namibia. This project gives us a true home," he said.

Johan Grobbelaar, Vivo Energy Namibia´s managing director, commended the Hangala Group for the excellent working relations between the two companies, and thanked the teams who have brought the project to its current stage so that construction could commence.

Alfreda Stramis, chief financial officer of the Hangala Group and managing director of Hangala Capital, speaking on behalf of Leake Hangala, executive chairman of the Hangala Group, said: "Hangala Group is a diversified company with interests in financial services, agribusiness and property development. Our slogan is ´opportunities in partnerships´. We believe in the power of partnerships, and this project is a classic example of what a true partnership and empowerment can do."

Hangala Properties, a vehicle for property development for the Hangala Group, is Vivo Energy´s 50-50 joint-venture partner in Havi Properties.

Havi Properties was incorporated in 2016, with the intent of developing a sectional scheme comprising office units for commercial use and residential units. Once the development is completed, Havi Properties will sell the residential units and lease a portion of the commercial units.

Stramis added: "Havi Properties has assembled a team of competent and experienced professionals. We have no doubt that given the capabilities and experience of the team, we will at the end have a great product, which will add value to the scenery and landscape of Windhoek."
Source: © Namibian - https://www.namibian.com.na
Non-banking financial institutions' assets up N$44bn
Despite a depressed economic environment, the industry's total assets grew four times more in 2017.

The large exposures to international markets is mainly due to limited investment opportunities domestically but implies exposure to significant market and exchange-rate risks, especially in economic downturns. - Financial Stability Report


The non-banking financial institutions' assets were led by pension funds with a total of N$152 billion, constituting 52.9% of the sector's total assets. Photo Archive


The non-banking financial institutions' assets were led by pension funds with a total of N$152 billion, constituting 52.9% of the sector's total assets. Photo Archive

Ndama Nakashole - During the year 2017, the non-banking financial sector's assets grew to N$288.9 billion, the financial stability report launched by the central bank and the Namibia Financial Institutions Supervisory Authority (Namfisa) on Friday shows.

Despite a depressed economic environment, the industry's total assets grew four times more in 2017, from N$244.9 billion in 2016, compared to the growth from 2015 to 2016.

Clicks Apr-May Sun
The non-banking financial institutions' assets were led by pension funds with a total of N$152 billion, constituting 52.9% of the sector's total assets.

This industry was followed by long-term insurance (N$53.9 billion) and collective investment schemes (47.5 billion).

Short-term insurance, medical aid funds, investment management, micro-lending, and friendly society assets were all worth over a billion but less than N$10 billion during 2017.

Pension funds

Pension funds remained exposed to the equities market, which takes up most of the pension funds' investments. On top of that, most of the pension funds' assets are invested abroad, with less than half invested locally.

"The large exposures to international markets is mainly due to limited investment opportunities domestically but implies exposure to significant market and exchange-rate risks, especially in economic downturns," the report states.

The equities market is followed by fixed-interest income securities in terms of exposure of pension funds' assets.

Monitoring

In her remarks at the launch, Namfisa's deputy CEO for prudential supervision, Erna Motinga, welcomed the new economic growth prospects that are pointed out in the recently launched global financial stability report, as they support the domestic economic prospects.

Vivo Energy Road Safety SUN
She said, however, that risks such as the high domestic debt level pointed out by central bank governor Ipumbu Shiimi warranted monitoring.

"It is indeed our objective to continue to take action as and when necessary to ensure stability within the financial system," she said.

Industry

The non-banking financial industry remained financially stable and sound and continued to grow its assets in 2017, despite recessionary economic conditions in the domestic economy. The industry's asset base grew by 18% in 2017, driven mainly by a general increase in investment income due to buoyant financial markets and thus improved market returns during the period under review. Going forward, the concentration risk in the industry needs to be monitored, the report says.

Exchange rate

The Namibia dollar appreciated against most of the major currencies during 2017. Comparing the annual average level of the exchange rate in 2017 with that of 2016, the Namibia dollar appreciated against the US dollar, British pound and the euro.

However, the report says it depreciated by 2.8% against the euro in December 2017 compared to December 2016, although over the same period it appreciated by 9.9% and 0.4% against the US dollar and the British pound, respectively.

The appreciation was supported by stronger commodity prices, the narrowing current account deficit of South Africa and its partners in the Common Monetary Area (CMA), base effects and a rebound in appetite for emerging-market risks from developed markets as well as a change in leadership in South Africa during the period under review.

The likely sustained period of low interest rates in advanced economies could further deepen financial stability risks as investors take on more risk in their search for yield, says the report.

Developing economies

The report states that the performance of financial markets in emerging markets and developed economies (EMDEs) improved during 2017.

The major factors that contributed to enhanced performance in the period under review were improved world trade volumes, increased oil prices and resilient capital flows to EMDEs.

During 2017 capital flow recovery continued and remained resilient after a significant decline at the end of 2015 and the beginning of 2016.

This was reflective of an increase in capital flows to China and a robust global recovery in non-resident portfolio inflows in the first two quarters of 2017 on the back of improved investor optimism with regard to the global economic outlook as well as relatively easy financial conditions.

EMDE currencies generally strengthened relative to the US dollar, as investors' search for yields continued. This search for yields has led to greater capital flows to low-income countries, where enhanced policy buffers in the form of higher international reserves can be beneficial for financial stability, but can also be a risk when sentiment turns around.
Source: © Namibiansun - https://www.namibiansun.com/
Bank Windhoek to focus on green financing
BANK Windhoek will be showcasing its corporate and institutional banking services at this year´s Mining Expo hosted by the Namibia Chamber of Mines from 25 to 26 April 2018.
Experts from Bank Windhoek´s treasury and corporate investment departments will also be available to advise current and prospective investors in the Namibian mining industry on technical and practical aspects of investing locally.

This year, the focus will be on green and sustainable investments. Bank Windhoek recently allocated a green finance facility to Alcon Consulting Services´ Aussenkehr Solar PV Power Plant in the south of Namibia. The 5 megawatt Solar PV Power Plant was completed in November 2017. InnoSun Energy Holding (Pty) Ltd is the leading developer of the Aussenkehr Solar PV Power Plant, who assisted Alcon Consulting.

Bank Windhoek is also currently looking at the opportunity of financing a wind farm project where the aim will be to feed power directly to the mine and eliminating dependency on the national grid.

"At Bank Windhoek, we believe in forming smart partnerships to facilitate growth and sustainability in Namibia. With InnoSun, and financing made possible through Sunref Namibia, we found a partner who provides clean energy solutions that contribute to Namibia´s development goals and desired economic growth," said Lukas Nanyemba, executive officer at Bank Windhoek´s corporate and institutional banking. Sunref is a global clean energy technical assistance and finance programme promoting the use of renewable energy and energy-efficient solutions.

Projects of this nature will greatly alleviate the short and long-term energy demands required from NamPower. They contribute to Namibia´s national green energy security, reduce the national carbon footprint, and greatly reduce the overall energy costs of local operations. The move will also support the efforts aimed at reducing the effects of climate change in Namibia and the SADC region.

"Bank Windhoek is proud to exhibit at this year´s Mining Expo. As a bank that is 100% locally owned and operated, we look forward to advising local and international mining investors on how to make the most of their investments and limit the impact they have on the environment through alternative energy solutions," said Nanyemba
Source: © Namibian - https://www.namibian.com.na/
China and Namibia make Strides into a new era
• ZHANG YIMING

AS THE spring comes, everything takes a new look. At the invitation of Chinese president Xi Jinping, Namibian President Hage Geingob paid a state visit to China from 28 March to 3 April 2018.
The President had talks with President Xi at the Great Hall of the People, and the two heads of state jointly agreed to establish a China-Namibia comprehensive strategic partnership of cooperation.

Geingob also separately met with Chinese premier Li Keqiang and chairman of the standing committee of the National People´s Congress, Li Zhanshu.

He visited Jiangsu province and Shanghai city, two developed regions in eastern China, and met with their respective leaders. He also successively held three important economic and trade events.

Geingob extensively met Chinese entrepreneurs, young students from both countries and other representatives from all walks of life, and conducted in-depth studies on key projects such as industrial parks, agricultural research institutes and an aerospace city. The goals of enhancing Namibia-China traditional friendship, enhancing mutual trust, and expanding pragmatic cooperation were thus achieved.

This visit has strengthened the Namibia-China long-standing friendship and written a new chapter in high-level exchanges between the two countries. Political mutual trust has also reached a new level.

Namibia is one of the first African countries which have been invited to China after the 13th session of the NPC and CPPCC and the formation of the new cabinet of the Chinese central government. It shows that China attaches great importance to the relations with Namibia.

During the visit, the two heads of state held open and friendly talks, exchanged in-depth views on bilateral relations and international and regional issues of common interest, as well as agreed to establish a comprehensive strategic partnership of cooperation between China and Namibia. The meeting opened a new era of bilateral relations, marking the high level of their friendship, and laid a solid foundation for long-term sound and stable development of bilateral relations.

President Xi stated that China and Africa had been a community of shared futures which goes through thick and thin together, as well as a community of shared interests featuring win-win cooperation. He welcomed Namibia´s active participation in the construction of the Belt and Road Initiative and hoped to strengthen policy communication and the alignment of plans, facilitate cooperation in key areas, and provide new guidance for the two sides´ strategic coordination.

President Geingob extended his congratulations to Xi Jinping´s re-election as China´s president.

This visit promoted practical cooperation between the two sides and achieved mutual benefits and win-win fruits. Just as President Geingob said, China never colonised any African countries and had always treated small and medium-sized African countries on an equal footing. China is a sincere partner and friend of Africa. China-Namibia cooperation is by no means a relationship of "begging and charity", but pursues the win-win situation.

During President Geingob´s visit, the two sides conducted in-depth cooperation in the fields of agricultural modernisation, industrial park construction, e-commerce, production capacity and tourism, and signed a series of cooperation agreements in the areas of infrastructure, financing as well as inspection and quarantining, which paves the way for further cooperation.

China-Namibia agricultural cooperation has great potential. During this visit, the two sides revised and signed the agreement on the export of Namibian beef to China, and soon Namibian beef will enter the Chinese market. The oysters of Namibia were first served at the state banquet at the Great Hall of the People and were warmly welcomed by the guests. Namibia´s products are abundant. China welcomes more Namibian agricultural products to be exported to China.

By Namibia´s soil and climatic conditions, and to explore the agricultural development potential, President Geingob visited the Asia-Pacific centre of the international potato centre on the spot, and learnt from China´s advanced practices in the fields of potato breeding and planting to achieve better potato harvests in Namibia.

The space science and technology field is an important aspect of China-Namibia cooperation. Namibia has made important contributions to China´s and even the world´s space course. During his stay in Beijing, President Geingob visited Aerospace City and met with astronauts such as Jing Haipeng, Wang Yaping, and Nie Haisheng, who had performed manned missions on Shenzhou spacecraft, injecting new impetus for deepening China-Namibia space cooperation.

The construction of industrial parks and personnel training are also priorities for the development of Namibia. During the visit to Jiangsu province, the delegation visited Suzhou industrial park, an international cooperation pilot programme jointly established by China and Singapore, aiming at learning development experience of China in this field. The leaders of Suzhou City expressed willingness to provide support for the design and construction of Namibian industrial parks.

President Geingob then visited the Nanjing Polytechnic Institute to learn about Chinese vocational training, and the two sides agreed to establish a cooperative relationship. In future, the institute will provide support in vocational education to Namibia regarding teachers, textbooks and equipment, which will undoubtedly help talent training and job creation in Namibia.

This visit effectively boosted the Chinese people´s comprehensive understanding of Namibia and brought new opportunities for the two countries to expand bilateral economic and trade investments and people-to-people exchanges. The Namibian delegation included not only ministers and other cabinet members, but also more than 60 entrepreneurs, which was unprecedented.

It fully embodies the great importance the President attaches to the relationship and new expectations for bilateral economic and trade investment cooperation. The Chinese side warmly welcomed and cordially delivered top hospitality to the delegation.

The delegation travelled from the political centre of China´s capital to the economic centre in the south and had talks with central and local governments on pragmatic cooperation. Those kinds of arrangements perfectly showed the friendship and cooperation expectation of the Chinese people.

During President Geingob´s visit, the two parties held three economic and trade forums attended by nearly 1,000 entrepreneurs, and attracted celebrities and business people from the capital and the Yangtze River Delta Economic Belt. The representative of China General Nuclear, which operates the Husab Uranium Mine, promoted the superior investment environment of Namibia at the China-Namibia business forum in Shanghai, which aroused wide interest from Chinese entrepreneurs to invest in Namibia.

President Geingob also met with Mr Jack Ma, president of Alibaba, who spent US$10 million to establish the African Outstanding Entrepreneur Award, and invited Jack Ma to visit Namibia at an appropriate time. Mr Ma promised to provide support for the training of e-commerce talents of Namibia, and the establishment of a trade and tourism e-platform for Namibia. He expressed the hope that Namibian entrepreneurs could win the award.

President Geingob also visited the China University of Geosciences, met with Namibian overseas students in China, and had exchanges with young people of the two countries, which enhanced the younger generation´s understanding and their will to carry on the traditional Namibia-China friendship.

As the Chinese saying goes, distance tests a horse´s strength and a friend in need is a friend indeed. Rooted in the struggle against imperialism and colonialism, the Namibia-China friendship had experienced the nation-building period when the two sides stood side by side, sharing weal and woe with each other.

The flower of our friendship is blooming in the 21st century. With President Geingob´s visit to China as a starting point, China and Namibia demonstrate that they are not only all-weather friends but also comprehensive strategic cooperative partners. China will uphold the correct concept of righteousness and interest and build relations with Africa based on sincerity, real results, affinity, and good faith, as well as work hand in hand with Namibia to further deepen bilateral win-win cooperation for more benefits of the two peoples. - H.E. Mr Zhang Yiming, ambassador of the People´s Republic of China to the Republic of Namibia.

As the Chinese saying goes, distance tests a horse´s strength, and a friend in need is a friend indeed. Rooted in the struggle against imperialism and colonialism, the Namibia-China friendship has experienced the nation-building period when the two sides stood side by side, sharing weal and woe with each other. The flower of our friendship is blooming in the 21st century. With President Geingob´s visit to China as a starting point, China and Namibia demonstrate that they are not only all-weather friends, but also comprehensive strategic cooperative partners. China will uphold the correct concept of righteousness and interest, and build relations with Africa based on sincerity, real results, affinity, and good faith, as well as work hand in hand with Namibia so as to further deepen bilateral win-win cooperation for more benefits of the two peoples.

- H.E. Mr Zhang Yiming, ambassador of the People´s Republic of China to the Republic of Namibia.
Source: © Namibian - https://www.namibian.com.na
Namibia to participate in 2020 World Expo
Namibia will participate in the 2020 World Expo, which will be held in Dubai in the United Arab Emirates.

The expo will take place from 20 October 2020 until 1 April 2021.

The minister of information and communication technology, Stanley Simataa, said Cabinet approved the country's participation during its second meeting for 2018 held on Tuesday.

He said Cabinet further prioritised renewable energy as a national project for promotion during the expo.

Cabinet also directed the Ministry of Industrialisation, Trade and SME Development, and the Ministry of Mines and Energy to coordinate Namibia's participation in the expo.

Fashion World SUN
The six-month expo is a platform for millions of people to share ideas, showcase innovation, encourage collaboration and celebrate human ingenuity.

The last expo was held in 2015 in Milan, Italy. - Nampa
Source: © Namibiansun - https://www.namibiansun.com/
Whale Rock to start production in April
THE Whale Rock Cement factory has set April 2018 as the month in which it will start the production of cement at the main plant outside Otjiwarongo.
The factory´s public relations officer, Manfred /Uxamb, said in an interview with Nampa on Thursday that they are ready to start producing and packaging their product.

Trading under the name Cheetah Cement, the factory initially had plans to start production in January this year. But discussions with local producers of clinker, whom they had hoped could supply the factory, did not work out.

Clinker is one of the main ingredients in cement manufacturing. It is grey stone particles that are ground with limestone to produce cement.

"Now that we can get it in bulk from Egypt, we will start production in April this year," /Uxamb noted.

He said about 24 000 tonnes of clinker has already been transported from Walvis Bay to Otjiwarongo.

The factory carried out its first blast to excavate limestone at its mine pit on Farm Cleveland in February this year.

Mine manager Immanuel Shilongo said on Thursday that their team of experienced engineers is ready to start production.

About 600 jobs are expected to be created once the factory is completely operational by August this year, he added.

– Nampa
Source: © Namibian - https://www.namibian.com.na
Namibia Rare Earths completes acquisition
THE Toronto Stock Exchange – listed Namibia Rare Earths has announced it has completed the acquisition of a portfolio of critical metal properties from Gecko Namibia.
Namibia Rare Earths has also announced that it has closed a US$550 000 private placement.

The shares of Namibia Rare Earths are expected to recommence trading on the TSXV today. This transaction provides Namibia Rare Earths with a highly prospective, diversified portfolio of critical metals, and at the same time has secured a highly experienced strategic partner. Gecko Namibia and its subsidiaries are substantial participants in the Namibian resource sector, with a proven track record in the mining industry.

The portfolio of properties acquired from Gecko Namibia will expand Namibia Rare Earths´ commodity base from solely heavy rare earths to a variety of highly critical commodities, including cobalt, copper, zinc, lithium, graphite, tantalum, niobium, nickel and gold. Ground holdings in Namibia will increase from 221 km2 (Lofdal) to over 6 850 km2.

Proceeds from the private placement will fund the initial exploration programme on the Kunene cobalt-copper project in northern Namibia, which is contiguous with a significant discovery of stratabound cobalt mineralisation which is being drilled off by Celsius Resources.

Namibia Rare Earths´ exploration programme on its properties will focus on confirming cobalt mineralisation in areas of demonstrated potential from historical regional soil geochemical surveys to develop drill targets for subsequent follow-up.

Namibia Rare Earths has immediate access to over 12 000 soil samples collected from previous work over 2 142 km2, which will be systematically analysed for cobalt. Provision has also been made for a rock sampling programme on the Warmbad lithium project in southern Namibia.

- Mining Review
Source: © Namibian - https://www.namibian.com.na/
Namibia´s tourism industry outperformed all other economic sectors last year.

Tourism seems to have escaped the brunt of the recession felt across the country last year, performing exceptionally well. Namibia was able to maintain its good results it attained in 2016, with the overall room occupancy reaching 58.5% last year. This is only 1% lower than 2016. The central and southern regions performed slightly better, both having above 60% room occupancy rates while the north and the coastal areas had 53.3% and 57.8% room occupancy rates. According to the CEO of the Hospitality Association of Namibia (HAN), Gitta Paetzold, the first two quarters of last year were on average higher than during 2016.

Youth Booklet
This indicated a shift towards balancing out the load to the traditional low season. Paetzold said this trend must be pursued to alleviate the pressure on the high season in the second half of the year.

The domestic market, which constituted just under a third off all occupancies in 2016, seemed to have experienced a dip of about 4% in 2017. A total of 203 270 (28.8%) Namibian visitors were recorded.

Namibia experienced a 4% increase in German-speaking tourists, with over 27% (190 884) of visitors coming from Europe. France, Italy, the UK, Spain, Portugal and the US all showed a slight increase.

According to Paetzold this is proof that the European market still holds great potential for Namibia and remains the key source market for the industry.

Visitors from South Africa decreased by about 1.5% from 2016 to 11.5% in 2017. A total of 80 901 visitors were recorded.

"The performance of both the domestic and South African market seems reflective of the tight economic grip both countries and their people find themselves in," said Paetzold.

According to her, as a way forward HAN initiated a tourism stakeholder meeting this week where about 30 selected people from the tour operation, car rental and accommodation sectors and the NTB came together to discuss ways of optimising utilisation of Namibia´s tourism infrastructure.

Infrastructure, in terms of roads, air access and services at immigration points, is a key factor that will influence Namibia´s efficiency in rolling out its tourism services to the international community.

The stakeholders are convinced that greater interaction, management of and flexibility in the reservation systems may allow for occupancy to reach a level of 80% in high season.

"Namibia remains a very popular destination, with a recent ranking by the international institution Bloomberg listing it as part of the 20 most popular destinations worldwide and together we need to ensure that we explore the opportunities and challenges this brings. A recent ranking by Forbes Magazine even rated Namibia as one of the most affordable travel destinations in Africa, another important accolade."

Paetzold said it is reassuring that some international travel experts view Namibia as a very affordable destination to travel to. This makes Namibia very competitive in international tourism.

"Naturally pricing always depends on economy of scale, and type of travel, and it should be remembered that what makes Namibia as travel destination so special is the fact that our country in fact offers a great variety of products and packages, catering for both the high-quality, exclusive taste, as well as the traveller touring on a shoestring budget."

While Namibia has managed to retain the flow of tourists, the seasonal spread is extremely important, as this helps lessen the pressure on service providers in the high season from August to October, said Paetzold.

During this time Namibia is now already known to be "sold out", with operators finding it extremely difficult to get confirmation on forward bookings for the high season.

In discussions with key tourism stakeholders this week it was agreed that more flexibility and creativity in packaging Namibia, both in terms of offering highlights in different seasons, and amending the tour itineraries to offer diverse circular tours, would address the bottleneck situation in some of the hotspots of Namibia.

Stakeholders agreed that while a general "round tour" to include all of Namibia is still a bestseller, the fact that Namibia has many repeater tourists allows for venturing into more specialised packages. This will allow visitors to delve more into experiencing a place, its people, cultures and the environment.

Some of the new focal areas Namibia can and should focus on are developing new tourism niches and packages, which should include the showcasing of the Namib, the country´s geological richness and wealth in gemstones and adventures with small miners could also be a part of a tour itinerary and add to the diversity of Namibia´s tourism product.

ELLANIE SMIT
Source: © Namibiansun - https://www.namibiansun.com/
IN 2011, Llewellyn le Hané and a colleague started an information technology company as the only employees.
Today, Green Enterprise Solutions is one of the biggest and fastest growing local IT companies with a workforce of 60 people.

The company has been in the news lately for all the right reasons and has been putting Namibia on the international map.

In November, Green Enterprise Solutions (Green) attended Africa´s largest Telecom Conference held in Cape Town, South Africa during which the company became the first Namibian entity to exhibit with its own stand at this pan-African event.

Last week Green signed a partnership agreement with WorksPad, the mobile business application software,for the African continent.

But what is interesting about this company is that it is 100% owned and managed by previously disadvantaged Namibians and provides information and communication technology (ICT) solutions for the Namibian market and beyond.

I met the Rehoboth-born Le Hané at the Green offices in Windhoek for an interview on Tuesday morning.

When I entered the office, the atmosphere was that of a family organisation. Employees looked more like they were finding solutions than ´being at work.´ I almost asked how many meetings were going on but soon realised that people were actually busy at work.

Le Hané started by telling me how the company started off selling services and ICT equipment to people. Today, the company provides specialised IT services and solutions that help clients to plan, build, improve and support their IT infrastructure.

At a later stage, Green partnered IBM to provide local customers with IBM solutions.

"We saw a niche when we realised there is no other Namibian company that offers IBM solutions," he said.

SKILLS CREATION

But having grown the company to what it is now, Le Hané said it is not just "luck" but the company creates skills within.

"There is a perception that there are no skills in Namibia. We started to develop the skills. We take in students from the university, groom them and prepare them to be part of the solution-seeking team," he said.

Le Hané said, the company let go very few of the students they bring in and they grow with the company where they keep honing their skills as well as finding more solutions for the clients.

He said they have different sections where the students find their interest get groomed, grow and mature.

"Most of the time our customers will ask, where was this done before, but our answer is always that we develop African/and Namibian solutions for Namibian problems," he said.

He said Green is trying to create awareness that the Namibian ICT industry has matured enough to develop solutions for problems, adding, when Namibia imports IT solutions into the country, not only does money go out but the knowledge too.

"If we get external companies to work and solve our problems, those consultants leave with the knowledge of how to solve Namibian problems," he said.

"We want to build skills," he said.

Le Hané added that he hopes government concentrates more on giving opportunities to Namibian companies with local expertise.

"We want to get an opportunity to provide government with a solution that integrates ministries and government agencies to reduce duplication of work in these institutions," he said.
Source: © Namibiansun - https://www.namibian.com.na
Five things SMEs need to consider in 2018
Even though 2018 is unlikely to come with an SME development boom, a solid homegrown business can still grow substantially, FNB Namibia maintains.

SMEs will have to do the hard yards to engineer any form of business growth. – Sam Ikela, Head of SMEs: FNB Namibia


FNB Namibia´s head of SMEs, Sam Ikela. Photo Contributed

In 2018, small-to-medium-sized enterprises (SMEs) will be looking for a glimpse of inspiration to chart a new growth path and scale their businesses. This is off the back of a tough 2017 and previous years which have inhibited the growth of local SMEs.

Sam Ikela, head of SMEs at FNB Namibia, says "small business´ success has become a monumental task when there´s arguably very little to no real economic growth overall".

Sense of Africa Sun
"However, every challenge presents an opportunity and in Namibia, not only are we fortunate to consistently have SME development as a key objective on the national government agenda, but many corporate institutions are also willing to contribute to the growth of small businesses through means of its procurement policies," Ikela says.

Here are some important issues business owners should consider with regard to growing their SMEs, Ikela says.

Economic digitalisation

Across the globe, consumers and businesses are rapidly migrating services to digital channels for its sheer efficiency, convenience and scalability.

Thus, small businesses are encouraged to adapt to a digital style in its operations or risk being outperformed by competitors who have identified technology as sheer growth in the twenty-first century. This may include a few basic elements such as digitising accounting processes with software, using social media as a platform to campaign to and reach customers. Additionally, when unsure where to start, start by observing your customers and listening carefully to how they expect experience with a business like yours, Ikela says.

"You can´t go wrong by putting yourself in your customers´ position and then reflect on your business through their eyes."

Don´t rely on the economy

The Namibian economic forecast for 2018 indicates an estimated growth of 2.5%, Ikela says.

"This is a fairly firm indicator that SMEs will have to do the hard yards to engineer any form of business growth.

Tiger Wheel & Tyre SUN
The focus should thus mainly be on differentiating your business, products or services compared to competitors through marketing or even innovation if possible."

Maximise your banking relationship

Banks are investing a lot of time to understand the needs of businesses and have some of the tools to help SME´s run efficiently, Ikela says.

"The relationship should not only be limited to just banking. With the multitude of rewards and value-add services offering by most banks, with just a bit of time spent understanding the offerings, great value can be derived for you and your business. "Examples of these offered by FNB include the newly launched Rewards programme, electronic banking options, if used properly – come with minimal service fees and the special SME Fund which aims at assisting SMEs on a variety of levels, not only financially," he says.

´Think local, act global´

Your business may be based in Namibia, but its potential to scale shouldn´t be hampered by your location, Ikela says.

"In other words, be open to the opportunity of growing your business beyond the Namibian borders, especially if your service or product has universal appeal and relevance.

With global market places such as Alibaba and AirBnB, the world market has never been more accessible and easier to do business with."

Avoid the race to the bottom

Market forces continue to show that consumers aren´t only focused on the cheapest product or service despite the tough economic conditions, according to Ikela.

"These days offering great service will build trust and loyalty with customers and keep them coming back. If you combine this with good quality, accessible products and services you will generally have an edge over your competitors offering the same or similar products and services."
Source: © Namibiansun - https://www.namibiansun.com/
Namibia participates in global business accelerator
STAFF REPORTER

FABlab Namibia and the winners of the 2017 #pitchnightnam competition attended the global impact accelerator at the renowned SLUSH conference in Helsinki, Finland last week.

The event was created to fast-track innovation impact across the globe and gives innovation hubs a chance to present themselves, meet like-minded people and organisations and engage with venture capitalists.

Namibia was represented for the first time ever at the SLUSH this year. This is testimony to the level of innovation and technological developments that has been pursued by the Namibia University of Science and Technology's (NUST) FABlab.

Kirstin Wiedow, the director and co-founder of FABlab Namibia, as well as David Shatiwa, BDS coordinator from the tangible innovation arm of FABlab, flew the flag for Namibia.

"GIA 2017 brought impact-driven entrepreneurs from emerging markets to Helsinki to accelerate their business, attract additional financing, and build long-lasting networks. This is why it was so great to be able to take our winning innovators along and see and show how they can drive and develop their ideas, meet people with the same dream of entrepreneurship and innovation from around the world," Wiedow said.

Dunlop RSA
Namibia is being recognised and its star is rising on the global stage as a player contributing to local innovation.

Further proof of this was the two local Namibian start-ups that had the opportunity to accompany Wiedow and Shatiwa to Helsinki, as part of their prize in the #pitchnightnam competition.

The two start-ups were driven by Kaveto Tjatjara, whose innovation assists in providing decent ablution facilities for all Namibians without the need for water connectivity.

The runner-up was Vincent van Wyk with his locally designed low-cost personal computer.

The Slush Global Impact Accelerator (GIA) is a programme created in collaboration with the ministry for foreign affairs of Finland and global partners.
Source: © Namibiansun - https://www.namibiansun.com
N$150m tractor plant gains traction
A Namibian and Iranian consortium is planning to construct a tractor assembly plant in Brakwater which will have the capacity to roll out up to 5 000 units off its production line each year.

This is according to the deputy chairman of a subsidiary of the Iran Truck Company, Abolfalh Ebrahimi.

The plant is the brainchild of the governor of Omusati, Erginus Endjala, and a local business delegation that travelled to Iran this year.

Speaking at a signing ceremony to mark the beginning of the business relationship last week, Ebrahimi said it was now up to the Namibian business group to accelerate the planned project and assembly plant.

Subscription Sun
A part shareholder in the plant which will be built north of Windhoek at Brakwater, Governor Erginus Endjala, said the negotiations to get the Iranian counterparts to invest in Namibia were not easy.

"This plant will serve the whole of sub-Saharan Africa. There is a huge market that we need to fill," said Endjala of the need to build the assembly plant in Namibia.

The plant, which will be built at an estimated cost of N$150 million, will employ 40 people at the start-up phase Endjala said.

Thereafter, the number of people employed at the plant is expected to increase by 10% per year, according to him.

The plant which is being constructed on a joint venture basis, will see Endjala and his Namibian counterparts hold a 70% stake under a company called Vispa.

Endjala also pointed out that the Namibian interest was the licence holder for sub-Saharan Africa and that the tractors would bear a local brand.

The only delay that was now holding the construction of the plant back was the approval of an environmental impact assessment, which Endjala was sure, would get approval by the end of February, giving way to a planned ground-breaking ceremony.

"By March next year, we might invite you for a ground-breaking ceremony," he said.

Agriculture minister John Mutorwa said Endjala and his delegation could count on government´s support in light of the difficulty in procuring tractors and the relevant spare parts. According to Mutorwa, it meant that government often had to procure spare parts for tractors from faraway places.

"We procure tractors and spares from faraway places. We are looking with keen interest at what will be signed. You are guaranteed of one customer and that is government," Mutorwa told the business delegation. He called the signing ceremony an important occasion.

Dunlop RSA
Ebrahimi said it was now up to the Namibian counterparts to bring the project to commercial close.

"We are going to establish a centre for production and export. Our choice to invest in Namibia is because of the political stability. The ball is now in your court," Ebrahimi said adding that he was positive the first locally assembled tractor could be available within six months of the Brakwater plant´s commissioning.

OGONE TLHAGE
Source: © Namibiansun - https://www.namibiansun.com
Staff Reporter

Windhoek-Namibia Wildlife Resorts (NWR) in partnership with three of the other four Kavango Zambezi Transfrontier Conservation (KAZA TFCA) countries, namely Botswana, Zambia and Zimbabwe, have come up with an exciting route earmarked at promoting tourism within the KAZA area.

The conservation area is unique in that it includes the Okavango Delta, which is the world's largest inland river delta, as well as the famous Victoria Falls. The KAZA TFCA, which spans five southern African countries – including Angola – is also likely to be the largest conservation area in the world.

With all of this to offer, NWR saw an opportunity to put together a unique package that would present all these different offerings, in addition to showcasing its Popa Falls Resort in the Kavango East Region.
The package is a book once, comprehensive (offerings specified) opportunity for guests to experience four countries within six days.

"Our main aim is to bring unity amongst African countries and promote cross-border domestic tourism while expanding our product offering," says Zelna Hengari, NWR's managing director.

"It was important for us to try out the route before opening it up to the general public. Thus, some of our colleagues are currently on a pilot/introductory tour with some of the ambassadors and high commissioners of the respective countries forming part of KAZA, which started on 10 November 2017. We trust that experiencing the tour themselves will assist the officials to better promote this unique package in their respective countries and beyond," says Mufaro Nesongano, NWR's corporate communications and online media manager.

Esther Ndilula, NWR's meetings, incentives, conferences, events and tour planning manager, who was at the forefront of putting the package together, said: "l am pleased that the Exclusive Excellency KAZA tour has finally started. We are excited to offer a cross-border tourism package that will provide Africa's pride."
Source: © Newera - https://www.newera.com.na/
More than 3 000 construction workers were on site during the construction phase and between 700 and 1 000 full-time jobs have been created at the centre.

The SA government can learn a thing or two from Namibia where it is quite easy for the private sector to engage, invest and create opportunities. - Louis van der Watt, Atterbury CEO


Shoppers enjoying a stroll through Dunes Mall.


Shoppers enjoying a stroll through Dunes Mall.


Atterbury CEO and co-founder Louis van der Watt hands the scissors to Walvis Bay mayor Immanuel Wilfred and special advisor to the governor Adelheid Bobby Kandjara, with Bertus Matthee from Nedbank Namibia looking on. Photos Otis Finck


Atterbury CEO and co-founder Louis van der Watt hands the scissors to Walvis Bay mayor Immanuel Wilfred and special advisor to the governor Adelheid Bobby Kandjara, with Bertus Matthee from Nedbank Namibia looking on. Photos Otis Finck

Otis Finck - Dunes Mall in Walvis Bay, the second largest shopping mall in Namibia, opened for business last week.

Mayor Immanuel Wilfred inaugurated the N$700 million facility.

More than 3 000 construction workers were on site during the construction phase and between 700 and 1 000 full-time jobs have been created at the centre.

Subscription Sun
A massive influx of bargain-hunters created a bottleneck in the vicinity of the Diaz traffic circle and traffic officers had their hands full to maintain order.

Atterbury CEO Louis van der Watt said Dunes Mall came into being after businesses approached the company and requested that such a facility be constructed.

"We made a promise and delivered. The South African government can learn a thing or two from Namibia where it is quite easy for the private sector to engage, invest and create opportunities."

The mayor commented that the presence of Dunes Mall changed the landscape of the harbour city and said it would become an iconic first stop for many visitors entering Walvis Bay from the north and east.

"The impact of Dunes Mall, which offers 77 top national and international brands, will be very positive for all concerned. It is easily accessible and [because of] the sheer size of the project a lot happened behind the scenes before it became a visible reality.

"Its presence contributes to all-round stability and all visitors will found something of interest. We are extremely proud of the result and since it is a regional mall, everyone in Erongo should embrace it as their own," Wilfred said.

Erongo governor Cleophas Mutjavikua thanked the developers for pushing forward despite tough financial times.

"Erongo is one of the most affluent regions with the second highest per capita income in Namibia. A number of development projects ... indicate we are moving in the right direction."

Windhoek Jazz Festival Sun
The governor listed the Walvis Bay port expansion and new container terminal, the Husab Mine, Arandis and Karibib solar plant projects, the Platz am Meer Mall and the envisioned Desert Rose project as some of these projects.

He added that Group Isidoro was looking to establish cheese factories at Uis, Okombahe and Otjimbingwe.
Source: © Namibiansun - https://www.namibiansun.com/
First Start Up Grind inspiresFirst Start Up Grind inspires young entrepreneurs young entrepreneurs
Staff Reporter
Windhoek

Aspiring entrepreneurs and young small/medium enterprise owners were left inspired and more motivated than ever before to make a success of their ventures after their attendance at the first-ever networking session for Start-Up Grind last Thursday.

Sponsored by Standard Bank, in collaboration with Windhoek Chapter of Start Up Grind, the event saw Standard Bank's Head of Enterprise Banking, Dennis Isaacs and reputable businesswoman managing director of Leap Holdings Group, Ally Angula, inspire the attendees' invaluable insights on how to make a Start Up a resounding success.

Start Up Grind is a global start-up community designed to educate, inspire, and connect entrepreneurs. Founded in Palo Alto, California, it is powered by Google for Entrepreneurs and has a network of Start Up Grind chapters are located around the world.

In Windhoek, Start Up Grind is under the stewardship of Director Stacey Pinto. Standard Bank sponsored N$38,000 towards the first of its kind event.

'We want to help young entrepreneurs grow their businesses and manage them so that they can make a profit… However, there are various things they need to know and expect from us as the bank. They need to know that the bank doesn't only give financial assistance but also advises them how to grow and sustain their businesses," Isaacs advised the young entrepreneurs.

He further advised the perspective minds behind the future Start Up that would propel Namibia's economy to always have the competitive edge render the best services in the industry and most importantly to know the people share and can run with their vision.

"Young entrepreneurs also need to think of the Economies of Scale, they need to think big. They need to learn how to manage a business, they need to work on their numbers, they need to price their products correctly so they can make a profit and most importantly they need to dig deep to make their business bankable," he stressed.

In terms of the bank financing a Start Up, Isaacs said the bank needs to look at the entrepreneur's capacity for repayment and the economic conditions and a way to mitigate them if they are unfavourable.
"We also don't focus on collateral; we look at the candidates' ability for repayment, however I advise that they have a contingency plan for "what if the business fails" because you will need a back-up plan just in case your initial business fails," Isaacs said.

He stressed that the Bank has various products that young entrepreneurs can choose from to advance their business such as the Business Current Account, Business revolving credit, commerce property loan and contract financing, to name a few. He advised potential enterprise owners to contact the Toll free number 0819286, for more options.

Angula, who admitted that she had a rocky start from venturing into the Corporate to the Enterprise sector, said that she has found that people want to be employed but they do not want to work, which involves rendering their services beyond their normal working hours into the wee morning hours.

"There is a value in principles because you need to be principled in your decisions (as a business person)," Angula said. She added that Start Up's should know that they don't have a business until they are generating income.
Highlighting something that most entrepreneurs do not think about, Angula urged them to venture into bartering, looking into what they can offer other people in return for something that they can use.

"The only thing that will save this continent is if we make and consume our own products, as well as export them. We need to learn that failure is not as bad as we think because people can learn from it. We need to pay attention to the smallest details and listen to what we are being told," she stressed.

Additionally, she pointed out that there are a lot of uncharted territories in Namibia for Start Ups and that provides immense opportunities for them.

"Namibians are not used to Start Ups, they are used to already established institutions. I want to advise them that they should not push to go get money (through lending) but they should gain traction through selling. Entrepreneurs need to fund their operation and not the growth of the business, do what you can with what you have," she concluded.
Source: © Newera - https://www.newera.com.na/
MTN Business to bring mobile services
MTN Business Namibia says it will bring mobile services to Namibia next year.
The company´s representative, Jean-Kelly Nsengiyumwa, told The Namibian during the 4th ICT expo in Windhoek yesterday that the mobile services will see the ICT company issuing SIM cards to locals.

According to Nsengiyumwa, MTN SIM cards will allow Namibians travelling out of the country to Botswana, Zimbabwe, among other countries, to continue using the MTN services.

He, however, said they will have to go through the whole process first, including quality cleaning.

Commenting on the expo, Nsengiyumwa said: "It was well-organised. This is a platform where different ICT companies bring their different technology products and services and allows people, including ICT companies to see them," he said.

He added that the expo, which ended yesterday, acted as a learning platform for participants, who engaged in networking and exploring future possibilities.

In July, MTN Business Namibia officially announced the acquisition of 30% shareholding in the company Profile Technologies, which is owned by businessman Vaino Nghipondoka.

MTN Business Namibia is a unit of global telecommunications company MTN Group and Profile Technologies is a subsidiary of Profile Investment Holdings.

The multimillion-dollar transaction, which was at the time still subject to regulatory approval by the Namibia Competition Commission (NaCC), allows MTN Business Namibia, which was previously 100% owned by the MTN Group, to have a local empowerment partner in Profile Technologies, a company with local expertise in the Namibian ICT sector.

After the deal, Profile Technologies will cease to operate as an independent entity, and be merged into the operations of MTN Business Namibia.

Jafet Samuel, an exhibitor and representative of Business Conexion, said although the expo was a bit quiet in terms of some days, he thought it was well-organsied and gave good exposure to exhibitors´ IT goods and services.

Samuel also said the expo meant a lot of exposure for Business Connexion, a software and hardware service provider.
Source: © Namibian - http://www.namibian.com.na
All ready for 2017 Oktoberfest
THE ORGANISERS of the annual Oktober festival, well-known as the Oktoberfest, said the event continues to grow from strength to strength.
Oktoberfest is the world´s largest beer festival held annually in Munich, Germany, with more than six million people from around the world attending the event.

The Oktoberfest is an important part of Bavarian culture, having been held since the year 1810. Other cities across the world also hold Oktoberfest celebrations that are modelled after the Munich event.

The 2017 Windhoek Oktoberfest, through a partnership between Namibia Breweries Limited (NBL) and the Sports Klub Windhoek (SKW), will take place at the SKW grounds on 27 and 28 October in the spirit of the Bavarian culture.

From log sawing and beer lifting to high striker and mechanical bull riding, the organisers say the annual 2017 Windhoek Oktoberfest will once again bring to the table a cultural celebration coupled with good food, authentic games and lots of fun for the entire family.

During the media launch of the event on Tuesday evening at the Namibia Breweries head office in Windhoek, O&L Group´s head of special projects, and member of the Windhoek Oktoberfest organising committee, Gero von der Wense, said the Windhoek Oktoberfest has also reached its 59th year.

"Since six years ago, SKW and the Namibia Breweries joined hands to hold the Windhoek Oktoberfest. The organising committee members also welcomed Eurowings as a sponsor of this year´s event.

"You stand a chance to win a return flight ticket for two people from Windhoek to Munich with Eurowings on their first inaugural flight on 8 May 2018 if you buy a Windhoek Oktoberfest ticket before 27 October 2017 with Webtickets Namibia," said the organisers.
Source: © Namibian - https://www.namibian.com.na
Staff Reporter
Windhoek

The FNB head office at Parkside in Windhoek has officially received a Five-Star Green Star Africa As Built rating from the Green Building Council South Africa (GBCSA). This is the only As Built Project (i.e. construction completed, operational, new building) in Africa, outside of South Africa, and the first 5-star rating in Namibia, and Africa outside of SA.

Sarel van Zyl, CEO of FNB Namibia Holdings said, "Our building is the first As Built-rated building outside of South Africa, as well as the first 5-star rating outside of South Africa. We are immensely proud of this achievement and once again thank all involved parties who have made this possible. This is a great achievement and a testament to hard work by the construction and operational team."

The Five-Star Green Star SA certified rating recognises "South African Excellence" and carries a weighted score of between 60 and 74. The project achieved 55 points in its design rating in 2014/2015, which is a comfortable 4-star Rating. The threshold for a 4-star Rating is 45 points, and FNB achieved in excess of 10 points. A 5-star rating requires 60 points to be certified. The project achieved 64 points in its final As Built rating.
Source: © Newera - https://www.newera.com.na
US business delegation look to long-term investment
Edgar Brandt

Windhoek-While the country has been facing head-on the economic and fiscal challenges presented by the recession and global downturn, the steps taken to rescue to the Namibian economy have been recognised by the international community.

This is according to President Hage Geingob, who on Friday told a visiting business delegation from the United States of America that Namibia is indeed proud of its enabling and conducive business environment.
"That's why we have invited friends to add value to our raw materials and natural resources," Geingob told the visiting businessmen and women. The president was accompanied by the ministers of agriculture, works and transport and mines and energy, as well as some of his advisors.

The US delegation, led by Stephen Hayes, was identified from among businesses that previously expressed a specific interest in Namibia and were not just selected at random. Members of the delegation had expressed specific interest in conducting business in Namibia on a long-term basis and pledged to conduct follow-up meetings in the near future.

"We have been received extremely well by both the Namibian officials and by the US embassy here," Hayes told the gathering at State House. The head of the US delegation said he aims to work with six of seven African firms that are doing the right thing and are moving in the right direction.

The prospective investors said they were interested in the medical and health sectors, as well as power, mining and infrastructure, development, industrialisation, value-addition, solar energy and electricity grid development.
Source: © Newera - https://www.newera.com.na
ABB opens new 2 200sqm facility in Windhoek
Staff Reporter

Windhoek-ABB has entrenched its commitment in Southern Africa by opening a new 2,200 m² facility in Windhoek, which increases the company's capacity to supply, maintain and service products to the local market and neighbouring countries such as Zambia and Angola.

This expanded facility will also start servicing the market needs for medium voltage products, and low and high voltage switchgear, and is soon to introduce distribution transformers into the local market.

The new facility is a consolidation of the two offices ABB previously had in Windhoek and the company has realigned its organisational structure to reflect its growth focus and position ABB Ability™, which represents its complete portfolio of digital solutions with a set of common enabling technologies that are used to build devices, systems and applications.

"Namibia is an important market for ABB, as it is the second largest contributor in the region to our revenue after South Africa. We have been in the country since the early 90's, and this investment is part of our commitment to the region to enable the offering of more services and products," said ABB Southern Africa MD, Leon Viljoen.

"The new facility will also help us to better service the neighbouring markets of Angola and Zambia from here, further improving our penetration into those countries."

ABB has been operating in Namibia since 1990, after acquiring a small local contracting business and converting it into a full service business focusing on local mining, utilities and industrial sectors.
In the past decade, ABB's operations in the country have grown in parallel to the country's GDP growth, resulting in more business from the public sector.

Viljoen said the new Windhoek facility will also ensure that the company is prepared for anticipated continued public capital spending in the next few years.

With a reasonable operation in Zambia, but very small in Angola, Viljoen envisions Namibia becoming the main centre for delivering services across the border in Angola.

"One advantage for our team in Namibia is that they can speedily service customers in Angola," said Viljoen.
ABB has spent the last 12 months realigning and restructuring the Namibian operation, including ensuring that local employees are adequately developed through upskilling in order for them to positively respond to growing service demand. The new facility currently employs about 70 people.

"In order for the Namibian office to deliver the service they envision, skills development will be a priority to ensure that our employees cover the full range of their products and services needed. Depending on the skills required our people have been trained, and will continue to receive training, from the colleagues and trainers from training facilities in South Africa, Europe or India," said Victoria Konjore, head of human resources, ABB in Namibia.

ABB has operations in 23 African countries and employs about 5,000 people across the continent. As a pioneering technology leader serving utilities, industry and transport and infrastructure customers globally, ABB supports Africa's growth with innovative solutions designed to address local challenges, from access to electricity, industrial development, to sustainable transport.

As part of its commitment to Africa, ABB provides scholarships and internships for talented engineers who need financial support to complete their studies. ABB has annual sales in Africa of around $1.5 billion and manufacturing operations in Egypt and South Africa.

ABB is a technology leader in electrification products, robotics and motion, industrial automation and power grids, serving customers in utilities, industry and transport and infrastructure globally. Continuing a more than 125-year history of innovation, ABB operates in more than 100 countries with about 132,000 employees.

Source: © Newera - https://www.newera.com.na
Dunes Mall to provide 700 permanent jobs
Walvis Bay-Developers of the much-anticipated Dunes Mall at Walvis Bay are working around the clock to ensure that it opens on time in October.

The mall is being constructed opposite the traffic circle at the town to allow easy access for shoppers. It is being developed in partnership with Atterbury and Safland.

Anticipation is that the mall, which will cost about N$650 million, will provide about 700 permanent jobs for local residents.

It will offer shoppers approximately 30,000 square metres of shopping space and accommodate retailers such as Shoprite Checkers, House and Home, Spur, Mr Price, Pick n Pay and several popular restaurants.

Briefing the media and the business community at Walvis Bay, Louis van der Watt said construction is progressing well and on schedule.

"So we can't really lose focus as we only have three months left. Once you lose focus you can't really catch up and that's not what we want."

He added that the mall was specifically designed and constructed with Walvis Bay's weather conditions in mind.

There will be ample parking available and the parking bays will be wider than ordinary bays to accommodate the larger 4×4 vehicles driven by many locals and tourists in the area.
A further specific feature of the mall is that it will be on one level, making it convenient for shoppers to navigate.

Kallie van der Merwe, of Safland, said the mall will indeed add value to the town as it will create a different type of shopping experience with an exciting environment.
Source: © Newera - https://www.newera.com.na
Why tourism is important to Namibia
IT IS a known fact that tourism is an important industry in Namibia. It currently contributes significantly towards the Gross Domestic Product, making it a valuable sector within the country.
Unlike other segments which have not been spared by the tough economic challenges the country is going through, the tourism industry has witnessed a tremendous boost over the past two years.

This tells us of the resilience within the industry, and the key role it can play towards the attainment of the Harambee Prosperity Plan (HPP), fifth National Development Plan (NDP5) and the ultimate success of Vision 2030.

Even during the weakening of the Namibia dollar against other major currencies, the industry has seen a boost in visitors, along with increased revenue, due to the affordability experienced by international tourists travelling to Namibia.

However, credit must also be given to the exceptional work that has been done by the Namibia Tourism Board (NTB) in marketing Namibia as a destination of choice, along with Air Namibia, in getting foreign tourists into the country, especially from Namibia´s biggest source market – Germany.

It is for this reason that as government continues to tighten its belt, it should not reach a point where the country reduces its expenditure within the industry which will result in a loss of momentum that has been created over the past few years. What could be of assistance is to continue investing in the sector, as this not only gives the country an opportunity to expose itself to the world, but Namibia also benefits from the direct foreign exchange that comes with international tourists.

A recent Facebook post by Strive Masiyiwa, a well-known Zimbabwean business person who travelled to Mauritius on holiday a few years ago, illustrates how further investments into the country can come from tourists. While in Mauritius, Masiyiwa was pleasantly surprised at how knowledgeable the taxi driver assigned to him was about the tourism industry and investment opportunities within his country.

This interaction with the taxi driver and the hotel manager where he stayed later resulted in him going back to invest in that country.

It is for this reason that we need to invest heavily in customer service and product knowledge. This is not only at the tourism establishments, but at the different points of entry as well. To put it simply, the first impression of any guest is how they are welcomed when they arrive at the airports, or any of the border posts.

This experience creates a lasting impression on how they will perceive Namibia, and later inform their family and friends about their experience within the country. It is also important that we ensure the safety of the tourists while in the country so that they do not suffer any criminal activities during their stay here.

The future looks bright for the industry. What is critical is for each one of us to keep building on what we have in order to leave a solid foundation for future generations. It would be sad to get to a time when all the beauty we have is destroyed.

That is why we should continue to guard against individuals who want to tamper with this. Lastly, the Namibian government deserves credit for its current and future efforts to safeguard our wild animals and environment.

* Zelna Hengari is the mana­ging director of the Namibia Wildlife Resorts.
Source: © Namibian - http://www.namibian.com.na
Windhoek to upgrade existing markets – Governor
EIGHT informal markets in the capital will be considered for upgrading during the 2017/2018 financial year to offer better facilities for vendors and customers.
Presenting her state of the region address on Tuesday, Khomas regional governor Laura McLeod-Katjirua said the renovation has been grouped into two phases, of which the first covers the Caesar Street market in Wanaheda, the Lyeeta market in Okuryangava, the Okahandja Park market, and Post Street Mall in Windhoek´s central business district.

"The upgrading needs at the various markets include the provision of shelter against the sun and rain at the stands, the provision of electricity where there is no power, and the fencing off of some markets, amongst other things," she noted.

McLeod-Katjirua said tenders have been allocated, and the revamps have begun at some places.

The regional council had also approved the development and completion of the Windhoek Flea Market along Post Street Mall through a public-private partnership with the Wernhil Park Mall in 2016, which is valued at over N$3 million.

The City of Windhoek furthermore finalised the youth entrepreneurship development strategy during the beginning of 2016, and it has been approved for implementation in 2017.

The governor said this strategy is a response action plan to the Harambee Prosperity Plan, which calls for, amongst others, the development and empowerment of young people to start their own businesses.

"The strategy would also be aimed at assisting young people in developing business ideas, registering businesses and building their entrepreneurial skills." – Nampa
Source: © Namibian - http://www.namibian.com.na/.
Businesses support rejuvenates Windhoek's CBD
Upmarket development in Windhoek's central business district (CBD) is on the rise and has boosted the revival of this inner-city area.

Plans to transform the city into a trendy leisure destination after dark have also seen an increase in the numbers of cafes, festivals and night markets to appeal to professionals who work within the CBD to spend more time in the city after work hours, the city's mayor said.

Muesee Kazapua has noted that despite numerous challenges, Windhoek has seen significant developments over the past few years, including the construction of FNB's head office and the Hilton Hotel. Addressing a business forum in September last year, he said, "These mixed developments in our central business district area are clear testimony that our business community is positively responding to the City's call to revitalise the CBD area."

Other key developments in the area are the mixed-use 77 on Independence Avenue and the multimillion-dollar phased refurbishment of Gustav Voigts shopping centre.

77 on Independence, which offers a combination of retail, residential and office space, links Independence Avenue to the Old Breweries Craft Market, a precinct that already boasts some high-quality retailers, businesses and service providers, a gym and an art gallery.

The three-level Gustav Voigts complex, built in the 1970s and located beneath the four-star Avani Hotel and Casino, was the country's very first mall. It's home to established brands such as Mr Price, Totalsports, Queenspark, Donna Claire and Pep, as well as a Checkers supermarket and local brands like Wecke & Voigts, Nakara and Safariland. Carel Fourie, CEO of Oryx Properties, the owner of the centre, says, "We've undertaken this refurbishment partly as a result of the growing demand for upscale inner-city shopping, driven by the professionals in the surrounding offices, banks and government buildings."

Fourth generation Voigts family member and Wecke & Voigts store manager and buyer Adriane Jandrell confirms that there's been an increase in the number of professionals frequenting the department store, which opened its doors 125 years ago and is the oldest in the country. Noting that the store's inventory caters for both tourists and locals, Jandrell says: "Because of the rich history and reputation our store holds in Windhoek, we have experienced visits from clients from around the world."

The Avani Hotel and Casino has similarly seen an increase in patrons over the last year, according to general manager Rudie Putter, who points out that the convenience of the location allows for a healthy mix of tourists, corporate and conference guests. The hotel's all-day lunch buffet is very popular, while local artists regularly put on entertainment in the Oasis Bar. "We recently completed a revamp of the casino, and now offer a bigger and modern salon prive," Putter adds.

Ronald Uwukhaeb, marketing manager of the Hilton Windhoek, notes, "In 2011, Hilton Windhoek became Namibia's first five-star accommodation establishment, and since then Windhoek has certainly become a hub for retailers and professionals. There are many plans for the revival of the CBD which are greatly supported by locals and retailers alike." The new 180-room Hilton Garden Inn is sited next to the existing Hilton Windhoek.

The City is putting its money where its mouth is, too. "Council stands ready to avail land for developments that it deems will make positive impacts in the livelihoods of our people, particularly in the western suburbs of the city," mayor Kazapua said last year. The City has also committed to operational upgrades to improve traffic flow and improved park maintenance.
Source: © Newera - https://www.newera.com.na
Galp restarts oil exploration off Namibian coast
Windhoek-Knowledge Katti's company Custos Investments, together with Portuguese public listed group, Galp Energia, and Namcor, will take a new stab at finding commercially viable petroleum reserves off the Namibian coast.

This time, they say, they hope to use the knowledge gained from the previous exploration results of the drilling that yielded non-commercially viable reserves in 2013.

Those results were obtained through drilling carried out by Brazilian company HRT (High Resolution Technology).

HRT farmed those assets out to Galp in 2012 – a Portuguese publicly traded energy company that has announced the commencement of new exploration activities.

"Although no commercial discoveries were made, these wells provided encouraging technical information, which has led Galp to renew its commitment to pursuing exploration efforts in the country by acquiring the two new licenses," the company said in a public statement.

Galp acquired two new offshore blocks off the Namibian coast last year – one in the Walvis Bay Basin and the other in the Orange Basin just a shout from the Kudu gas fields.

The interests in the blocks are held through a consortium that includes the National Petroleum Corporation of Namibia (Namcor) and Katti's Custos Investments, each owning 10 percent while Galp holds 80 percent. Galp has also assumed the role of the operator in the consortium.

"Initial exploration activities will include geological and geophysics studies and the acquisition of new 3D seismic surveys [in water as deep as 2500 metres), during the initial exploration period," the company says in the statement.

They will carry out the exploration activities over a period of three to four years.
"If these efforts are successful and the consortium moves on to the subsequent exploration stages, further activities may include the drilling of exploration wells," the statement reads.

The statement says the blocks are located in what the industry considers "frontier basins", where someone has yet to make a first commercial discovery, in reference to the HRT discovery of non-commercially viable oil reserves in 2013.

Galp says it has also managed to set up a permanent office in the country since the formalisation of the joint venture agreement between Custos and Namcor.

"These developments pave the way for a new exploration campaign due to start at the end of the year," the statement said.

Galp employs about 6,500 people around the world and has a market capitalisation of around N$170 billion.

The statement say Namcor, Custos and Galp have all signed two joint operating agreements.
The agreements govern how they "will work together during the project and allows the companies to focus on moving ahead with exploration activities in Namibia, which include preparations for the start of seismic operations and applying for the required environmental permits."

Galp has been present in Africa since the mid of last century. Current African operations include activities in Angola, Mozambique, Swaziland, Guinea-Bissau, and São Tomé and Príncipe, with operations that encompass oil and gas exploration and production, and downstream distribution of oil products to end users.

In addition, elsewhere around the world, Galp is one of the biggest oil producers in Brazil, where it has important positions in offshore pre-salt fields in the Santos Basin, which rank among the world's most prolific. Galp is also present in the giant gas discoveries in the Rovuma basin in Mozambique.
Source: © Newera - https://www.newera.com.na
'The Gathering' gains momentum
The town of Rehoboth now has its own trade fair called the Reho Expo, also known simply as 'The Gathering', and it is set to take the town by storm this weekend.
This was revealed by Ronald Kubas, the chairperson of the Reho Community Trust, who are the principal organisers of the event.
"The Reho Community Trust's overarching mission is to spur on economic development in Rehoboth and the expo will undoubtedly provide a great platform for entrepreneurs to showcase their wares to the attending crowd," said Kubas.
According to Kubas a wide variety of activities will entertain attendees throughout Friday and Saturday, with a unique setting among the renowned acacia trees of Rehoboth, along the southern banks of the Oanob River, providing an unrivalled and quite esoteric backdrop.
Nedbank Namibia has since come on board as an anchor sponsor with a N$40 000 sponsorship. The bank's head of marketing and communications, Gernot de Klerk, said Nedbank has always aspired to be a green and caring bank and "The Gathering" provides great synergies with the bank's own commitment of using its financial expertise to the greater good of clients and communities alike.
"This event is shaping up to being a fantastic catalyst for greater societal impact from both an economic and cohesiveness perspective. We are looking forward to partnering with the Reho Community Trust on a variety of engagement levels as we continue to demonstrate the financial expertise that is an intrinsic part of the Nedbank Namibia DNA," said De Klerk.
Source: © Newera - https://www.newera.com.na
Recovering diamond market could result in more cutting and polishing factories
Edgar Brandt
Windhoek

With diamond sales demand picking up in 2017, coupled with a relatively new sales and marketing agreement between the government and De Beers, the Namibia Diamond Trading Company (NDTC) has not ruled out the possibility of more players entering the cutting a polishing arena.

This is according to the NDTC, which currently sells rough stones to 11 local cutting and polishing factories, known as sightholders, who purchase the precious stones directly from the NDTC for local value addition.

Since its inception, NDTC has paid out N$1,7 billion in dividends to both its shareholders (government and De Beers) and has paid about N$1,1 billion in taxes to government.
According to senior manager for sales and marketing at NDTC Brent Esieb, the industry already witnessed string demand during the first quarter of 2017 and he foresees this trend continuing for the rest of the year. This follows a dramatic drop in sales in the second half of 2015.

Consumer demand for diamonds returned to somewhat normal levels during 2016, which saw a stable demand for both polished and rough diamonds.

The government and De Beers signed a new Diamond Sorting, Valuing, Sales and Marketing Agreement in May 2016, of which one of the key outcomes was the increase of the Local Offer Threshold to a price indexed annual amount of US$430 million.
In addition to the increased Local Offer Threshold, the local diamond cutting and polishing industry has seen NDTC offering all the +10.8 carats, including stones classified as 'exceptional', to its Namibian customers. These changes are anticipated to have a significant positive impact on the growth and long-term sustainability of the Namibian cutting and polishing industry.

Other suspected benefits included increased opportunities for job creation and skills transfer, investment in infrastructure (including technology) and further integration and empowerment of Namibians at all stages of the diamond value chain.

NDTC has since introduced a minimum supply level of US$15 million, with the objective of starting all local diamond cutting and polishing factories off at a level of supply that ensures reasonable viability and sustainability.

CEO of NDTC Shihaleni Ndjaba recently stated that the partnership between NDTC and the current 11 sightholders has been successful in creating a remarkably resilient local downstream beneficiation industry.

"Since the advent of beneficiation sales in 2007, NDTC has sold close to N$26 billion worth of rough diamonds to be cut and polished in Namibia. This has enabled NDTC Sightholders to not only directly employ close to 1,000 polishers, but has also resulted in significant investment in infrastructure and technology in the Namibian cutting and polishing industry, which in turn has improved the industry's competitiveness," Ndjaba said.

A few weeks ago Mines and Energy Minister Obeth Kandjoze castigated local sightholders for a lack of local value addition, or beneficiation, after diamond export data from the Office of the Diamond Commissioner indicated that only about 20 percent of the total beneficiation sales made by NDTC during 2016 was processed locally.

Kandjoze noted that a mass export of rough diamonds is not only a loss to the country, but more importantly undermines government's efforts to eradicate poverty and unemployment, as well as its efforts to improve the lives of ordinary citizens. At the time Ndjaba said the minister's position is crucial in the context of NDTC's mandate of supporting and facilitating beneficiation.

"The minister has clearly articulated government's expectations and aspirations from a beneficiation standpoint and we are happy to state that this position is fully aligned to the NDTC rough distribution strategy of allocating a greater share of our rough diamonds to those sightholders that maximise the cutting and polishing of their purchases from NDTC in country," he said.

Ndjaba further alluded that – following Kandoze's call – NDCT has already seen progress in the percentage of local diamond beneficiation.
Source: © Newera - https://www.newera.com.na
Feedmaster invests N$31 million in new feed mill
Windhoek-Local animal feed producer, Feedmaster, has invested N$31 million in modern feed mill technology to serve livestock producers with advanced scientific and technologically advanced animal feeds.

This massive investment was made in light of constant growth in the ruminant feed market sector and advances in local precision farming practices, which require the use of animal feeds to improve livestock production profitability. The new Feedmaster ruminant feed mill will replace the current feed mill in Windhoek's northern industrial area.

The construction of the latest technology Techmach designed ruminant feed mill commenced in January 2017 and will be commissioned during September 2017. The Feedmaster feed mill on the farm Okapuka – used for the production of monogastric animal feeds – came into production during November 2013.

Feedmaster is part of the Namib Mills Investments (NMI) Group of Companies, comprising of a number of dynamic and diversified subsidiaries in the wheat and maize milling industry, pasta manufacturing, broiler production, animal feed and related manufacturing industries. The group has investments in Namibia, Botswana, Swaziland, Mauritius and South Africa.

Feedmaster is the leading animal feed manufacturer in Namibia and was founded in 1983. Feedmaster was registered as a full subsidiary of Namib Mills, with the initial objective of adding value to milling by-products.

Initially Feedmaster only had maize chop as strategic raw material available and the first mixed feeds were produced with shovels on a cement platform. With Namib Mills investing in a wheat mill during 1986, a wider range of feed products were developed and manufactured with motorised mixing equipment. Feedmaster and its subsidiary Veekos in Upington South Africa have grown to an animal feeds business with annual sales in excess of 160 000t, and an annual turnover in the order of N$800 million.

The new Feedmaster ruminant feed mill is designed to produce twice as much as the current milling capacity and will be able to produce feeds at a rate of 20t per hour. The pellet mill capacity is designed to produce 10t per hour. Thus the feed mill will be able to produce more than 400t ruminant feeds per day with an annual theoretical capacity of approximately 140 000t. Energy efficient equipment with higher output and low electricity demand will not only reduce the cost of production, but will contribute to reduce the environmental impact of carbon emissions. This will enable Feedmaster to stay internationally competitive and contribute to a lower carbon footprint. World leading industrial processing, conveying, mixing and milling equipment with lower noise and dust pollution levels will enhance the working environment and contribute to the health and safety of employees, the company says.

The improved feed mill automation and system integration will result in less downtime between different product batches, and the total production process will be less labour dependent. The advanced process control system will benefit the constant mill output and consistent final product quality.

Bulk ingredient and raw material handling facilities will contribute to savings on packaging material and reduce raw material wastages. Automated batching, dosing and liquid addition with limited human handling of ingredients reduce the risk of weighing errors and improve speed of production. Double phase incorporation of liquid molasses reduces the cross-contamination risk and cleaning of equipment.

The new feed mill design allows Feedmaster to produce a diversified range of specialised products, ranging from roughage, containing feeds for game to macro feed concentrates for the feedlot industry.

The technically advanced and accurate batching and uniform mixing technology will result in precision feed formulations and superior animal performance. Today Feedmaster provides its customers with a wide range of scientifically tested animal feed products, developed especially for Namibian conditions.
Source: © Newera - https://www.newera.com.na/
CNH pens financing and sales agreement with Wesbank
Windhoek – CNH Industrial Capital, a firm that specialises in the financing and sale of agricultural and construction equipment and commercial vehicles, has entered into an agreement with FNB' Wesbank for a retail financing alliance in Namibia.

Together, WesBank and CNH Industrial Capital are proposing finance and leasing offers to customers and the agreement works to promote the company's IVECO and IVECO Astra in Namibia. CNH already has had the same arrangement with Wesbank for South Africa since 2011.

CNH is a subsidiary of CNH Global NV, a New York listed entity, and is responsible for the manufacture, sales, distribution and after sales operations of agricultural and construction branded equipment in over 120 countries throughout Africa, the Middle East, the Commonwealth of Independent States, Asia and Oceania, encompassing Australia, China and India.

Wesbank Namibia executive officer Elmarie Cilliers says Wesbank will benefit from all the other CNH brands, such as Case IH, Case Construction Equipment, New Holland Agriculture and New Holland Construction, as a result of this new agreement. This gives customers access to flexible finance and leasing solutions, customised for products under CNH Industrial brands.

"WesBank, as the leader in Namibia's leasing and financing business, established by FNB Namibia has entered into a preferred partnership agreement with CNH Industrial Capital, the financial services business of CNH Industrial", Cilliers said.

"CNH Industrial Capital is a global leader in the capital goods sector with established industrial experience, a wide range of products and a worldwide presence, and as such offers a unique business opportunity for Wesbank.

"This partnership allows us to customise lease structures that meet our customers' needs, thereby optimising the customer experience through an ideal lease solution", Cilliers said.
Source: © Newera - https://www.newera.com.na/.
DBN aims to stimulate enterprise and infrastructure in Otjozondjupa
Windhoek-Development Bank of Namibia (DBN) Senior Communication Manager Jerome Mutumba has announced that a team from the bank will be visiting Otjozondjupa Region to stimulate demand for finance in the region, as well as to visit DBN customers. The team will be led by DBN's CEO Martin Inkumbi.

DBN recently announced its additional focus on infrastructure and business projects which are aligned to the pillars of the Harambee Prosperity Plan (HPP). The visit is intended to shed further light on opportunities for finance for the sectors, which include energy, water, transport and ICT. The bank will seek to finance projects in these sectors, promoted by private entrepreneurs through public private partnerships (PPPs), as well as projects identified by the regional council and local authorities.

Talking about the value of development finance for Otjozondjupa, Mutumba said the region has the potential to become a hub of economic activity and a major source of value to the economy. He said that not only does the region act as a link between the productivity of Erongo, Khomas and the northern regions, but it also has the potential to provide goods and services for the regions around it.

He cites the example of Ohorongo Cement, in which the Bank holds shares. Although conventional wisdom would seek to place a large manufacturing enterprise such as Ohorongo in the Khomas or Erongo regions, the company uses the central location of the Otjozondjupa Region to reach multiple regions with a reduced logistical chain, and makes use of the local resource. This, in turn, has stimulated the region with employment and associated economic activity.

Mutumba added that the region has the potential to strengthen its own internal economy to serve the needs and wants of its inhabitants.

The Bank, he said, is also seeking to finance Otjozondjupa projects with an annual turnover of N$10 million or more in the fields of manufacturing, transport and logistics, and tourism.

The Bank is targeting Otjozondjupa loans for agri-processing, tourism and manufacturing enterprises that will create mass employment.

In the period between 2004 to January 2017, the Bank provided N$615 million in finance to the region. The largest allocation went to Otjozondjupa's manufacturing sector, at N$243.36 million, which includes Ohorongo Cement. This was followed by N$187.4 million for construction, and N$145.1 million for electricity. The allocation to electricity includes the successful Omburu Sun project, which pioneered solar energy production through the independent power production model that is currently being rolled out across Namibia, as well as its sister project, Osona Sun.

The Bank will conduct information sessions to familiarise stakeholders on its activities, and how to apply for larger enterprise finance.
Source: © Newera - https://www.newera.com.na/
2017 Mining Expo: Reaping the benefits of mining investment
Windhoek-The mining industry remains one of the largest contributors to Gross Domestic Product, constituting 12.5 percent in 2015, and contributes an average of 50 percent to Namibia's foreign exchange earnings. "The benefits of a modern and well-run mining sector to the Namibian economy are plenty and remain important drivers for economic growth," said Veston Malango CEO of the Chamber of Mines.

Malango was speaking at the launch of the 2017 Mining Conference and Expo, which will be held on April 26 and 27 at the Windhoek Showgrounds. The Chamber expects about 90 exhibitors, including household names such as Rio Tinto, Rössing, B2Gold and Namdeb. The expo is traditionally is also a venue for industry suppliers who showcase their services and plenty of business is conducted.

The Mining Conference, which is an integral part of the expo, will cover crucial topics such as water security concerns, uranium market dynamics and mining contribution to national development, among others.

Commenting on the local mining industry, Malango emphasised the benefits the economy reaps from its well-established mining sector. The Namibian mining industry provides jobs to about 9 000 permanent employees, of which 95.5 percent are Namibians and only 5 percent are expatriates. Together with contractors, the industry provides jobs to about 19 000 people and given a multiplier effect of 7, the industry provides livelihoods to over 100 000 people. Malango added that at any given point about 3600 Namibians are being trained by the industry, mainly through the Namibian Institute for Mining and Technology (NIMT).

The industry has made a significant impact towards infrastructure development, running a desalination plant that also provides water for the coastal towns and installing significant power supply that can potentially be added to the national grid.

In terms of affordable housing, mines are moving away from constructing settlements in the middle of nowhere. Rather, they assist employees through housing schemes in established communities, significantly contributing to economic growth of towns like Otavi, and Otjiwarongo.

In all these endeavours the industry has developed solutions to urgent problems, hand-in-hand with government, local authorities, employees, unions and the Namibian nation at large.

At the recent Mining Indaba in Cape Town, Namibia was singled out as a success story in the implementation of the African Mining Vision (AMV) with shared value and shared benefits. This framework aims to ensure that mining is fully integrated with other sectors of the economy through upstream, downstream and side stream linkages and thereby realise optimal benefits from mineral resources towards socio-economic development of the continent.
Source: © Newera - https://www.newera.com.na
Over N$50 million invested in research
Windhoek-The National Commission on Research, Science, Technology and Innovation (NCRST) has invested over N$50 million during the last three years in individual young innovators and various research institutions.

The NCRST is responsible for promoting, coordinating and developing research, science, technology and innovation in Namibia.

NCRST chief executive officer Dr Eino Mvula told New Era yesterday, on the sidelines of a signing ceremony for the memorandum of understanding (MoU) between the research body and the International University of Management (IUM), that grants were awarded to individuals and research institutions who submitted bankable projects.

He said the N$50 million "was not just dished out", but funding has been accessed based on the progress made by recipients with their projects.

"Even if you are funded N$200 000 we won't give it to you as a one-off, we will give the money as we implement the activities. For each grant an agreement is signed between NCRST, the grant recipient and the head of the research institution. This is to ensure public funds are used for its intended purpose," Mvula explained.

The three-year MoU aims to clearly identify the roles and responsibilities of each party as they relate to the planning of collaborative enterprise research, development, innovation and training activities of mutual interest and where appropriate, the joint funding of planned collaborative efforts.

Mvula said there are a lot of successful stories to tell, especially among the youth innovators.

"We have funded a lot of young people who have developed software applications into manufacturing and cosmetics using local ingredients. There is for example one we are really proud of. She used the seed money of N$500 000 we provided and won the Bank of Namibia innovator's award last year. So there are a lot of success stories, it's not just money being thrown away," he noted.

Further, Mvula said, as part of the organisation's ground rules and procedures, they continuously monitor the implementation of funded projects.

Recipients are expected to provide quarterly reports to NCRST on progress.
He said research funding has always not been given priority, but the status quo is changing.

"We started three years ago in terms of funding research in this country. It was not given a priority. Other things such as education have always been funded yet we see the pass rates and quality of output are not that good. But we are not saying let's stop funding. So you also can't say stop funding while you didn't invest a lot of time and money sufficiently for you to really make a decision whether to stop or not," he said.

Mvula also revealed that NCRST is busy developing a portal for researchers where they can register and put up their curricula vitae and publications to be accessed by the public.

Meanwhile, IUM acting vice chancellor Professor Kingo Mchombu expressed gratitude towards NCRST for having entered an agreement with the only privately owned university in Namibia.

NCRST has already partnered with academic institutions such as the University of Namibia (Unam) and the Namibia University of Science and Technology (NUST) in terms of research, science and technology.

"Research is the lifeblood of academia because the whole purpose of academic institutions is to generate new knowledge that relate to problems facing the country. At IUM we are keen to advance the theme of innovation and entrepreneurship. We shall strengthen the research component of innovation and entrepreneurship. We are working really hard to ensure that when our students get out of IUM they have innovation and entrepreneurship skills," he said.

IUM head of research Dr Rukee Tjingaete said the research division is a fast growing unit and is responsible for the stimulation of a research culture at the university.

He added that research at IUM is seen as an applied discipline that will systematically create new relevant knowledge in the context of the country's strategies to enhance the government's national development programmes that promote a knowledge-driven economy, as envisaged in Vision 2030, the fifth National Development Plan (NDP5) and the Harambee Prosperity Plan.

According to the 2015-2019 strategic plan of IUM, the second decade of IUM is devoted to undertake scholarly research and publication of research output in reputed journals, which will help the university to compete and collaborate with other institutions and research centres, both locally and internationally.
Source: © Newera - https://www.newera.com.na
Coordination of the Southern Africa Region group of Ambassadors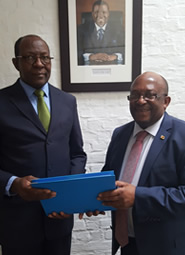 The Ambassador of the Republic of Zimbabwe, H.E. Tadeous Tafirenyika Chifamba, handed over the coordination of the Southern Africa region group of Ambassadors in Brussels to the Ambassador of the Republic of Namibia, H.E. Dr. Kaire Mbuende.
O&L operating companies celebrate significant achievements
Hangana Seafood was recognised as the top performer of the Ohlthaver & List (O&L) Group's 14 operating companies for the 2016 financial (F16) year that ended June 30, 2016, while Namibia Breweries Limited (NBL) and Broll Namibia took second and third place respectively.

The O&L Group's annual '12 Seasons Awards' creates a platform to recognise its top performing companies and celebrate the achievements of the Group as a whole. The categories judged by the group's executive included Financial Performance; Creating Amazing Trust Relations With Customers; Operational Excellence; Owning The Whole, and Other Significant Achievements.


Broll Namibia walked away as the best financial performer of the group with Hangana Seafood and NBL in second and third place respectively. In the category 'Creating Amazing Trust Relations with Customers', NBL came out tops with O&L Leisure and Hangana Seafood in second and third place respectively.

NBL and Namibia Dairies (ND) share the number one spot in the category 'Operational Excellence' for their efforts and ability to successfully keep the business alive during challenges such as the water crisis and drought which the country still faces. O&L Centre took second place, while Pick n Pay (PnP) Namibia was crowned third best in this category.

The category 'Owning The Whole' saw O&L Centre walk away as the winner with NBL second, and Hangana Seafood, third.

The O&L Group CEO, Peter Grüttemeyer, announced the stand out companies of the group in the category 'Other Significant Achievements', which highlighted five outstanding performers, and crowned O&L Energy in the number one spot in celebration of significant achievements in energy generation over the last financial year.

Grüttemeyer said: "For never giving up and eventually landing the first tender in Namibia for an Independent Power Producer Project, as well as for pioneering the development of a solution that turns Invader Bush into energy for Biofuel." In second place is O&L Leisure, while Hangana Seafood was rewarded the third spot. PnP Namibia and O&L Centre palmed in 4th and 5th place respectively.

Whilst announcing the overall top performers at a special awards ceremony last week at Strand Hotel Swakopmund, executive chairman of the O&L Group, Sven Thieme said: "It is by being a breakthrough organisation that we are able to live our purpose "Creating a future, Enhancing life' for all Namibians – within our business, through our business, and beyond our business. The 12 Seasons Awards is a celebration of change, a celebration of the strides we take as a group in pursuit of creating innovative and sustainable businesses.

"Inspired by our purpose-driven culture which has become entrenched in everything we do, we have so many breakthroughs happening within each of our operations on a daily basis.

"These breakthroughs are made possible by the contributions of a diversity of people, which includes you and all of our colleagues at various levels, in different operations, with various challenges – yet all inspired by the knowledge that by taking ownership today, contributes to creating a better tomorrow for our families, children, and communities."
Source: © Newera - https://www.newera.com.na
Paratus Telecom turns on first FTTH in Namibia
Residents of Finkelstein Manor and Finkenstein Village outside Windhoek will now be able to enjoy world-class internet connectivity after being the recipients of the first-ever Fibre to the Home (FTTH) connection in Namibia. The FTTH was made possible by Paratus Telecom, which says it is the first 100 percent privately owned Pan-African operator to turn on FTTH in the country.

Developers of Finkenstein Manor and Finkenstein Village have partnered with Paratus Telecom to create the first-ever Namibian digital village, providing every home owner with a gateway to the digital age. According to Paratus Telecom, it has already started to deploy fibre to 550 homes and will be providing an all-inclusive turn-key service solution to residents.

Speaking from his Botswana office, Paratus Telecom Group CEO, Barney Harmse, says residents will now be able to enjoy endless value-added broadband services and connectivity solutions over a state-of-the-art fibre optic network.
Harmse believes this is the first FTTH deployment in Africa for a privately owned Pan-African operator, built on own infrastructure.

"The entire solution is an end-to-end solution from Paratus Telecom, completely independent of any third-party infrastructure. Looking forward, we plan to invest a total of more than N$150 million on infrastructure in Namibia over the next three years of which N$100 million will be invested in fibre infrastructure," he explained.

Finkenstein Manor and Finkenstein Village developer, Gerdus Burmeister, said the fibre infrastructure will eventually be deployed to more than 1000 homes. "Compared to any other connectivity medium, fibre reigns supreme. Due to its inherent speed, capacity and reliability, fibre will now enable us to implement a fully comprehensive access control and security solution, which will include CCTV on the estate – one of our primary objectives. Residents will now also be able to enjoy access to triple-play connectivity including voice, video and data solutions," he stated.

Paratus Telecom is an African telecommunications company with the head office based in Windhoek. It also has fully-licensed offices in Angola, Botswana, Zambia and South Africa and delivers products and services to 22 African countries.

Paratus Telecom was founded as Internet Technologies Namibia in 2005 as the first privately and 100 percent wholly-owned Namibian telecommunications operator. The group turnover for 2016 was about N$1 billion and it plans to grow to N$1.2-billion for year ending February 2017. The total budget for Africa over the next five years is a staggering US$110 million.

Since inception, Paratus Telecom has established a prolific network extending across the entire Namibia, with additional international points-of-presence located in Johannesburg, Lisbon (Portugal) as well as London (UK).
Source: © NewEra - https://www.newera.com.na
Malls are evolving. Changing face of retail
Online options, entertainment and interactivity are key to the success of the malls of the future.

The shopping mall of the future will have to be innovative and find creative ways of making the shopping experience more convenient, according to Louis van der Watt, CEO of Atterbury Property, which is the developer behind the Mall of Africa.

He says an example of this would be the ability to allow consumers to buy an item online and collect from a store near them. He says the nature of shopping malls has already begun to change in the sense that people are increasingly looking towards these spaces to be entertained.

My.Na List your Business
"Our experience has been that as people become more dependent on technology and spend more time online, they also have a greater need to get out. Shopping malls need to adapt to this need and ensure that they also provide enough entertainment," said Van der Walt.

"Some products, like household appliances, will definitely be bought online more frequently because it is easy to do research and compare prices online. But people still want to see, touch and try on more personal items."

Stefan Salzer, partner and managing director at Boston Consulting Group (BCG), added that consumers constantly switch between shopping online and in physical stores. This means retailers also need to use technology to make this transition a seamless and convenient experience.

"Consumers want to get products when and how they want. This means retailers have to integrate their marketing, special offers, loyalty programmes and content so they function in union between stores and mobile and online portals," explained Salzer.
Source: © Namibian Sun - http://www.namibiansun.com
The US$264 million Mupani Mine will start operating in January 2021.

South Africa´´s Impala Platinum Holdings Limited and Zimplats´´ board have approved the development of the US$264 million Mupani Mine, which will increase the Zimbabwe unit´´s mineral reserves, the company said on Wednesday.

Implats said in a statement that the mine has a design capacity of 2.2 million tons per year by 2025 and will increase Zimplats´´ mineral reserves by 3 million ounces to 9 million ounces of platinum.

The first mining teams will be deployed in January 2021.

My.Na List your Business
The mine will employ 1 000 full-time employees at full production and will be financed through Zimplats´´ internal resources.

Zimplats Chief Executive Alex Mhembere said the mine will ensure that the Zimbabwe unit maintains production of 26000 ounces of platinum per year.

"This investment is an important development for Zimbabwe and will provide much needed support to the local economy at an extremely difficult time, reinforcing our commitment to sustain and grow our investments in the country," Mhembere said.

Platinum mines are under pressure from President Robert Mugabe´´s government to refine the metal locally as the southern African nation seeks to derive more value from its minerals.

Zimplats ships its platinum for further processing at refineries in South Africa.
Source: © Namibian Sun - http://www.namibiansun.com
First crab-processing plant opened
The minister of fisheries and marine resources, Bernhard Esau, on Friday inaugurated Namibia´´s first crab-processing plant in Walvis Bay.

Established by a Namibian company, Amstay Fishing, the processing plant will employ more than 30 workers to clean, peel, cook and package the delicate crustacean for the local and South African markets.

One of the most expensive products from the sea because getting it out of the shell is not easy, crab meat is a delicacy that has a distinctively peppery flavour and textured flesh that on most occasions is consumed by hand.

Esau said the ministry is keen to promote value addition to marine resources, adding that companies such as Amstay would be rewarded with more or bigger fishing quotas.

My.Na looking for Products
He said the goal was to transform the economy into a better one that employs more people before selling a resource on the international market.

Value addition creates jobs and improves employees´´ skills through training, said Esau.

"Investors are also attracted to come and establish factories here. This is what Namibia wants."

He requested Amstay to take good care of their employees by paying them good salaries for them to have better lives.

The minister said fishing companies must be innovative and grow their businesses by venturing into various industries.

This, he said, does not only create more jobs but also secures employment.

Amstay managing director Antonio Mansinho said that by establishing the land-based processing plant, the company aims to enter the international market, create jobs and get more quotas.

"We have been processing offshore but it was in small quantities. Now we are able to process and sell in large quantities."

The company was established in 2000 and has been fishing and processing sea products offshore.

Amstay Fishing is 90% Namibian owned and 10% Japanese owned.
Source: © Namibian Sun - http://www.namibiansun.com
NMH to be restructured Stimulus Investment Limited is disposing of some of its shares in Namibia Media Holdings to allow a management share-incentive scheme.
Namibia Media Holdings (NMH), which publishes the daily newspapers Namibian Sun, Republikein and Allgemeine Zeitung, will be restructured in a move that will allow management and staff to acquire shares in the group.

Stimulus Investment Limited, which has a 100% shareholding in NMH, will dispose of 20% of the printing and publishing operations to NMH CEO Albe Botha as a means of management buy-in.

Stimulus chairperson Josephat Mwatotele announced this in a statement.

My.Na List your Business
"Stimulus is further committed to engage management and staff of NMH with a management and staff share-incentive scheme," he said.

"The restructuring will add value for the group through a focused approach aimed at enhancing market share and operational efficiencies, as well as aligning the interests of management and staff with that of Stimulus."

Three operational focus areas have been introduced that will see publishing operations trading as Namibia Media Holdings (Pty) Ltd and printing operations trading as Newsprint Namibia (Pty) Ltd, while a property operation has also been introduced.

Apart from publishing Namibian Sun, Republikein and Allgemeine Zeitung, NMH also owns three community newspapers, namely Erongo, Windhoek Express and Ewi lyaNooli.

Recently, the group acquired 65% of Intouch Interactive Marketing to enhance its digital marketing engagement with readers and advertisers.

Last week, FNB Namibia announced that it had concluded negotiations to acquire 100% of Pointbreak and EBank subject to regulatory approvals. Pointbreak owns 49% of Stimulus, and also 58.9% of Ebank. Pointbreak is a Namibian financial services group established in 1999, providing investment management and wealth management services for more than N$8 billion in third-party capital.

In 2014, the company became a founding member of EBank, a technology-focused lender that leveraged off a model allowing clients to open functional bank accounts from their mobile devices.

The parties said the partnership would enable, among other things, activation of FNB´´s e-Wallet product to EBank´´s client base, and in the longer term extend banking services beyond what current branch networks allow. As a result of the deal, FNB Namibia will indirectly own 39% of NMH through Stimulus and Desert Trading.
Source: © Namibian Sun - http://www.namibiansun.com
'Invest in Namibia' conference to market Kudu Gas and other projects
Windhoek – Over 500 local and international potential investors are expected to attend the two-day Namibia International Conference titled 'Invest in Namibia' scheduled for November 8 and 9 in the capital.

During the conference, which is dubbed a first of its kind, a key number of investors are expected to participate with strong emphasis on business-to-business deals. The country will also showcase a number of previously identified investment opportunities, including the upstream and downstream aspects of the Kudu Gas project.

Addressing the press on Thursday, Industrialisation, Trade and SME Development Minister Immanuel Ngatjizeko said the conference is a key deliverable under the Harambee Prosperity Plan (HPP) Pillar 2, which deals with economic advancement specifically. He noted that a few months ago project proposals were invited for the purpose of due diligence and evaluation, and twenty projects have been selected as optimal investment opportunities.

Ngatjizeko said the sectors which will be represented include affordable housing, agriculture, manufacturing, infrastructure, tourism, logistics and energy.

Other energy projects that will be marketed at the conference include an electricity generation biomass harvesting project requiring a total investment of N$1.2 billion and a solar project that comprises of a thermal storage component with an estimated investment cost of N$13 billion. On the housing side the Ongos Monte Christo City housing project will be touted at an estimated investment cost of N$13.5 billion.

In terms of infrastructure and transport a N$1.2 billion commuter rail service will be showcased to potential investors. Not all of the projects are government projects as many are private projects with private owners or promoters, who are looking for investment partners to inject additional capital.

According to Ngatjizeko, an inter-sectoral team comprised of various offices/ministries and agencies have been mandated to oversee the successful implementation and delivery of the conference. He added that under the capable leadership of the Office of the President, the ministries of finance, home affairs and international relations and cooperation are working together to reposition the Namibian narrative, one where business unusual is the modus operandi.

The conference themed "Promoting Investment for Inclusive Growth and Industrialisation" anticipates the participation of 150 international guests, 150 local investors and 200 delegates representing industry experts, captains of industry, legislators, officials and governors of all 14 regions.

President Hage Geingob is expected to officially open the conference. Ngatjizeko says so far potential investors from Brazil, Turkey, Germany, China, USA, Angola, South Africa and Zimbabwe have confirmed their participation and are expecting more confirmation over the next few days.

Other stakeholders such as the Namibia Chamber of Commerce and Industry (NCCI), Air Namibia, Namibian Broadcasting Corporation (NBC) and the Namibian Ports Authority (Namport) have come on board. Ngatjizeko commended Standard Bank Namibia, the main sponsor, for its contribution of N$1.5 million towards the conference.
Source: © NewEra - https://www.newera.com.na
Namibia´s fiscal deficit to narrow - BMI
Rising mining production and cutbacks on non-essential spending will see Namibia´´s fiscal deficit narrow in the coming months, says BMI Research, which is part of the Fitch Group.

BMI points out in a new report that Namibia´´s fiscal balance will begin to narrow in 2017, after widening substantially this year, on the back of improving revenues from the mining sector and government paring back spending.

The budget deficit will narrow from 8.2% of gross domestic product this year to 7.4% in 2017 after four consecutive years of growth.

While global commodity prices will remain structurally low compared with the commodity boom years, government revenues will receive a boost as the Husab uranium mine begins production in the first quarter of 2017, doubling the country's uranium output.

"This will provide a buffer to waning Southern African Customs Union (Sacu) revenues as the country becomes the third-largest uranium producer in the world," BMI says.

BMI´´s mining team forecasts mining production for Namibia´´s key mineral exports, which include diamonds, copper, zinc and uranium, to register positive growth.

Increasing activity in the mining sector will provide a boost to government coffers through increased company tax collection and mining royalties.

My.Na looking for Products
The report points out that Namibia´´s Sacu revenues, which have accounted for around 30% of total government revenues in recent years, will remain tepid over the next 18 months.

The impact of strong revenues will be further bolstered as the Namibian government begins paring back non-essential spending.

MININGWEEKLY
Source: © Namibian Sun - http://www.namibiansun.com
PPP solar plant to supply Arandis
Erongo RED signs with Arandis Solar Energy

The Erongo Regional Electricity Distributor (RED) on Monday signed a 25-year power purchase agreement that will see it obtain solar energy from a privately built, three-megawatt plant.

The partnership agreement between the Walvis Bay-based power utility and OLC Arandis Solar Energy will generate enough power to supply the town of Arandis.

At a media conference on Monday, OLC Arandis Solar Energy Project director Bernd Walbaum said more than 30 people would be employed temporarily during the construction phase, with ground breaking for the solar power plant expected in November.

The project is estimated to cost the company around N$80 million, and operations are expected to start by April 2017.

My.Na looking for Products
Once operational, the number of permanent staff needed would number three, Walbaum said.

Local businesses would be hired during the construction period, he said.

"We believe in renewable energy because it is the right way to go for Namibia to avoid importing power," said Walbaum.

He said an information centre would be set up at Arandis to provide updates on the progress and operation of the solar power plant.

"We want to make more people understand the importance of renewable energy and how it can improve power supply in our country."

Erongo RED chief executive Robert Kahimise said the agreement would save Erongo RED an estimated N$127 million over its lifespan, set at 25 years.

"We are committed to diversifying our energy mix to ensure that electricity consumers reap benefits emanating from renewable energy.

"We also know that reliable supply and distribution of electricity remains and will continue to be an important component in boosting economic development in the region."
Source: © Namibian Sun - http://www.namibiansun.com
Ambassador of Namibia presents credentials to the King of the Netherlands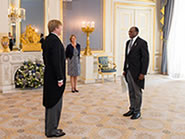 The Ambassador of Namibia to the Benelux countries and the EU, H.E. Dr. Kaire Mbuende, presented last week Wednesday, 14 September 2016, during a ceremony at the Royal Palace Noordeinde in The Hague his Letters of Credence to King Willem-Alexander, the King of the Netherlands. This enables him to begin official engagements with Dutch government officials in his capacity as representative of the Namibian government. The Ambassador was accompanied Mrs. Latungika Loide Shikwambi, First Secretary at the Namibian Embassy in Brussels.
Ambassador Mbuende used the occasion of presenting his credentials to convey the best wishes of the President of the Republic of Namibia, Dr. Hage Geingob, to His Royal Highness the King of the Netherlands. The presentation of his credentials is also an affirmation of the longstanding relations between the Republic of Namibia and the Kingdom of the Netherlands. The relationship between the two countries has evolved over many years and went through different stages ranging from the exploration of the coast of Namibia by the Dutch East India Company in 1670 to the support for the struggle for the independence of Namibia by the Dutch people through among others the Southern Africa Committee and the broader anti-apartheid solidarity movement. The two countries established diplomatic relations on 23 April 1990 after the attainment of the independence of Namibia on 21 March 1990.
The relationship between Namibia and the Netherlands can be characterized in four ways. Firstly, there are bilateral relations between the two governments. Secondly, there is people to people diplomacy, for example in the form of the twinning partnerships between towns in Namibia and the Netherlands. At the moment there are four partnerships: Rundu-Nieuwegein, Gobabis-Smallingerland, Otjiwarongo-Heusden and Outjo-Maarssen. The third way is through multilateral institutions, such as through the ACP and the EU. The fourth and most crucial type of cooperation is through trade and investment. A good example of this is the decision of Dutch
airline company KLM to fly from end of October three times a week from Amsterdam to Windhoek.
After the presentation to King Willem-Alexander, Ambassador Mbuende presented his credentials to the Organizations for the Prohibition of Chemical Weapons (OPCW) in a ceremony at the OPCW headquarters in The Hague with the Director-General of the OPCW, H.E. Mr. Ahmet Üzümcü. The OPCW promotes and verifies the adherence to the Chemical Weapons Convention, which prohibits the use of chemical weapons and requires their destruction. Namibia, which is a stable, peaceful and democratic country, signed and ratified this convention.
In the evening, the Ambassador hosted a networking event with Dutch businesspeople who are interested in investing in Namibia, representatives from Dutch towns twinning with Namibian towns, academics that are doing research on Namibia, leaders from Dutch NGOs that are active in Namibia and former activists from the Dutch anti-apartheid movement.
Previously, Ambassador Mbuende served as Ambassador and Permanent Representative of Namibia to the United Nations (2006-2010). During his tenure at the UN, Ambassador Mbuende chaired important working groups on the reform of the UN. From 1994 till 1999, he served as Executive Secretary of the Southern African Development Community (SADC) during a crucial period in the history of the organization that involved the incorporation of South Africa and the development of new instruments for cooperation and integration. He was also a member of Namibia`s Constituent Assembly and subsequently National Assembly for two terms (1990-1993 and 2000-2005). Additionally, he served as Deputy Minister of Agriculture, Water and Rural Development (1990-1993) and Foreign Affairs (2002-2004), respectively.
Trade minister backs logistics ambitions. Policies in the work to expadite
Minister of Industrialisation, Trade and SME Development Immanuel Ngatjizeko last week pledged his support for the country's ambitions to become a regional logistics hub.

At a forum hosted by the Walvis Bay Corridor Group in collaboration with the Embassy of Finland in Namibia, Ngatjizeko said it was a realistic expectation on the part of Namibia, to serve as preferred trade route to and from the entire southern region of the African continent.

Arguing that the country needed to focus on making itself appear more attractive to foreign investors, he said his ministry was in the process of formulating a number of policies to that effect.

"I believe that Namibia's 'logistics hub' is a viable concept", Ngatjizeko said.

My.Na List your Business
"International trade is the wind that fills the sails of the logistics ship, therefore it is essential to attract international role players."

The logistics industry, he said, if managed property, could contribute up to 4.6% of Namibia's GDP, especially considering the strong foundation laid in terms of the country's transport infrastructure.

Among the ministry's efforts to improve the sector's performance, according to the minister, was the investment promotion programme – which aims to achieve an increase in the number, value and nature of domestic and foreign direct investment in Namibia. Entailed in that initiative are a legal and regulatory framework, and a marketing plan and strategy.

Also speaking at the WBCG forum was Simonis Storm Securities Director of Securities and Trading, Purvance Heuer, who stressed the nation's role within the wider global economy.

"Namibia isn't just Namibia. A lot of what is happening regionally is as a result of what is happening globally and unfortunately, that has resulted in economic growth output forecast being slashed quite aggressively by the World Bank and also the International Monetary Fund," Heuer said.

"You can probably expect sub 3% growth rates for the foreseeable future, which is significantly lower compared to the 5% that would have been expected ten to fifteen years ago."

AUAS MOTORS
"That is primarily why emphasis is placed on transforming Namibia into a logistics hub to assist in the process of Namibia becoming an economic powerhouse," the financial analyst said.

"Given the phenomenal growth in the international trade over the last few decades, we have a realistic chance to transform our economy," Ngatjizeko told those in attendance.

"The logistics industry is moving towards unparalleled growth. However, to further sensitize the industry in order for infrastructure development to meet potential cargo flow, industry players and the industry itself need to be ready for when the 'logistics hub' reaches full implementation.

DENVER ISAACS
Source: © Namibian Sun - http://www.namibiansun.com
The new B1 City Mall in Windhoek yesterday welcomed the arrival of an important anchor tenant in Pick n Pay.

The Ohlthaver & List (O&L) Group subsidiary opened its 23rd store in Namibia there in the presence of Windhoek mayor Muesee Kazapua and a multitude of enthusiastic customers.

The new branch employs 88 Namibians, and brings to 2 300 the total number of Pick n Pay Namibia employees.

Addressing the audience, Pick n Pay Namibia MD Norbert Wurm stressed the company's continuous support of local entrepreneurs, considering them in mentorship, coaching and preferential procurement of locally produced products, and assisting these businesses to meet the company's stringent requirements in that regard.

"Through the opening of new stores and focusing on growth at large, we are cognisant of the critical role we play in supporting government's 'Growth at Home' strategy while strongly supporting the collective vision of eradicating poverty as outlined in the principles and goals of the Harambee Prosperity Plan," Wurm said.

My.Na List your Business
Also at the event, the company announced its efforts to assist the Dorkas Community Organisation with a Pick n Pay gift card of N$1 000 every month, for the next 12 months, as part of its corporate social responsibility.

The charity organisation provides meals and day care to about 60 vulnerable children on a daily basis, as well as assisting bedridden elders.

"Remember that our respect and success are not entitlements, but something we need to learn, every day," Wurm said in a message to staff.

"We are here to serve the community of Katutura and to go that extra mile for our loyal customers here. Let's be very sensitive to the pressures our customers may be feeling, especially in light of the tough economic times, and let's do everything we can to individually and collectively exceed their expectations."

Also speaking at the event, Kazapua commended Pick n Pay Namibia for among others its attention to hygiene and cleanliness, warning other retailers to emulate this example, or face losing their fitness certificates.

"People do not like to be associated with unhygienic conditions and filth where they spend their money. This is something we cannot compromise on," said the mayor.

DENVER ISAACS
Source: © Namibian Sun - http://www.namibiansun.com
MultiChoice joins Team Namibia
MultiChoice Namibia this week became the latest business to join local lobby group Team Namibia.
Celebrating the development, the two organisations expressed enthusiasm for Namibia's Growth at Home industrial strategy, aimed at mobilising Namibian consumers and businesses to support more local goods and services.
"We are excited to support the Growth at Home drive through Team Namibia, and endeavour to play our part for the Team in our capacity as a local service provider and responsible corporate citizen," MultiChoice Namibia general manager Roger Gertze said in a joint statement issued on Monday.
"In line with our purpose of enriching lives, MCN actively contributes to the socio-economic development of Namibia through our business and corporate social investment activities, and we adhere to the regulatory requirements for the broadcasting industry set out by the Communications Regulatory Authority of Namibia (Cran)," he said.
MultiChoice Namibia was started as a joint venture between South Africa's MultiChoice and Namibia's Kalahari Holdings, and received its transmission licence on 16 December 1991.
The company now has 23 transmission sites across the country, two offices in Windhoek, and branches in Ongwediva and Swakopmund.
Its network is further supported by 13 agents, 115 accredited installer companies and a wide range of local retailers. "In the spirit of Harambee, Team Namibia members support the country's national objective of sustained economic growth," Team Namibia CEO Roberta da Costa said.
"We are delighted to continuously grow our membership by welcoming another corporate business on board."
Source: © Namibian Sun - http://www.namibiansun.com
Walvis Bay Port a win in Zambia
Efforts to market the Port of Walvis Bay as the premier trade route in the region are paying off, according to the transport and logistics sector.
The Namibian port is increasingly becoming the preferred trade route amongst traders, importers, exporters and other logistics service providers due to competitive advantages offered.
This was the news shared by Namibian delegates at an information session held earlier this month in Zambia, hosted by the Walvis Bay Corridor Group (WBCG), with support from the Finnish Embassy.
One key market which has proven this view is north-eastern neighbour Zambia, which with 14 million inhabitants is currently considered among the world's fastest economically reformed countries.
Zambian exports generally include copper, ash, vase metals, tobacco, sugar, wheat, soybean and maize.
Staple imports range from boilers and machinery, to electronic equipment and other commodities.
"The Port (of Walvis Bay) is linked to Zambia via the Walvis Bay-Ndola-Lumbubashi Development Corridor and offers handling of cargo with minimum delays,"
NamPort CEO Bisey Uirab told delegates at the 7 July-held information session.
"The benefits of using Walvis Bay are highlighted in terms of transit time, good safety and security and reliability", he said.
While Zambia as a land-locked country has various trade routes open to it in trading with the international world, and at least five different seaport options, the country has been said to be very selective in which to employ.
In that regard, the efficiency of the Port of Walvis Bay was hailed, with cargo cleared within three to four days.
Zambian businessman and Chairman of the company Capital Fisheries, attested to the fact.
"If you are not currently using the Port of Walvis Bay, then start doing so soon," he told fellow Zambian business people in attendance.
"We have come to know the Port of Walvis Bay as an efficient service provider.
"One who is time-critical, cost-effective and offers a personalised service".
DENVER ISAACS
Source: © Namibian Sun - http://www.namibiansun.com
Million dollars raised for savings-scheme network
An initiative by Standard Bank Namibia to contribute towards the work of the Shack Dwellers Federation of Namibia ended recently with the handover of more than N$1 million to the organisation.
Standard Bank Namibia chief executive Vetumbuavi Mungunda last week made the official announcement of N$1 321 433.35 collected through the bank's Buy-a-Brick initiative.
The money was collected over an eight-month period, with the highest amount of N$200 000 contributed by fishing company Namsov.
This was followed by 'big four' auditing firm PriceWaterhouseCoopers at N$50 000, while Standard Bank itself made an initial seed contribution of N$500 000 at the launch of the project in October 2015.
The money was handed over to First Lady Monica Geingos, who is the patron to the Shack Dwellers Federation.
It is expected that the funds will be used to build 40 houses for members in Rehoboth.
"This initiative, together with the patronage of the First Lady, helped to further raise the profile of the housing challenge in the country as well as the name and the sterling work of the Shack Dwellers Federation of Namibia," Mungunda said.
He noted that direct contributions to the Shack Dwellers Federation by other corporates and institutions showed a significant increase over the past year.
"This is a great testimony to the efficiencies of our partner, the Shack Dwellers Federation of Namibia, and the excellent public-private partnerships that have been forged with the Rehoboth Town Council and the Ministry of Urban and Rural Development," the Standard Bank head said.
"On my calculation, these houses should be ready for occupation within a year from the launch date of the project."
In receiving the funds on behalf of the federation, Geingos stressed the importance of property ownership in addressing poverty and Namibia's well-documented housing shortage.
"Once you have a house you have to make it a home with elements of love, peace, food and protection. If your home is broken, our society is broken," she said.
Source: © Namibian Sun - http://www.namibiansun.com
Brazilian food producer eyes Namibia as SADC entry point
A delegation from Brazilian food conglomerate BRF on Tuesday called on President Hage Geingob at State House.
The company produces refrigerated and frozen foods such as pork, whole chickens and frozen cuts of chicken, processed foods, pasta, sauce, and frozen vegetables.
The company's executive team, led by its chairperson Abilio Diniz and global chief executive officer (CEO) Pedro Faria, was accompanied by local entrepreneur Knowledge Katti.
Diniz told Geingob that his company was attracted by Namibia's political and economic stability, integration in regional trade blocks, infrastructure and reputation for transparency.
"I hope we can do something together. We are one of the biggest corporations in Brazil. We hope we can do something for Namibia," he said.
Namibia also serves as a gateway to the Southern African Development Community (SADC) region.
Geingob told the visitors that Namibia has declared war on poverty and implemented the Harambee Prosperity Plan (HPP) to ensure that every Namibian has access to the basic necessities for survival.
The president, who was accompanied by his advisors, told the guests that Namibia has a wealth of attractions and advantages for foreign-owned companies looking for business opportunities. Namibia has a government keen to foster the engines of economic growth and prosperity, he said.
BRF, with revenue of about US$13 billion (N$200.2 billion) recorded in 2013, exports to 120 countries. The company primarily sells its products under the Sadia, Perdigão, and Qualy brands.
The BRF delegation was also accompanied by members of the Walvis Bay Corridor Group (WBCG) based in Brazil.
The WBCG has an office in Brazil since 2012 to promote business development between the two countries.
Source: © Namibian Sun - http://www.namibiansun.com
Shadi to plant more barley for beer production
The government-owned Shadi Green Scheme irrigation project at Shadikongoro village in Mukwe Constituency is suitable for planting barley, a crop used in manufacturing beer.

This is the conclusion after barley was successfully grown at the project for experimental purposes.

On the August 19, 2015 the Ministry of Agriculture, Water and Forestry – through its AgriBusDev company – signed a Memorandum of Understanding with Namibia Breweries Limited (NBL) for the production of barley at some of the country's green scheme projects, including Shadi.

"Not so long ago the University of Namibia and Namibia Breweries entered into an agreement to look into growing barley, so we came together decided to experiment whether barley can be grown in Namibia, because all along this barley was imported from Europe and it is very costly," Mutorwa told New Era on Tuesday during a tour at the project.

"We then selected a few places, at Mahenene (a government research centre outside Tsumeb), here at Shadi and other places just to test. Here at Shadikongoro it came out very clearly that it grows very well, on the basis of the experiments we conducted," Mutorwa said.

"So here we are now. Mr Marais – with his people – is already working with the breweries and they are going to plant barley to be used to brew the beer," Mutorwa added.

According to projects manager Daniel Marais the trial was cinducted at the project few years back, but this year the breweries asked them to plant more hectares. "I was asked to plant 120 hectares and I hope to harvest 600 to 700 tonnes in October," Marais said.

Mutorwa was in Kavango East Region the whole of last week for an inspection visit, where he visited government green schemes and other projects under his ministry and was briefed on the progress and challenges the various projects face.
Source: © NewEra - https://www.newera.com.na
Namibia´s diamonds face a sparkling future
As I joined Minister Obeth Kandjoze on Monday signing a new ten-year agreement for the sorting, valuing and sales of Namdeb Holdings' diamonds, the significance of the event was not lost on me.
This is the longest agreement ever made between De Beers and the government, and the best example yet of the strength of our unique partnership. It ensures that Namdeb Holdings' diamonds will continue to form a significant part of the long-term supply made available by De Beers to the world's leading diamantaires.
And with Namibian diamonds renowned for their a high quality and favourable shape, it means that this production will complement that from other countries, benefiting our customers.
Namibia is one of the world's leading diamond producers, with Namdeb's diamonds accounting for around US$1 billion of the supply sold by us each year.
It is the strong fundamentals of the long and successful relationship between De Beers and Namibia that has led to shared achievements and mutual benefits.
Namibia's leaders continue to be forward-thinkers with their approach to its diamond sector, making sure that diamonds contribute to socio-economic development and underpin the long-term prosperity of the country. Goals that we at De Beers also share.
Since we began this journey together in 1994, the country's GDP per capita has grown around 4.5% each year, on average, up to 2015. This can be attributed largely to diamonds, supported by strong governance, a solid government and a sensible approach to investment.
There are many reasons for Namibians to feel proud of this partnership. It contributes more than N$3 billion each year to the country's revenues, more than one in every five dollars to foreign earnings and, besides the government itself, is the single largest contributor to the country's economy.
The new agreement paves the way for the creation of an independent sales outlet that will distribute up to 15% of Namdeb's run-of-mine production each year.
It also bolsters socio-economic development as in-country customers of Namibia Diamond Trading Company will see the value of the rough diamonds offered to them each year being more than 40% of Namdeb's production by value. This will support local diamond businesses as more rough diamonds are cut and polished in-country. In addition, all special stones mined by Namdeb will be available for sale locally.
However, you only need to look beyond the particulars of the agreement to see the significance the De Beers/Namibia partnership continues to have.
It employs more than 2 500 people and a large number of contractors, helps build houses, promotes health care and supports local businesses and schools, all of which reinforce socio-economic development.
It is also investing around N$2.5 billion in a new state-of-the-art exploration vessel, the SS Nujoma, which will begin its search for diamonds across Namibian waters from the first half of 2017.
And the partnership is helping to find the next generation of Namibian talent through a N$10-million donation to Unam. Supporting underprivileged children with their studies goes hand-in-hand with the school-based learning programmes we sponsor, which have benefited more than 300 young Namibians.
With this new sales agreement and the shared vision of our partnership, we will ensure that the socio-economic development of the country goes from strength to strength and that Namibia's beautiful diamonds sparkle for years to come.
*Philippe Mellier is the CEO of the De Beers Group
Philippe Mellier
Source: © Namibian Sun - http://www.namibiansun.com
Std Bank expands digital offerings
Standard Bank Namibia last week launched a new product aimed at upping its presence in the digital banking sphere, with the 'BlueWallet Account'.
Explained as a virtual pre-paid account, BlueWallet allows customers to send money, buy airtime, purchase pre-paid electricity, and transact at registered retail outlets, without having to carry cash or their bank cards on them.
"This journey started with the implementation of the new core banking system for the bank, Finacle," Standard Bank Namibia Chief Executive Vetumbuavi Mungunda said at the launch event on Thursday.
He described Finacle as a new state-of-the-art system designed to enable innovation, agility and advanced functionalities.
"Today we are launching our BlueWallet product, which has features superior to other wallet products on the market," Mungunda said.
"Some of the enhanced features include bulk payments by companies, tiers that allow for amounts in excess of N$2 000 to be transacted if you are KYCed, wi-code which allow for transacting cashless or cardless at large merchants, and the ability not to withdraw all your funds from your wallet," he said.
Registered retail outlets supporting the BlueWallet account include Shoprite, Checkers and Engen Service stations, as well as the City of Windhoek and the Municipality of Walvis Bay.
Mungunda said the bank planned on launching a host of other products throughout the course of the year, including e-mail statements, a smartphone App, new EMV-compliant debit cards, and a refreshed internet banking platform.
Source: © Namibian Sun - http://www.namibiansun.com
Support for 8th rural Medic Rush
The Hochland Roundtable 154's annual campaign to extend medical support and healthcare to disadvantaged Namibians in rural areas got off on a high note this week thanks to more than N$350 000 worth of corporate backing.
The Hochland Roundtable 154 is gearing up for its 2016 Medic Rush (Rural Upliftment and Social Healthcare) project, expected to be held between 4 and 8 May.
This will be the eighth consecutive year in which the campaign will be conducted, this time focusing on the communities of the Uibasen Twyfelfontein Conservancy, the Sorris-Sorris Conservancy and Omatjete village.
At a sponsorship event yesterday, Standard Bank Namibia announced its contribution of N$205 000 to the initiative, while the Nampower Foundation contributed a further N$150 000.
"As one of the key players in the Namibian private sector, Standard Bank Namibia believes that it should complement the government's quest in delivering essential services, such as healthcare, to all Namibians in all corners of the country," said Standard Bank Namibia group company secretary and head of corporate social investment Sigrid Tjijorokisa.
"Institutions like the Hochland Roundtable 154 deserve assistance as they endeavour to make medical care accessible to people in remote areas, especially those who have difficulties reaching medical centers," the Nampower Foundation's Salomo Naukushu added.
"We thank the medical professionals who voluntarily take time to provide services to the needy and also applaud Standard Bank for supporting this worthy cause," Naukushu said.
To date, the Medic Rush has benefited more than 5 000 disadvantaged Namibians in various parts of the country.
Services provided include free basic healthcare and nutritional counselling, extending to specialist care with referrals and transport to medical centres in Windhoek.
Other services have included screening for hypertension and diabetes, patient education regarding lifestyle choices, rehabilitative care from physiotherapists and occupational therapists, basic eye care by optometrists and basic chronic wound care.
"We appreciate this gesture as it will bring about instant change to the lives of underprivileged Namibians in remote areas," Roundtable 154 chairman Bruce Salt said.
"It's also very sustainable for their health and wellbeing and critical cases, once detected, are followed through to hospitals."
Source: © Namibian Sun - http://www.namibiansun.com
Strong growth to return in 2018
Namibia's confirmed slowdown in economic growth last year provides an opportunity for the country to rethink its growth strategy, particularly in terms of boosting the contribution of its energy sector.
This was the view of FNB Namibia Senior Manager of Research and Development Namene Kalili, commenting on newly revised GDP figures released by the Namibia Statistics Agency (NSA) on Thursday.
The NSA's preliminary national accounts for 2015 confirm the country's 2015 growth rate as having slowed down to 5.7%, compared to 6.3% in 2014.
"These figures are well above market expectations and our own expectations, where we had forecast growth of 4.9%," the FNB economist said.
"Therefore, the economy continues to defy expectations amidst significant headwinds emanating from the global economy."
These headwinds, he said, particularly effected export sectors negatively, though economic growth benefited from low inflation (3.5%), and an even lower change in the GDP deflator (0.1%), the measure of export commodity inflation.
"Although the savings rate is down slightly, it is in relation to the rising interest rate environment and was to be expected, while investment expenditure grew to N$49 billion," an optimistic Namene said.
"The growth in investments over and above the slowdown in savings rate indicates that the economy was able to attract significantly higher foreign direct investment in 2015."
In forecasting the way forward for Namibia, Namene suggested growth would continue to decelerate in 2016 due to the pronounced impact of global economic slowdown, limited economic stimulus from government, rising interest and South Africa's expected downgrade by credit agencies to junk status.
He suggested however that a mild recovery could be expected in 2017, with a return to high growth in 2018.
"The economic slowdown is the opportune time to sharpen our pencils and rethink our growth strategy," Kalili suggested.
"The country is blessed with natural sun and embracing solar energy and liberalising the energy sector to allow competitive development to revolutionise the country's energy sector into is of the biggest contributors to economic growth".
"The economy needs to rebalance from a consumption-led to an export-led economy. This would ensure that the economy produces more than it consumes, resulting in massive increases in savings and investments and thereby unlocking long-term development of new industries," he said.
This would also ensure that Namibia begins to benefit from the depreciating rand, he said, as it would translate into higher income in local currency terms from exports, while making the country's goods more competitive on the global
market.
"More substantially, we would accumulate substantial foreign reserves well beyond the required import cover, allowing the excess to be invested on the global capital market to generate new revenue streams for the country," he said.
Source: © Namibian Sun - http://www.namibiansun.com
Colas upgrades its Ondangwa depot
Bitumen and emulsion manufacturer Colas Namibia has upgraded its depot at Ondangwa by introducing bulk supply facilities of bituminous binder products.
The new facilities were introduced to the company's customers on Tuesday evening.
Ondangwa depot administrator Emelia Arangies said the depot was established a few years ago to supply bituminous products to SME contractors.
Bulk supply facilities were added recently for the convenience of larger road contractors.
"These new facilities satisfy what I have been demanding all along. I am happy now that bulk supply facilities were brought closer, thereby reducing costs," said Fabianus Paulus of Mavinga Trading, a local road construction company.
Colas Namibia has its main branch and factory at Okahandja.
Branch manager Riaan de Kock said Colas' products and services are backed by full technical support, on-site troubleshooting and advice from a team of committed professionals.
The company supplies a full range of bituminous binder products for road surfacing and also develops and supplies a range of proprietary products for specific applications.
The Ondangwa depot is situated behind the Olunkono Shopping Complex.
Source: © Namibian Sun - http://www.namibiansun.com
Ees's Nam Flava takkies now at Pick n Pay
Fans of Namibian Kwaito artist Ees's Namibian-flag-inspired footwear will be glad to note that his canvas shoe brand 'Nam Flava' can now be bought at Pick n Pay.
The retail chain announced this week that Nam Flava footwear would be stocked at its branches in Wernhil Park, Auas Valley, Swakopmund, Walvis Bay, at the Oshana Mall and at Oshakati Pick n Pay. A pair costs N$500.
"We are focused on creating local value in Namibia, thereby supporting the local economy," Pick n Pay MD Norbert Wurm said.
"Nam Flava is an authentic and truly Namibian brand and thus speaks to this objective of supporting local 'proudly Namibian' products," he added.
According to founder Erick Sell (stage name Ees) the local shoe brand had its origins in a sketch posted on social media by a friend in 2011, which inspired him to have the shoes made for himself.
"I wore those shoes to many of my public appearances, shows and even music videos, and received overwhelming response from my fans," Sell said this week.
"I had my first stock made at Cymot in Namibia, and the rest is history," he said.
The artist has pledged to donate N$10 from every sale of a pair of Nam Flava shoes to the Save the Rhino Trust.
"Pick n Pay Namibia has always been supportive of small businesses and suppliers by integrating them into our supply chain, whether it be through products or services," Wurm said.
"This determination to pay a strong and positive role in small businesses and the communities we serve, contributes to the prosperity of Namibia as a whole and therefore we remain dedicated to support, scale and sustain them.
"We have many local products present on our shelves, from fresh produce, meat, milk, canned fish, soft drinks, beer, pasta, eggs, cleaning materials, toiletries, chocolates and many more," he said.
Source: © Namibian Sun - http://www.namibiansun.com
Google brings movies to mobile
Google South Africa said last week that people could download movies on their cell phones for only N$19.99.
Google SA communications and public affairs head, Mich Atagana, said the service would allow users to either purchase or rent the movie.
"Our goal with Google Play is to bring together all your favourite content in one place that you can access across your devices," Atagana said.
Google's venture into the rental space comes in the wake of mushrooming services such as Netflix, a global provider of streaming movies and TV series.
Google's service will allow South Africans to rent or buy full-length movies from major Hollywood studios directly to their smartphones, tablets, computers and smart TVs for online and offline viewing.
Atagana said rented movies would come out with an expiry date, while the user would be able to own the ones they had purchased.
"Once the movie is rented, you will have 30 days to watch most movies and 48 hours to finish watching once you have hit the 'play' button," he said.
Google Play Movies will feature new releases and classics.
Local movies would not be immediately available, but Google SA said it hoped to make these available soon.
Other African countries that will now have access to Google Play Movies include Angola, Botswana, Gabon, Ivory Coast, Mali, Malta, Mauritius, Namibia, Niger, Rwanda, Senegal, Tanzania, Togo, Uganda, Zambia and Zimbabwe.
Atagana said Google was taking advantage of the digital space to make it easy for consumers to watch any movie they wanted without venturing to the cinema.
"Digital content is fundamental to the mobile experience, so bringing all of this content together in one place for users makes the Android platform even more compelling," Atagana said. "But Google Play is not just for Android."
Source: © Namibian Sun - http://www.namibiansun.com
Local beers take top international honours
Namibian beer took the top honours for the 10th consecutive year at the recent international Deutsche Landwirtschafts Gesellschaft (DLG) Quality Evaluation.
The international competition started in 2003. This year 1 957 beers from 45 countries were considered - a 21% increase compared to last year.
Namibia Breweries Limited (NBL) brands Windhoek Lager, Windhoek Draught, Windhoek Light and Tafel Lager were all awarded gold medals by a jury of independent beer experts from around the world.
"Platforms such as that of the DLG Quality Evaluation are critical to maintain consistency in quality," said NBL's supply chain manager, Hans Herrmann.
"The past years, with the great quality we have been tapped on the shoulders for by this platform, it has simply been confirmation that we are doing the right thing," he said.
"This yearly check is extremely important. It pushes brewers to aim for ultimate quality, and of course drives NBL to keep focused on delivering only the best to our consumers under the Reinheitsgebot [German purity law]."
The company said beers were evaluated based on criteria like taste, analytical and biological standards.
"NBL is focused on remaining a leader in quality products, not only locally, but also internationally," NBL head brewer Christian Müller said this week.
Source: © Namibian Sun - http://www.namibiansun.com
Increased sales in the last three months of 2015 appear to have bolstered Namibia's struggling dairy industry.
Feared last year to be on the brink of collapse due to what local producer Namibia Dairies said was a combination of cheap imports from South Africa spurred by global oversupply, and difficult conditions faced by local farmers, the sector has of late experienced some kind of a rebound.
"The current state of the local dairy industry is better when compared to the crisis situation that was experienced from June until August 2015," Namibia Dairies (ND) managing director Gunther Ling told Namibian Sun last week.
"We are fortunate to say that our local dairy industry lost only one milk farmer during this crisis time, while all other producers held out.
"We are also glad to share that the price cut towards milk farmers, of 20 cents per litre, has been reversed since November 1 to improve the farmers' situation."
Mitigating losses
In August last year, Namibia Dairies and the local Dairy Producers Association (DPA) sounded alarm bells over the state of the local dairy sector, calling on consumers and government to consider the effect on its survival of cheaper milk imports.
Many of the factors cited then remain of concern, Ling said last week, including global oversupply owing to increased production in Europe and the United States, and decreased demand from major markets like China and Russia, foreseen to continue for much of 2016.
"Oversupply of milk from South Africa still continues and therefore the pressure of imported milk from South Africa remains high," Ling said.
He however credited "outstanding support" from consumers in supporting local dairy products, and local farmers' acceptance of a reduction in raw milk prices from the producer, for better fortunes towards the end of the year.
Local farmers, Ling said, also had to resort to culling milk cows to counter the oversupply of milk, while ND introduced a number of processing cost reductions.
These, he said, included freezing vacant positions and certain capital expenditure, as well as offering expensive discount deals on local UHT (long-life) milk.
"These have been hurting the bottom line, however have ensured the reduction of very high UHT stock levels and continued offset of milk purchased from farmers," the Nam Dairies MD said.
These measures had the effect, he said, of bringing imported UHT milk to more competitive levels with the local competition, especially over the last four months of 2015.
"While it was no exception to find a litre of imported UHT milk at N$11.99 during June, July and August of 2015, the price of imported UHT milk over the last four months has remained stable in the range of N$14.99 to N$18.49, with specials of N$12.99 on imported UHT milk becoming special prices, and not the everyday sale," he said.
Ling last year said the local producers' consideration of a fair price of UHT would be around N$17.99.
Still counting casualties
The year did not end without casualties. These include the loss of one local milk farmer and economic challenges faced by Angola resulting in Namibia Dairies stopping exports to that country.
Other challenges which remain, Ling said, are the current regional drought and an ever-weakening South African rand.
"While milk farmers have escalated feeding costs, the processor located in Windhoek is faced with a huge water crisis in the central region.
"The devaluation of the rand and Namibian dollar compared to US dollar and euro is a new challenge whereby certain input costs to the dairy industry have become more expensive by 30% over the last few weeks."
Supporting whom?
A further solution to the local dairy crisis, Ling said, was currently being discussed with the Namibian government, though he reserved comment until the discussions had progressed towards a concrete solution.
Having previously been affected by government intervention in the local dairy industry through 'infant industry protection (IIP)', South African producer Clover Dairy Namibia offered a word of caution.
"As with the previous "closure" of the border, the impact of extreme quantitative controls bids catastrophic for any dairy business besides the company being protected," Clover Namibia operations manager Christo Wepener told Namibian Sun.
"The impact also spreads much wider than only around competing vendors, consumers are directly and significantly affected," he said.
"The history of such measures is obvious. Clover had to retrench half of its personnel, and had to stop providing to many of our points of sale. It affected not only Clover and those who worked at the company, but consumers of dairy products across Namibia."
The current crisis talk around the Namibian industry had left further plans for investing into the country sketchy, Wepener said, as it considered selective protection in the sector as creating an uneven playing field.
Despite the difficult business climate, he said Clover was looking into opportunities to invest, including the possible establishment of its own processing plant in the country, as it has done in Botswana.
Source: © Namibian Sun - http://www.namibiansun.com
Coastal businesses are cashing in with many holidaymakers visiting the coast making use of a wide range of services.
The large number of visitors brings increased revenue for established businesses and vendors selling products on the streets and at the beaches.
Walvis Bay Municipality Resorts Supervisor Florencia Mutrifa confirmed that the 21 bungalows at Dolphin Park are fully booked and have been occupied by 72 persons from December 21 to January 4, 2016. "The weather is playing along and we are having a better time compared to last year. Locals, visitors from other towns and South Africans alike are supporting us exceptionally well. This year 4 500 people visited Dolphin Park on Christmas Day and 3 290 visited on Family Day. We are expecting these numbers to increase considerably for New Year's Day due to locals returning from holiday. The super tubes (slides) are a huge attraction because they are the biggest in Namibia. Walvis Bay is definitely benefiting positively and we have not recorded any incidents."
The 27 municipal bungalows at Esplanade Park have also been fully occupied from Christmas Day to New Year's Day with approximately 100 residents. The most are from Namibia and a few from South Africa, confirmed receptionist Ernesta Kamuingona.
According to Spot-On owner Servaas van Wyk the situation was much better than the previous year despite the fact that business-related activities picked up later than usual. "It appears as if many holidaymakers decided to arrive just before Christmas and are planning to depart immediately after New Year. People are definitely staying and camping for shorter periods this year. My accommodation facilities have been fully booked with many visitors from South Africa. Feedback received from them is that Namibians are very hospitable."
The owners of Dune 7 Adventures Johan and Louis Oberholster expressed their surprise with the way business picked up since the beginning of the festive season. "Things started rather slowly and at this point in time it is evident that we are doing better business than we did last year. We initially thought it would be a quiet festive season. Our quad bike tours, the desert and the dunes are proving to be huge attractions for visitors from Botswana, Windhoek and South Africa. We are also receiving excellent cooperation from the authorities under the auspices of the Ministry of Environment and Tourism and have not recorded any incidents so far.
Vendors stationed at Independence Beach, Dolphin Beach and Long Beach said they were satisfied with sales and that profits were looking good.
Source: © Namibian Sun - http://www.namibiansun.com
Meat producers may benefit from JSE contracts
MEAT producer Meatco says that following numerous consultations between Namibian meat industry stakeholders and representatives from the Johannesburg Stock Exchange (JSE), local producers may benefit from the beef carcass and feeder calve contracts that will be concluded soon.
The company announced this week that after a recent workshop held by the Johannesburg Stock Exchange in South Africa, Raphael Karuaihe: manager - commodity derivatives (JSE), said the event was part of ongoing consultations with players in the beef industry.

"We have since continued to engage industry participants in smaller groups or in one-on-one consultations, and the more we discussed this, the more we got reservations on the proposal to move from carcass contracts to quarters contracts," said Karuaihe.

One of the main concerns is that not all abattoirs will be in a position to provide the quarters´ price information and this may lead to a limited number of participants.

Karuaihe said there was also a general feeling that there is no clearly articulated definition of a ´forequarter´ or ´hindquarter´ and so price dissemination may differ markedly from abattoir to abattoir, thereby rendering the whole system vulnerable to market abuse."

"Given the above and considering the time we have left, the JSE has resolved to go ahead with the original proposal of listing a beef carcass contract for now. In the event where quarters prices are available, it should be used to compile a more accurate carcass price," said Karuaihe.

Meatco is a major buyer of livestock and processor of beef, and may use the beef carcass contract listed on the JSE for price risk management purposes.

The Namibian Stock Exchange (NSX) does not have a derivatives market, only an equities market.

"The beef instruments being proposed here are derivative instruments which are provided by the listing on the JSE. Meatco can only make use of beef instruments/products listed on the JSE with the main purpose of managing price risk in a drought-prone country such as Namibia with fluctuating prices," said Karuaihe.
Source: © Namibian Sun - http://www.namibiansun.com
Third Addventure ends in success
Five local start-up businesses this week benefited from exposure to established peers in industry, and opportunities for funding and other assistance.
Organisers Team Namibia and FABLAB Namibia on Tuesday hosted their third 'Addventure' business match-making event at the National Theatre of Namibia.
Among the small and medium enterprise owners who presented their ideas to panellists and interested investors was Marita van Rooyen, with her idea for solar-powered bicycles, to be known as Suncycles.
Another was Matilde Ishitile, business owner of White Feathers, an idea to make garments for different target groups, and motivated by a desire to address unemployment among women.
Also presenting his business ambitions was Bill Strauss, creator of Desert Cooker, a project aimed at delivering outdoor cooking experiences to local and international markets, and in the making for the past 10 years.
Regto David, owner of the travel insurance concept Go Safe, presented his idea which targets lower and middle income earners, while Jason Burgess requested financial assistance to expand an oyster nursery in Luderitz.
Panelists representing organisations interested in assisting these start-ups included professionals from Weathermen & Co, the Financial Literacy Initiative, VPB Namibia Growth Fund, FNB Namibia, Baobab Capital, the Environmental Investment Fund and Stimulus Investments.
In detailing FNB Namibia's interest in the initiative, the co-sponsor's representative Oliver Horsthemke emphasised the importance of innovation and collaboration in the local economy.
"Creating meaningful partnerships can take small businesses to the next level and that's where FNB Namibia sees itself in helping to create a network of partners to take Namibia to the next level", Horsthemke said.
The five presenting companies were all provided with pledges of assistance, including strategies and marketing initiatives to help launch their products; assistance in gaining market entry for their products, and financial assistance through loans at "affordable lending rates".
Source: © Namibian Sun - http://www.namibiansun.com/
Banco Privado Atlantico gets Namibian banking license
The central bank yesterday verified that Banco Privado Atlantico Europa has been given the go-ahead to begin operating in Namibia's financial services sector under its trading name of Banco Privado Atlantico Namibia.
The Bank of Namibia yesterday confirmed that it has issued a Certificate of Authorisation for the bank to establish a foreign banking institution in the country. The Namibian Branch License is effective from November 1, 2015.

"The public is further notified that Banco Privado Atlantico Namibia is now permitted to engage in banking activities with any person in Namibia, especially soliciting deposits from the general public. In this regard, the Bank of Namibia congratulates the shareholders and management team of Banco Privado Atlantico Namibia and extends best wishes on their future endeavours in the banking sector," said Ndangi Katoma, Bank of Namibia's director for strategic communications and financial sector development.

Atlantico is a privately-owned bank headquartered in Luanda, Angola. The bank was founded in November 2006 with a strong commitment to the development of the Angolan economy and is currently present in all 18 districts of Angola, serving individual, corporate and institutional clients. Atlantico Europa was the bank's first step at internationalisation. Atlantico Europa is a European registered bank, based in Lisbon, Portugal and is regulated by Banco de Portugal and CMVM (Portuguese Securities Market Commission).

As part of its global strategy, Atlantico is presently expanding its activities to Namibia and Mozambique. According to its website, the bank has more than 100 000 clients in Angola, including 7 000 corporate clients at its 52 branches in that country.
Source: © Namibian Sun - http://www.namibiansun.com
Finance sector marks five year checkpoint
The financial services industry on Friday gathered at the Bank of Namibia (BoN) to launch a new vision to guide the country's National Payment System (NPS) over the next five years.
Known as NPS Vision 2020, the new strategy replaces NPS Vision 2015, which ends this year, and will be followed between 2016 and 2020.
In launching the document, BoN Governor Ipumbu Shiimi said its aims were to ensure Namibia had an internationally reputable National Payment System, in support of the country's broader Vision 2030 goals, and its strategic imperatives aligned to the industry's financial sector strategy.
The previous NPS Vision was embarked on in 2011, and resulted in a host of achievements being marked to date, including standards set for a basic bank account to bring more citizens into the formal banking sector, as well as standards for cash deposit fees.
"The main objective of this regulation (NPS Vision 2015) was to enable and empower more Namibians to become part of the formal banking sector and have access to basic financial services. To date, there are 136 200 active basic bank accounts," the Bon said in a statement issued at the new launch.
Other achievements under the old strategy, were the establishment of a stakeholder forum under the Payment Association of Namibia (PAN) to broaden participation in the NPS, and implementation of "e-money", currently being issued by four authorised, non-bank organisations, namely Mobipay (Mobicash Payment Solutions), Nammic Payment Solutions, Virtual Technology Services, and Magnet Payment Solutions.
Namibia has also successfully implemented the SADC Integrated Regional Electronic Settlement System (SIRESS), allowing banks within the SADC region to directly transact with one another.
"The provision and availability of E-money and mobile payment services in Namibia further promotes financial services to the unbanked community," Shiimi told industry players on Friday morning.
"It is expected that this sector will be a key vehicle for payments and financial inclusion in the future", he said.
Whereas the previous plan had been focused on setting up the correct infrastructure, the next five year plan is expected to emphasise greater stakeholder synergy (through collaborations and cooperation), enhancing the integrity of the NPS (including improved access to), and on strengthening capacity through human capital and skills.
The VNPS Vision 2020 document can be viewed or downloaded, either from the website of the Bank of Namibia www.bon.com.na or that of the PAN www.pan.org.na.
Source: © Namibian Sun - http://www.namibiansun.com
Just over a year after introducing Namibians to its new maize meal range, local miller Bokomo Foods Namibia earlier this month launched a new branding and wheat flour packaging campaign to go with it.
At the launch event, held in Windhoek, Bokomo Head of Marketing Helga Bohn thanked customers for what he said was a fourfold market share attainment in the past year.
"As a Namibian company we are proud to have achieved such an impressive sales performance with a new brand and we are committed to make the brand the market leader in years to come," Bohn said.
Bokomo Foods Namibia, she noted, was 50% owned by Namibia's Frans Indongo Group.
The remaining half of the company belongs to South Africa's Pioneer Foods.
The rebranding affects the company's range of wheat flour, including white bread flour, brown bread flour, and cake wheat flour.
Bohn said ideas were sourced from the local market to ensure broad acceptance and appeal, and among other features, includes Portuguese translations to ease cross-border trading and export.
The rebranding took place along with an upgrading of the company's pasta packaging.
Also in the pipeline and to be launched by month-end, Hamm said, is a packaging upgrade for the company's Nulaid egg brand, "to ensure it meets contemporary packaging design and consumer requirements".
"The new look and feel consolidates the range under the new Bokomo brand logo and provides customers with a consistent look which is easily recognisable and distinguishable from competing products", the executive said.
Next on the company's to-do-list before the month-end, he said, is expanding its 'bakery support department' which provides training and support to staff at local bakeries,
Meanwhile, Bohn said the company has since July this year started sourcing wheat from global markets, something he said would ensure Bokomo always has the best quality wheat available to consumers, notwithstanding drought conditions locally.
Source: © Namibian Sun - http://www.namibiansun.com
Polytech launches N$6.6 million urban planning research project
The Satakunta University of Applied Sciences from Finland and the Polytechnic of Namibia yesterday launched a new research project on urban resource efficiency that covers housing, renewable energy and clean water in Namibia.
The two-year pilot project will be carried out in Walvis Bay. NamUrban – as the project is known – is financed by the Finish Funding Agency for Technology and Innovation, the Ministry of Foreign Affairs of Finland, as well as nine Finish companies to the amount of N$6.6 million.
Rector of the Polytechic of Namibia Dr Tjama Tjivikua said the launch takes place at the right time, just six days after the Minister of Higher Education, Training and Innovation, Dr. Itah Kandjii Murangi, officially announced the gazetting of the Namibia University of Science and Technology (NUST) Act.
"This announcement effectively means that the Polytechnic has finally been conferred university status, or rather affirmed as a technological university, and the name will come into operation as soon as the commencement date of the Act is announced by the minister".
He said the Polytech – soon to become a university – are no strangers to innovation and technology transfer. "Our university has sufficient capacity to realise the goals of the NamUrban project through our faculties of computing and informatics, engineering, health and applied sciences, human sciences, management sciences, natural resources and spacial sciences. Our centres of excellence are structured conscientiously to respond to the national development agenda, that is, to make a distinct and visible contribution to our national development imperatives and processes.
About land management and urban planning Tjivikua said the university provides an array of relevant qualifications, such as architecture, engineering (civil, electrical, electronic, industrial and mechanical), town and regional planning, land surveying, geomatics, geo-information technology, land administration, and property studies.
He said the specific focus areas of NamUrban are based on their analysis of the current needs in terms of urban technology and communication systems improvement in Namibia.
"The priority areas of the project are logistics, tourism, manufacturing and agriculture, which are in line with the national guiding documents, such as Vision 2030 and Namibia's fourth National Development Plan (NDP4). These plans strive to increase income equality, employment creation, and high and sustained economic growth".
Dr Tjivikua said the new research project would be the first to study and develop a sustainable technological concept for urban environments in developing countries, using the harbour town of Walvis Bay as the pilot site.
Source: © Namibian Sun - http://www.namibiansun.com
Logistics and transport workshop brings together top logistics experts
The 7th Annual Logistics and Transport Workshop will take place from September 29 to October 2 in Walvis Bay. The workshop is being organised by the Namibian-German Centre for Logistics (NGCL), in conjunction with some of the most important logistics and transportation players in Namibia.

The theme: "Logistics Success Stories and Best Practises", will focus on sharing expertise and insights in transport and supply chain management. To make it a comprehensive event on logistics, the hub development and the port will also be discussed from a best practice perspective. The collaboration between some of the most important players in the Namibian logistics field will ensure that a balanced educational workshop will take place.
Some of the partners involved in the 'Best Practices' workshop are Transworld Cargo, Southern Business School Namibia, National Road Safety Council (NRSC), Walvis Bay Corridor Group, Namibia Logistics Association, Namport and Trans Kalahari Corridor Secretariat. This cross-section from the logistics and transportation field will share their best practices, their vision and expertise during the four-day workshop, covering a wide spectrum of logistics topics.

The speakers represent industry, government and academia and will cover a variety of subjects ranging from barriers to logistics, trade requirements, optimization, as well as logistics education in Namibia and industry panel discussions. Through presenting case studies and research on these subjects the workshop will address the core issue of logistics hubs and their potential for the development of Namibia and her trade.

Logistics are a vital aspect of the National Development Plan (NDP 4) of Namibia. It will be a highly interactive workshop, filled with lively debates and questions, where all parties involved can learn something and lift logistics and transportation to a higher level in Namibia. While each of the organisations and speakers bring with them different opinions on a number of subjects, all of the speakers and participants are fully motivated in promoting and developing Namibian logistics, as it offers opportunities for Namibia's development.

"We are confident that this informative, interactive industry-wide event will make a positive contribution to the future of logistics in Namibia by facilitating collaboration between government, industry and academia. The many different transport and logistics stakeholders participating and hosting this event are testimony to the desire to further develop logistics in Namibia," Eugene Tendekule of NRSC said.

"Logistics is essential and safe transportation should be part of all our best practices when it comes to logistics and transportation – that is why this workshop is so essential," said Logan Fransman, acting director of the NGCL.
Source: © Namibian Sun - http://www.namibiansun.com
Unlisted companies expected to get N$4 billion
MAJOR players in the financial industry are expected to invest N$4 billion by the end of this month.
In view of new government regulations requiring financial companies to invest locally, many special purpose vehicles have been set up as private equity funds and are busy fundraising.

"With the requirement for all Namibian retirement funds and insurers to comply with Regulation 28 and Regulation 29 by the end of September 2015, more than N$4 billion is expected to be allocated for unlisted investments, a portion of which will be allocated to private equity funds," said Johannes !Gawaxab, executive chairman of Eos Capital.

According !Gawaxab private equity investing is set to reshape the landscape of Namibian business over the next five to 10 years.
"Private equity firms have the potential to outperform traditional asset classes over the long-term and offer diversification for investors through their low correlation with other asset classes," he said.

!Gawaxab said the environment is now right for the emergence of full blown private equity investment in Namibia.
He said small and medium sized companies, including family-owned businesses, which are finding it difficult to access capital will be relieved with the arrival of private equity as more financing will be available.

He said private equity deal making will be transformational, assuming funds are allocated to managers with the necessary skills and capacity.
"Bankers and economists often refer to private equity as a ´lubricant´ and catalyst for the local economy. The efficiency gains for the Namibian economy could be huge. These firms have the potential of spreading cutting-edge business practice to nascent and fledgling economies and businesses. A new industry is about to be born for Namibian investors," he said
Source: © Namibian Sun - http://www.namibiansun.com
N$1,5 million for COSSASA Ball Games
A 200-strong delegation of about 150 athletes and 50 officials leave for Bulawayo, Zimbabwe this morning to compete in the Confederation of School Sport Associations of Southern Africa (COSSASA) Ball Games.
The Namibian team´s participation has been secured following a N$1,5 million sponsorship from the Namibian government, which includes N$800 000 for transport and accommodation in Zimbabwe, and N$400 000 for a training camp and accommodation in Windhoek prior to their departure.

Namibia will compete against four other countries - Lesotho, Swaziland, Botswana and the hosts Zimbabwe in six different sport codes at u13 and u17 level.

At a press conference on Monday, Namibia Sport Commissioner Ndeulipula Hamutumwa said the government was looking at ways to transform the Namibia School Sport Union (NSSU) to try and achieve their target of making Namibia a winning sporting nation.

"We cannot create a sporting nation if the NSSU is not correctly funded. We must give the youth enough competition and we will help to restructure the NSSU. We want to put more emphasis on grassroots level participation so that we are well prepared at the national level. The NSSU is the foundation and backbone of our sporting nation and if we don´t support it we won´t have a winning nation," he said.

The national coordinator of the NSSU, Solly Duiker said that Namibia was at the forefront of initiating the COSSASA Ball Games and would strive to enlarge it.

"COSSASA was established in Namibia in 1999 and since then the NSSU has hosted the most Games, whether it be the Ball Games or athletics championships. Initially COSSASA was just for Under 19 athletes but then we scaled it down to Under 17 and later also introduced an Under 13 category for primary school athletes. In 2014 we brought in two new codes and next year we will introduce two more codes in hockey and cricket. We also want to bring other countries in like Angola and we hope to have eight teams participating next year," he said.

Duiker said they were in discussions with South Africa to try and include them in future, but would have to change their constitution to accommodate them.

"South Africa does not have a school sport association, so their school sport codes resort under individual sport federations. A lot of school sport codes in South Africa like football, netball, volleyball and rugby want to be part of the Cossasa Ball Games, so we are revising our constitution to see if we can accommodate them," he said.

Last year Botswana were the overall winners, followed by Zimbabwe, with Namibia coming third and Zambia fourth.

Namibia won three gold medals through its Sevens Rugby team and boys and girls tennis teams. It also won four silver and five bronze medals.

The Namibian delegation will be headed by Chef de Mission Fidelus Tibinyane, NSSU representative Anji David, genral team manager Paulus Mutangara and assistant general team manager Erica Beukes.
Source: © Namibian Sun - http://www.namibiansun.com
Manufacturers sign financing MoU with DBN
Namibian manufacturers have signed an agreement with the Development Bank of Namibia (DBN) through which the Namibian Manufacturers Association (NMA) will identify opportunities to promote development in manufacturing, primarily through financing of enterprises that are members of NMA.

Additional features of the memorandum include that the two entities refer clients to one another for possible and relevant assistance.

NMA's chief executive officer Ronnie Varkevisser and DBN chief executive officer Martin Inkumbi signed the memorandum of understanding (MoU) on Monday this week.

DBN says the manufacturing sector is identified as a key sector in the Fourth National Development Plan, and is one of the core components of the bank's financing priorities, alongside transport, logistics and tourism.

The DBN says its past positive experience in providing finance for manufacturing shows that there is demand for locally manufactured products.

In addition, the DBN says it could also entertain applications for financing of management buy-ins and other shareholding to increase capital availability for manufacturing expansion.
Source: © Namibian Sun - http://www.namibiansun.com
De Beers, Namibia sign ten-year deal
World-leading diamond company De Beers yesterday announced an agreement with the Namibian government on the terms and conditions of their sales partnership over the next 10 years.

Representing the longest sales contract ever agreed to between the two partners, the accord concerns the sorting, valuing and sales of all diamonds produced by Namdeb and Debmarine Namibia.

In terms of the agreement, the Namibia Diamond Trading Company (NDTC) will continue to sort and value all Namdeb Holdings' production, while De Beers will continue to support the domestic and polishing industries.

De Beers has also committed to make more diamonds available to local diamond manufacturing businesses.

An additional highlight contained in the new contract is its provision for an independent sales outlet for the Namibian government, at 15% of Namdeb Holdings' annual production.

"We have a long and proud partnership with Namibia going back more than two decades," Bruce Cleaver, De Beers' Executive Head of Strategy, said in announcing the deal.

"This longer, 10-year sales agreement demonstrates De Beers' continued commitment to ensuring that diamonds from Namibia continue to play a key role in the socio-economic development of the country," he said.
Source: © Namibian Sun - http://www.namibiansun.com
Hilton Hotel wins third World Travel Award
Hilton Windhoek has been recognised as Namibia's leading hotel for the third consecutive year at the Africa & Indian Ocean Final of the prestigious World Travel Awards 2015, voted for by representatives of the travel industry worldwide.

Hilton Windhoek was one of five Hilton Worldwide properties in Africa and the Indian Ocean to receive an accolade at a special occasion that took place in the Seychelles on June 20.

The World Travel Awards acknowledge, reward, and celebrate excellence across all sectors of the tourism industry.

Today the WTA brand is recognized globally as the ultimate hallmark of quality, with winners setting the benchmark to which all others aspire. The annual programme is renowned as one of the most prestigious and comprehensive in the travel and tourism industry.

"Across Africa, Hilton has again seen an impressive haul of awards at this year's World Travel Awards, all of which represent a prestigious honour for Hilton's portfolio across the continent. From Abuja, to Windhoek and Durban – the industry has unanimously recognised Hilton as a leading choice for travellers, demonstrating that our hotels rise to the expectations of our loyal guests, whether they are travelling for business or leisure purposes," said Jan van der Putten, vice-president of operations, Africa and Indian Ocean for Hilton Worldwide.

Hilton Windhoek is Namibia's leading hotel for business travel, located in the heart of the finance and business district. Hilton Windhoek is the only five-star property and the first international brand to have opened its doors on Namibian soil.

The hotel boasts 150 guest rooms with an excellent choice of dining and entertainment facilities as well as flexible meeting rooms and function space.

"After winning as Namibia's Leading Hotel, this latest award will help us continue to position Hilton Windhoek as an exceptional property in Namibia for international travellers, as well as locals. We are delighted with the recognition and would like to thank World Travel Awards and all those who voted," said John McAree, General Manager of Hilton Windhoek.

Other Hilton hotels to receive awards at the ceremony were Nigeria's Transcorp Hilton Abuja, which won various award categories. These were Africa's Leading Business Hotel award, Nigeria's Leading Business Hotel award, Nigeria's Leading Hotel award, Nigeria's Leading MICE Hotel award and Nigeria's Leading Hotel Suite award.

The Hilton Yaounde won Cameroon's Leading Hotel award, Hilton Addis Ababa won Ethiopia's Leading Hotel award, while Hilton Durban won as South Africa's Leading Business Hotel.
Source: © Namibian Sun - http://www.namibiansun.com
Otjimbingwe households get electricity
More than 100 houses at the Otjimbingwe settlement in the Erongo Region were electrified here on Wednesday at a cost of N$2.5 million.
This is the second phase of electricity distribution to the settlement.
The project is part of Government and the Erongo Regional Electricity Distributor's (Erongo RED) efforts to bring electricity to the rural areas of Namibia.

Erongo Regional Governor Cleophas Mutjavikua, accompanied by Erongo RED CEO Robert Kahimise switched on the transformer which now supplies electricity to 117 houses.

"I am very happy to receive electricity, now I can start my business of baking vetkoek (fried bread dough) and meat. My children can also study in the night unlike before when they had to use candles," said recipient Magdalena Ndetutjire.
Mutjavikua said electricity should be used to bring development to Otjimbingwe as people can come up with creative ideas to start businesses.

He said the national vision is that once the settlement has electricity, more activities for employment creation and self-empowerment can be created.
"Government's purpose in bringing electricity to rural areas is that it must act as a catalyst for economic development, so do not just use it for housing purposes and remain in poverty," urged the governor.

There are 1 019 active electricity consumers in Otjimbingwe.
Kahimise warned that electricity is expensive and must be used sparingly as Namibia does not produce much electricity - it imports 60 to 80% of its electricity supply from neighbouring countries.
He also informed residents that the company proposed a tariff increase of 8.3% starting July 1.

This increase is still to be approved by the Electricity Control Board (ECB).
Kahimise said increases of 3% for registered pensioners and five per cent for non-pensioners who have a connection of 30 amps or less have been proposed for next month.

"We are proud to announce that for the past three years we have been subsidising electricity at 1.20 per kilowatt to our pensioners across the region, and have not increased the tariffs until this year.
"We try by all means to provide the cheapest electricity even though we buy it at a high price from NamPower," said the Erongo RED CEO.
There are 3 700 registered pensioners in Erongo whose electricity purchases are subsidised.

Kahimise noted that the number increased from 1 000 in 2013 to the current 3 700.
"If anyone asks me what our contribution to poverty reduction is, I say we spend N$10 million every year on pensioners' electricity subsidy," he said.
Source: © Namibian Sun - http://www.namibiansun.com
Nam to implement SADC industrialisation plan
Namibia will implement the Southern African Development Community (SADC) Industrialisation Strategy and Roadmap simultaneously with its own Industrialisation Policy and implementation strategy, and the Growth at Home Strategy for Industrialisation, Cabinet announced last week.

The SADC summit held in Harare, Zimbabwe last month approved the region's industrialisation strategy and roadmap, reaffirming the importance of industrial development in poverty alleviation.

The summit also reaffirmed the importance of industrial development in the economic emancipation of the people of the region.
The SADC Industrialisation Strategy is anchored on three pillars - industrialisation, competitiveness and regional integration, and premised on a three-phase long perspective covering 2015 to 2063.

The strategy is aligned to Agenda 2063, a global strategy aimed at optimising the use of Africa's resources for the benefit of all Africans.
Briefing the media on Thursday, Deputy Minister of Information and Communication Technology Stanley Simataa said Cabinet, last month, took note that the SADC Industrialisation Strategy and Roadmap will be implemented simultaneously with Namibia's Industrialisation Policy.

He said Cabinet directed the Ministry of Industrialisation, Trade and Small and Medium Enterprises (SME) Development, in conjunction with the relevant offices/ministries/agencies, to sensitise the Namibian private sector and society at large on the SADC Industrialisation Strategy and Roadmap in line with Namibia's own industrialisation efforts through workshops and other forms of information sharing.

Cabinet also directed the Ministry of Industrialisation, Trade and SME Development in collaboration with the National Planning Commission to finalise the costing for the implementation of the revised Regional Indicative Strategic Development Plan (RISDP). The RISDP has the goal to deepen regional integration and accelerate poverty eradiation through various SADC initiatives.
Cabinet further directed the Ministry of International Relations and Cooperation to coordinate Namibia's participation at the African Union (AU) Summit on the launch of the Continental Free-Trade Area to take place in Egypt this week.
The Harare summit noted the state of preparedness for the launch of the negotiations for the Continental Free-Trade Area (CFTA) and adopted a common SADC position on industrialisation within the context of the CFTA negotiations.
The CFTA is set to build on the Tripartite FTA negotiations, which would create a free-trade area among the 26 countries of the East African Community (EAC), the Common Market for Eastern and Southern Africa (Comesa) and SADC.
Source: © Namibian Sun - http://www.namibiansun.com
Mining industry impressed with 4th Expo
More than 100 exhibitors filled the grounds of the Safari Court and Conference Centre between Tuesday morning and yesterday afternoon, for the first time, spreading their presence and wares as far as the parking lot.

While in previous years the event focused mainly on renowned mining companies such as Rössing, Namdeb and Skorpion Zinc, much more scope was offered this year to companies representing support industries.

"It is definitely bigger than last year," said Lubrication Specialists' General Manager Alwyn van der Merwe. No newcomer to the local mining scene, the company is the authorised distributor for Anglo-American oil company Mobil.
The company is the largest single supplier of marine lubricants in Namibia, serving the ports of Walvis Bay and Lüderitz.

"We have definitely benefited from the opportunities to network, to pick up leads. It is just generally a good platform to acquire knowledge of the industry in general, and know what is going on," he said. "Even in terms of marketing, I think there was much better preparation beforehand."

Networking
So important a source of networking was the Chamber of Mines of Namibia-organised event, he said, that the company brought in representatives from Europe and South Africa to complement its local ground staff. Another professional impressed with this year's expo was Jason Amwiigidha, owner of the 100% Namibian Web Steel Construction. "We've been around for the past six years," Amwiigidha told Namibian Sun.

His company provides construction services to individuals and corporations, and specialises in steel works. The company's most recent contract was awarded at the Ohorongo Cement factory in Otavi, where it is responsible for maintenance. "It's pretty difficult to get your foot in the door of the mining industry as an SME, so hopefully the fact that we managed a space at such an important expo will allow us to show our capabilities to the captains of industry," he said.

One discrepancy he hoped would be addressed at the expo and accompanying conference was a general tendency among local entrepreneurs to start ambiguous practices. "You find that the Ministry of (Industrialisation, Trade and SME Development) encourages people to set up companies, but they don't specify the need for specialisation," he said.

As such, he said most entrepreneurs end up opening holding companies, allowing them to bid for work in a multitude of different sectors. "As an artisan, I know how difficult it is to do justice to two jobs at once, but the current state of affairs allows a guy working from home, not specialised in any particular area, to qualify over and above another who is," he said. "It confuses the industry."
One company that made its debut at this year's expo was Chinese-based Africa Geology and Mining Equipment.

Deputy General Manager Margaretha von Wielligh said the company is not yet active in Namibia, but has identified an opportunity to market their pumps, mineral dressing, crushing, and rock-drilling equipment to local market players.
"As you know, China is a much more affordable source market for this type of equipment," she said.

Traditional mining companies and long-standing exhibitors were not to be outdone however, and along with a host of innovative stalls also offered novel promotions that visitors could get involved with. These included sites such as live mannequins greeting visitors to the Navachab Mine stall, and a crossword quiz at Namdeb, with a diamond as prize.
Source: © Namibian Sun - http://www.namibiansun.com
Pohamba satisfied with Unam progress
Former president Hifikepunye Pohamba says the University of Namibia (Unam) is doing something right in its training and empowering of people through education and training.

Pohamba said this at Ongwediva in the Oshana Region where 570 students graduated from the northern campuses of Hifikepunye Pohamba (HP), Oshakati, Ogongo and Jose Eduardo dos Santos last week.

The qualifications conferred on the graduates at Ongwediva represent a variety of faculties such as agriculture and natural resources, education, economics and management science, health science, humanity and social science and engineering and Information Technology.

"It tells us that the university is making sustained progress in building and further strengthening our nation's human resources capacity," said Pohamba, who is also the Chancellor of Unam.

The former president said he believes Unam contributes to the social and economic development of Namibia in practical and tangible terms.

"This is a positive and uplifting story. A story worth telling," he said. This was the first time graduates from the HP Campus received Bachelor's Degrees in Lower Primary and Upper-Primary Education following the integration of the former colleges of education into the university some four years ago. Sixty-six engineering students graduated from the Jose Eduardo Dos Santos Campus at Ongwediva this year, compared to its 30 and 37 graduates of 2012 and 2013, respectively.

Of the 66 engineering graduates, 48 are Namibians, 10 Zimbabweans and eight Zambians, with 52 being male and 14 female. "I have no doubt that with this trend, our country will be able to produce 5 000 engineers by 2030 in line with Vision 2030," Pohamba said. Speaking at the same graduation, acting Unam Vice-Chancellor Osmund Mwandemele said close to 3 000 students graduated from Unam this year. Of these, 85 graduated at the Katima Mulilo Campus on April 14, 2015; 123 graduated at the Rundu Campus on April 16, 2015; 1 989 graduated in Windhoek last weekend and 570 graduated at Ongwediva. "The student population has now grown from just 3 000 in 1992 when Unam was established to 20 975, of whom 63% are female and 37% are male students," Mwandemele said.

So far close to 2 000 Unam graduates have been foreign students from 43 countries, said the acting Vice-Chancellor, who is also Pro-Vice Chancellor for Academic Affairs and Research.
Source: © Namibian Sun - http://www.namibiansun.com
Tourism set to create 107 000 jobs this year
The tourism industry in Namibia is expected to create 107 000 jobs this year, contributing 19.2% of the country's total employment. The industry last year directly contributed 3% to the country's GDP with spending from domestic tourism contributing more than visitors from other countries, while leisure tourists spent more than business travellers to the country. This is according to the latest Travel & Tourism Economic Impact 2015 Namibia report released by the World Travel and Tourism Council (WTTC.)

The research conducted by the WTTC covered 184 countries.
According to the report, the travel and tourism industry in Namibia generated 24 000 direct jobs last year which contributed to 4.5% of the total employment in Namibia. This includes employment by hotels, travel agents, airlines and other passenger transportation services, but excludes commuter services. The figure also includes the activities of the restaurant and leisure industries that are directly supported by tourists.

The direct employment by the industry is expected to grow to 25 500 this year, which is 4.6% of total employment, while it is predicted that by 2025 travel and tourism will account for 48 000 jobs directly. Furthermore the total contribution to employment by the travel and tourism industry was 102 500 jobs last year which was 19.2% of total employment.This is forecast to increase to 107 000 jobs this year, but remains at 19.2% of total employment, however by 2025 the industry is expected to support 186 000 jobs contributing to 25% of total employment in Namibia. The direct contribution of travel and tourism to the Gross Domestic Product last year was N$3.770 billion (3.0% of GDP).

According to the report this primarily reflects the economic activity generated by industries such as hotels, travel agents, airlines and other passenger transportation services and the activities of the restaurant and leisure industries directly supported by tourists. This is expected to increase to N$4.054 billion this year and to N$9.431 billion (5.2% of GDP) by 2025. The total contribution of the travel and tourism industry to the GDP was N$18.424 billion last year. This contributed 14.9% to the GDP of the country. This year the amount is expected to grow N$19.463 billion, therefore contributing 15.0% to the GDP.
It is also forecast that in the next ten years the total contribution to the GDP will be N$39.068 billion, which will be 21.6% of the GDP.

The report also indicates that money spent by foreign visitors to a country - known as visitor exports - is a key component of the direct contribution of the travel and tourism industry. Last year Namibia generated N$7.1 billion in visitor exports. This year visitor exports is expected to grow by 9.1% while the country is expected to attract 1.186 million international tourist arrivals. By 2025, international tourist arrivals are expected to total 1,947 million generating visitor exports of N$14.736 billion. Meanwhile leisure travel spending, including both inbound and domestic travellers, generated 80.3% of the direct travel and tourism's contribution to the GDP last year which amounted to N$12.995 billion compared with 19.7% for business travel spending that was N$3.192 billion.
Leisure travel spending is expected to grow by 7.9% this year to N$14.015 billion and to N$27.312 billion in 2025. Business travel spending is expected to grow by 6.2% this year to N$3.388 billion and to N$4.884 billion in 2025. Also, domestic travel spending generated 56.1% of the direct travel and tourism contribution to the country's GDP last year compared with 43.9% for visitor exports. However domestic travel spending is expected to grow by 6.3% this year to N$9.651 billion and increase to N$17.460 billion in 2025. Visitor exports are expected to grow by 9.1% in 2015 to N$7.752 billion and increase to N$14.736 billion in 2025.

On a global level, travel and tourism outperformed growth in the majority of leading sectors in 2014, including automotive, public services, retail, information and communication technology, financial services, aerospace and extraction. Its performance was only bettered by a small selection of booming sectors like consumer electronics and machine tools. In total, travel and tourism supported 277 million jobs last year, 1 in 11 of the world's total.
It is also predicted that lower oil prices will benefit net-oil-importing economies and this is already being felt through falling inflation which is boosting real disposable incomes and consumer purchasing power.

Africa's travel and tourism performance last year picked up, despite the negative impact of Ebola on the sector in the parts of Africa directly and indirectly affected. Africa's improved performance was driven by stronger than expected performance in recovering Egypt and international growth in other major destination markets. The one exception is Kenya where terror attacks and travel warnings have impacted negatively on inbound tourism.
Source: © Namibian sun - http://www.namibiansun.com
Namibia Needs Diverse Revenue Sources
When the global market crashed in 2008 as a result of the global mortgage crisis, credit crunch, banks collapsing and government bailouts in the USA and elsewhere, the whole world awoke to the reality of greed and the inherent defects of capitalism.

Namibia was not thrown into depression by the global effects of 2008, but the crash did slow down growth to 1,2%, the worse since independence. It indicated how the country is vulnerable to external shocks, especially when it has no significant investments in industries that should drive the GDP growth as well as her insignificant foreign reserves to mitigate against global effects. If precautionary measures are not taken, the economy could face inflation or deflation in the absence of aggressive investments with returns to put a plug on the growing budget deficit of the projected 5,3% of the GDP (Growth Domestic Product). With the total debt projected to increase to 31,5% of the GDP, against the threshold of 35%, the red lights should be flashing by now for those who refuse to play the ostrich game of putting ones head in the sand.

The deficit itself is not a bad phenomenon for a country's budget as long as there are long-term contingencies to reduce it. However, a lower inflation rate could be like digging an expensive well that would come up dry for money lenders, and that would lead to consumer indebtedness as they would borrow cheap money leading the economy into a deflation. Bank of Namibia should be commended for keeping inflation in check. The most notable appreciation of the 2015 budget was the increase in pension for elders from N$600 to N$1 000. In post-independent Namibia, elders continued to be the backbone of family cohesion and household economy, maintaining their own children and their grandchildren. Government has also been commended for spending on energy, communication and mass housing which could attract investors, but concerns have also been expressed over the country borrowing herself deeper into debt, relying only on revenue from taxation in the wake of dwindling revenue from SACU (Southern African Customs Union) and lack of diversified Foreign Direct Investments. In an attempt to reduce poverty, the mass housing should not be allowed to morph housing prices but instead the economy should perform to raise the standard of living for people to afford housing with ease. Instead of just copying economic models from somewhere else, Namibia should agitate its own interpretation of its macro-economic policies and avoid being a pawn in the new global economic cold war currently playing out on the international arena.
Source: © Informanté - http://www.informante.web.na
25 Years of Independence and President´s Inauguration
It was a weekend of endings for some and new beginnings for others as Namibia celebrated 25 years of independence and the inauguration of the country´s third President.

President Hifikepunye Pohamba´s era ended on Saturday at the Independence Stadium when he handed over power to his successor Hage Geingob. "There is no title I will carry more proudly than being an ordinary citizen and former President," Pohamba said while giving his final address at the packed and colourful stadium.
Pohamba´s tenure of leading Namibia for the past 10 years after succeeding Founding President Sam Nujoma, officially ended on Saturday. He said a hopeful nation was born 25 years ago with Nujoma as its leader and that the journey to build a good socio-economic environment for the people will continue under Geingob. Smiling broadly, the 2014 Mo Ibrahim prize winner reminisced on his time when he took the oath to become president, describing the moment as a historic and glorious one. Pohamba said over the years, Namibia has become known as an oasis of peace and democracy on the African continent and the world at large. "I look back with satisfaction. Today over 90% of Namibians have access to education and are able to read and write," he said.

Acknowledging the presence of Martti Ahtisaari, who under the United Nations was in charge of Namibia at independence, Pohamba said people "should never forget that independence did not come on a silver platter, it came because of brave men and women who sacrificed their blood for the freedom of this country".
Pohamba urged the nation not to forget Hendrik Witbooi and Samuel Mahareo, among others, who played big roles in the fight for independence. He said the country must honour them by living in peace and unity. Pohamba paid tribute to the struggle icons Nujoma and Andimba Toivo ya Toivo. He also singled out Tanzania, Zambia, Cuba and Angola for their steadfast and selfless support for Namibia during the liberation struggle.
"It was a great honour to be President and I pay tribute to the Namibian people for putting their trust in me and for having re-elected me as president for two terms. Although many challenges still lie ahead, especially poverty and unemployment, one thing is for certain, Hage is well prepared and the country is in good hands," said Pohamba. "I am leaving office with many fond memories and reflections," Pohamba concluded.

At the age of 25, he was a founding member of Swapo in 1960. The 79-year-old politician has also been the President of Swapo since November 2007. Pohamba served in various ministerial positions from independence in 1990 when he was minister of home affairs. He became minister of fisheries in 1995 and then minister without portfolio in 1997. In 2001, he became the minister of lands until 2005. He was also the Swapo Party secretary general from 1997 to 2002 and vice president of Swapo from 2002 to 2007. The celebration was attended by heads of state, former heads of state, diplomats and other invited guests. Bishop Zephania Kameeta prayed for Geingob to be strengthened to lead the country as Pohamba had done and he also asked God to bless him with courage and good health to lead the people. He prayed that peace in the country should not be taken for granted and that all people work with their leaders for the good of the country.
Source: © The Namibian - http://www.namibian.com.na
Infrastructural Development Projects Under Way at Walvis Bay
After six successfully completed development projects in Namibia, property service developer Safland Namibia this weekend announced plans for a new, modern regional centre planned for Walvis Bay.
To be known as the Dunes Mall, the 28 000-squaremetre, N$480 million project is expected to open its doors in May 2017.

Strategically located along the Diaz traffic circle, the site almost guarantees access by anyone entering Walvis Bay from the national B2 road connecting the town to Swakopmund, or entering Walvis Bay from the airport using the C14 road. "The people of Namibia are well aware of Safland´s reputation for delivering quality centres with an exciting tenant mix," Safland CEO Kallie van der Merwe said in announcing the project. "Walvis Bay is considered a key development town and what I can confirm is that the interest from prospective tenants has been overwhelming."

The centre is expected to offer space for some 80 shops and according to architects Bob Mould Scheffer was designed to "create a cocoon which would protect shoppers against the harsh elements of Walvis Bay".
Shops are expected to be spread over two shopping levels, connected via escalators, and with two of its three parking areas under cover. "Our aim is to create a one-stop destination for young and old that will ensure a friendly and protected environment in which to shop, bank, relax and generally be entertained," Van der Merwe said.

Citing a number of important infrastructural development projects currently under way at Walvis Bay, he said the town boasted strong fundamental validation for a regional mall. "The biggest of these is the almost N$4 billion expansion of the harbour which includes the construction of the North Harbour," he said.
"This will further cement the position of Walvis Bay as the most significant harbour town and logistics hub for shopping goods and resources to and from Botswana, Zambia, Angola, South Africa and beyond." Approximately 500 people are expected to be employed during the construction phase, including a number of local residents. Once operational, the mall is anticipated to create around 800 full-time retail jobs.
Source: © Namibian Sun - http://www.namibiansun.com
Illegal Wildlife Trade Under Global Scrutiny
With the world celebrating World Wildlife Day today, leaders from around the world will gather at the end of this month in Botswana to agree on urgent action to tackle the illegal trade in wildlife.

The UK delegation to the Illegal Wildlife Trade Botswana Conference that will start on March 25 will be led by the Minister for Natural Environment and Science and Research, Lord De Mauley.

De Mauley said this conference would bring together countries from across the world to agree how to keep momentum going on implementing the London Declaration and to agree on essential new measures. He said the illegal killing and trading of endangered wildlife for profit is abhorrent.

"The poachers and traffickers who conduct these dreadful crimes must be stopped. Organised criminal networks are stealing resources from communities that depend on them, preventing them being used to secure a sustainable future."
De Mauley said the illegal wildlife trade drives corruption, devastates communities, undermines efforts to cut poverty and threatens the existence of some of the world's most iconic and treasured species. "There is anecdotal evidence that it is being exploited by terrorist organisations. The illegal wildlife trade must end on our watch."In January, South Africa and Namibia reported that rhino poaching was on the increase, said De Mauley.

In Namibia at least 24 rhinos were poached last year while 76 elephants were killed by poachers and another three this year. De Mauley said with the alarming increase of rhino poaching in Namibia during 2013/14, the UK decided to give the country about N$130 000 to support local initiatives to combat rhino poaching in 2014/15.

In order to intensify security measures and curb rhino poaching more effectively, the support covers training in crime-scene procedure offered to all parties involved such as Save the Rhino Trust Namibia trackers, Ministry of Environment and Tourism field staff, Community Rhino Rangers and the Nampol Protected Resources Unit.

"Very real challenges are faced by countries at the sharp end of this brutal trade. In some parts of Africa the illegal wildlife trade is no less than a war, with rangers being shot on a shockingly regular basis."

De Mauley said he wants to see stronger action by governments to reduce demand for illegal wildlife trade products and a clampdown on financial crimes associated with the trade. "I also want to see local people have appropriate rights over wildlife resources, so they are able to benefit from them, and be full partners in efforts to tackle the illegal trade."

He said wildlife crime has reached unprecedented levels and this issue affects many of the important international partners deeply because it is much more than an environmental issue, but also about tackling corruption, improving security and raising living standards. "If we wait any longer then we will wake up to find that all the endangered species living in the wild have been killed. We must send a powerful message to poachers and traffickers wherever they operate: the illegal wildlife trade ends here."

In February 2014 the UK hosted a high-level international Illegal Wildlife Trade conference in London. The presidents of Botswana, Gabon, Tanzania and Chad, the Prince of Wales, Duke of Cambridge and Prince Harry, Namibia's Minister of Foreign Affairs, Netumbo Nandi-Ndaitwah, representatives from 41 countries, the European Union and 10 international organisations including the World Bank and UNDP attended.

"We all agreed the need for urgent and decisive action, and signed up to an ambitious Declaration to reduce demand, strengthen enforcement and support sustainable livelihoods for communities affected by illegal wildlife trade.
"We committed to supporting a commercial ban on international trade in elephant ivory, to renounce the use of any products from species threatened with extinction, and to treat poaching and trafficking as serious organised crime in the same category as drugs, arms and people trafficking," said De Mauley.

Source: © Namibian Sun - http://www.namibiansun.com
Finnish Businesses Explore Local Opportunities
A business delegation from Finland is visiting Namibia to explore trade and investment possibilities. Led by the Finish Undersecretary of State for External Economic Relations Matti Anttonen, the group yesterday paid a courtesy visit to Minister of Trade and Industry Calle Schlettwein.

Schlettwein said the visit was in response to a similar visit paid to the Nordic country by a Namibian trade delegation, and formed part of a recent revival of the two countries' 150-year old relationship. Conceding that trade between the two was still predominantly "one-sided", the minister stressed cooperation in the health and technological sectors as vital. "We are positioning ourselves as a logistics hub in the region. We boast with stability, and want to sell ourselves as the preferred partner in Africa to invest in," Schlettwein said.

Anttonen said in response that Namibia's abundant sunshine fits perfectly with Finland's increasing focus on renewable and alternative energy. "Finland does not have many big mines," he added, "but we do have large technological companies that serve the mining industry."
Source: © Namibian Sun - http://www.namibiansun.com
International Tourism Rankings: How They Benefit Namibia
Namibia's recent international acclaim as one of the best destinations in the world will not last forever, role-players in the tourism industry have warned. Therefore, strategies are needed to address the challenges faced in the sector to maintain its competitive edge.

Several trendy global publications of late have advised international tourists to visit Namibia, ranking it among the top destinations in the world. However, Namibia's Director of Tourism and Gaming, Sem Shikongo, says while Namibia has been put on the global map as the "best-kept secret in Africa", the challenge is to put strategies in place to cash in on that momentum. "The question is, what are we as Namibia doing to maintain this position and to become the most competitive tourism destination in Africa?" Shikongo stressed that the international acclaim will not last forever and it should be sustained by addressing challenges such as customer service, value addition, training human resources and even waste management. "The onus is on the industry to sit and decide on strategies on how to maintain this momentum." From here the country must go from strength to strength to become the most competitive industry in Africa, said Shikongo.

Benefits to the industry
The Chief Executive Officer of the Hospitality Association of Namibia, Gitta Paetzold, said international rankings, especially when listed by respected publishing houses such as Wanderlust, Lonely Planet and the New York Times, are extremely valuable. International travellers are influenced more and more by online rankings and reports. Repeatedly featuring among the top destinations will definitely stand Namibia in good stead, especially with travellers who may never have considered Namibia or Southern Africa as a travel destination. According to Paetzold this has very high market value for Namibia, especially in markets where Namibia has not yet achieved high recognition, such as the US, South America and Asia. "These rankings also serve to reassure the European market, which is still Namibia's strongest market, that their choice has been spot-on." Paetzold said everyone stands to benefit from the acclaim that Namibia is receiving. She further said that Namibia has an established, loyal market base in central Europe, which should not be forgotten or neglected in all the hype of new market development. "It is thus important to maintain and nurture existing partnerships and contacts with agents, operators and clients, who have loyally supported and serviced Namibia over the years, making Namibia a travel destination with one of the highest repeat-visitor percentages."

According to Paetzold these repeat visitors have become Namibia's ambassadors and it is vital not to disappoint them. With that in mind, the Namibian tourism industry must keeps on developing new products, activities and attractions, while improving on standards and service levels to keep people coming back for more. She further said that the tourism industry is one of the most competitive industries worldwide, with about 200 different destinations competing for the same global travel market. Paetzold said when considering their annual holidays, international travellers are virtually bombarded with options and special offers. They have a wide variety of options, from internet deals to packages compiled by their local travel agents.
She said when a destination receives high international rankings, it is elevated to the top of the list of options and in most cases travellers seeking new destinations will be guided by positive reviews.

Industry challenges
Paetzold further explained that the private tourism sector could benefit directly from the international acclaim Namibia has been receiving as their products and services will now be in demand and many more people will be prompted to search for their information on the internet. She stressed that it is therefore important to have an attractive and effective presence on the World Wide Web and added that some Namibian service providers are still lagging behind in this regard. Paetzold said Namibia should ensure that its international online marketing efforts are of high professional standard because the world trend in marketing is guided by what happens on the World Wide Web. "We have shining examples of excellent internet presence of some properties and service providers in Namibia, with regular updates, speedy responses to online inquiries and professional guidance and follow-up information provided by some private-sector stakeholders. "All good intentions and international focus would be wasted if the Namibian tourism industry on the receiving end was not ready to react to increased inquiries, requests for information and reservations."

According to Paetzold the private sector should either choose to have their marketing and international exposure done by renowned international operators and agents, or ensure that they are ready to promptly respond to international requests for information. Further elaborating on some of the challenges facing Namibia's tourism industry, Paetzold said that price plays a big role. By being a long-haul destination Namibia is already a fairly costly destination. "While clients do consider general costs when making their decision on which destination to travel to, some travellers simply have a financial limit that cuts Namibia out of the equation from the start."

Paetzold stressed that value for money is Namibia's major challenge.
"We have to ensure that the travellers willing to spend their money on travelling to this long-haul destination really get value for their money in terms of both infrastructure and service. "Here, the Namibian product is still lacking from the point of arrival, immigration, and service." She said to make the tourism package perfect everyone should assist, from the immigration official to the taxi driver, the newspaper vendor, the receptionist at the hotel and the waiter in a cafe. "Tourism is simply everyone's business, and if Namibia can maintain value for money, and improve its general service level, Namibia can and will remain ranking high among the travel destinations of choice worldwide," Paetzold said.

Namibia Wildlife Resorts (NWR) said it also expects to benefit from the increased awareness of Namibia and to capitalise on the interest shown by international tourists in its facilities. Mufaro Nesongano, the company's Manager of Corporate Communications and Online Media, said NWR will help the country to maintain this momentum by offering the best service at all NWR resorts and continuously marketing itself on international platforms and advertising in international magazines. He said the company has been attending major trade fairs around the world to promote its products and services. "For instance, last year we travelled to China with the aim of providing that market with more information about our resorts," said Nesongano. According to him, NWR and the Namibia Tourism Board (NTB) have decided to work together at the international fairs they attend. "This way we are able to stand as a country when we are out there marketing ourselves."

Source: © Namibian Sun - http://www.namibiansun.com
N$100 000 reward offered for Palmwag rhinos
THE chairperson of the Save The Rhino (SRT) Trust, Samson !Uri#Khob told The Namibian yesterday that a reward of N$100 000 is offered for information which will lead to the arrest of the person or people behind the recent poaching of rhinos at Palmwag concession area.
!Uri#Khob said the reward money which was partly donated by the public, will be handed over by the police. "Poaching is very serious and we call upon people who have any information to come forward so that the poachers can be arrested," !Uri#Khob said.

A concerned !Uri#Khob said that SRT needs more human resources from the Namibian police to tackle poaching which is a huge concern in the Palmwag concession area.

"We want more action on the ground and needs police assistance in this vast area," !Uri#Khob said. Pamphlets printed in Otjiherero, Damara/Nama and English with information on procedures related to reporting rhino poaching were distributed in Kunene region this year.

Yesterday a representative of the SRT had a meeting with the Kunene regional police chief James Nderura at Opuwo. Nderura said the media will be briefed on Friday about the discussions.

Last year more than 20 rhinos were lost due to poaching in Namibia. Recently a rhino cow and her calf were poached in the Palmwag concession area. A decision to dehorn Namibia´s rhinos, in an attempt to combat the rhino poaching crisis in the country, has met with a mixed response.

Namibia´s tourism industry is the third largest contributor to the country´s GDP, and the killing of iconic wildlife such as rhinos and elephants negatively impacts on Namibia´s reputation as a tourist destination.

Anyone who has information of a wildlife crime being committed or planned is urged to SMS the toll-free and confidential wildlife crime alert number 55555.
- See more at: http://www.namibian.com.na/indexx.php?id=21828&page_type=story_detail#sthash.YZtQxNKS.dpuf
Source: © The Namibian - http://www.namibian.com.na
SADC Observers: Namibian Elections Free and Fair
WINDHOEK – The elections on Friday were a credible reflection of the will of the majority of the people of Namibia, the SADC Parliamentary Forum Election Observation Mission said on Sunday.

The mission deployed eight teams, with two teams in the Khomas Region, one team in Oshana and Omusati in addition to a team in each of the following regions: Erongo, Hardap, Omaheke, Otjozondjupa and Zambezi. The teams were in the field from November 21 to 29.

"The 2014 Namibia Presidential and National Assembly elections [were seen] as having been free, credible, transparent, peaceful and democratic," said head of mission Advocate Jacob Francis Mudenda who is also the Speaker of the Zimbabwe National Assembly.

Mudenda commended the contesting political parties, the candidates, the electorate and all stakeholders in the country for the peaceful manner in which they conducted themselves during the electoral process and urged all to maintain this spirit in the post-election period.

"Namibia must be congratulated, notwithstanding some glitches, for having pioneered the use of EVMs during the 2014 elections," he said, adding that other African countries could emulate Namibia's example.

The SADC observer mission however recommended that express provisions be made in law regarding the period during which the Electoral Commission of Namibia (ECN) is obliged to officially publish election results to guard against the possibility of conflict and public anxiety.The mission further suggested there is a need to come up with a code of conduct to govern media coverage of elections.

It also proposed the need for adequate time to fully operationalise and publicise – including through voter education – any new legal provisions among stakeholders in particular the electorate, before an election in order to enhance trust and credibility of the electoral process.

Namibia is the first African country to introduce the use of electronic voting machines (EVMs).

On Friday many voters could not cast their votes due to the technicality of the EVMs and faulty hand-held scanners to verify voter cards and fingerprints.
Scores of voters waited for more than ten hours to vote and long queues remained until 4am on Saturday.
Source: © New Era - http://www.newera.com.na
Voter Education on the Use of Electronic Voting Machines
WINDHOEK- The Electoral Commission of Namibia (ECN) conducted voter education on the use of the electronic voting machines (EVMs) at various places in Windhoek over the weekend.

"So far more than ninety percent of the people we taught understand the machine," said Kennedy Tjipurua, team leader of the group that conducted voter education at Tura medical centre just opposite the Katutura community hall on Saturday.

Tjipurua said many people who stopped by to listen were eager to learn how to use the Indian-made EVMs that will replace manual voting."The demand from the public to learn how to use the machine is very high. Even the old people are eager to use the machine," stated Tjipurua.

After being shown how to use the EVM, an elderly man Victor Thomas told New Era that he "cannot wait to use the EVM in the upcoming election"."I think it is better to use the machine because some people cannot read. Now we will just look at the face of our preferred presidential candidate and press the button," said Thomas.
Source: © New Era - http://www.newera.com.na
Industrial Policy Implementation Strategy under Way
IN its quest to industrialise the nation, Namibia can expect tough competition from other countries, Minister of Trade and Industry Calle Schlettwein has said.
Speaking at the Namibia Manufacturing Association Gala dinner last week, Schlettwein said Namibia will have to frequently review her incentive regime that includes tax and non-tax incentives.

"I am glad to inform you that the manufacturing incentives are being reviewed at the moment. The main aim of the incentive regime is to develop our industrial competencies and capacities with the ultimate view to explore the frontiers of our production possibilities," he said.

He said it is widely recognised that the manufacturing sector plays a strategic role in economic development and is a component of industry that presents significant opportunities for sustained growth.

EXPORTS

In the Fourth National Development Plan (NDP4) the manufacturing sector was identified as a priority. In 2012, the sector generated exports to the value of N$21 billion, the equivalent of 53% of total exports of goods of that year.

Of the N$21 billion, 49% consisted of food products and beverages, 13% of refined zinc and blister copper, and the remainder other manufactured goods.

According to the Namibia Statistics Agency´s Labour Force Survey 2013, there were 32 769 employed workers in the manufacturing sector compared to 28 409 employed in 2012 and related industries which effectively comprises 4,8% of the total labour force.

"This figure clearly shows that the sector is still relatively small in employment terms but expanding. This for me is very significant and calls for more concerted efforts to even further increase GDP contribution from manufacturing through the multiplier effects and linkages," Schlettwein said.

CHALLENGES

He said manufacturers are facing various challenges that constrain their ability to produce and compete effectively at home and in export markets elsewhere.

Schlettwein said these problems are the high cost of technology, utilities, production input, finance, transport and logistics, as well as the shortage of skills. In addition, the industry sector is under constant pressure to cut costs, to improve quality, to meet environmental and international standards and to penetrate markets saturated with competitive products.

"The government equally has a role to play in the country´s industrialisation. Therefore, we developed the Industrial Policy and its Implementation Strategy Framework to guide and support the manufacturing sector to overcome the constraints mentioned earlier," he said.

SHARED

Schlettwein said industrial development is recognised as a shared responsibility between the private sector and public sector.

The industrial policy advocates for smart partnerships in Namibia´s quest to industrialise, including the promotion of public-private partnerships (PPPs) and other forms of cooperation between the public and private sectors.

"The ministry is currently busy developing the first set of sector growth strategies as part of the Industrial Policy implementation strategy to accelerate manufacturing activities, value addition and develop local value chains within the country as well as beyond the Namibian borders," he said.

In addition, the ministry is also reviewing the SME policy aimed at assisting SMES with entering formal business and the manufacturing sector.

In the current financial year, 1006 companies have benefited through the ministry business support service programmes, most of these were SMEs.
- See more at: http://www.namibian.com.na/indexx.php?id=19482&page_type=story_detail#sthash.uddhWqLZ.dpuf
Source: © The Namibian - http://www.namibian.com.na
Scholarship Funds Expected from Frank Fredericks Foundation Golf Day
WINDHOEK – Namibia's leading golfers are to tee off at the Windhoek Country Club golf course when the Frank Fredericks Foundation (FFF) plays host to a fundraising Golf Day on October 17.

The annual gathering is aimed at raising funds for academic and sport scholarships for young, talented student athletes in Namibia. The competition is expected to attract golf enthusiasts from various local organizations and will include a 'Betterball Hidden Partner' format.

Teams of four members each can enter the prestigious event for N$5000. Prizes for the top ten teams will be made available, whilst prizes for the longest drive and the closest to the pin will also be up for grabs.

"I would like to urge all golf enthusiasts to support this noteworthy initiative as the funds raised will directly benefit young Namibian student athletes both academically and in their sport careers." said Frank Fredericks, founder and chairperson of the FFF.
"I believe that this will also be a great opportunity for companies and individuals to interact and get to know more about the activities held under the patronage of the Foundation," added the athletic icon.
Source: © New Era - http://www.newera.com.na
Solid Waste Equipment for Etosha
The Ministry of Environment and Tourism received equipment worth nearly N$3 million from the Millennium Challenge Account Namibia (MCA-N) on Tuesday. The donation forms part of MCA-N´s tourism project to support the ministry´s efforts to implement sound solid waste management at the Etosha National Park.

These consist of five trucks (one five-tonne truck with a crane, one three-tonne truck, and three two-tonne trucks); one Toyota Land Cruiser 4x4; 900 wheelie bins; 250 one-cubic metre storage bags; 30 paper-recycling boxes; and two deep-freezers.

The Ministry of Environment´s deputy director of regional services and park management, Boas Erkki said during the handing-over ceremony the donation came at the right time as the MET is currently busy addressing waste management in protected areas.

"The waste is a threat to our wildlife and biodiversity. As a result, the MET has formed a task team, with a consultant already appointed in 2013, which resulted in the Millennium Challenge Corporation (MCC) drawing up a comprehensive national solid waste management strategy for protected areas," he noted.

Waste and recycling material at Etosha will be collected from rooms, campsites, staff rooms, kitchens, restaurants and offices.

It will then be separated according to types (glass, plastic, metal) into wheelie bins.

The five trucks will be used to collect and transport recyclable materials at Okaukuejo and Ombika (situated within the park) to a holding area, before being transported to Windhoek for recycling.

The deep-freezers will be used to store food waste from the kitchens and restaurants at Okaukuejo before collection by pig farmers from the Serinkob area.

The Land Cruiser will be used by the MET for monitoring and supervising activities across the park.
Source: © The Namibian - http://www.namibian.com.na
More Financial Inclusion for Namibians
Minister of Finance Saara Kuugongelwa-Amadhila spoke about progress implementing the National Financial Sector Strategy last week when she said that, "the good news is that, commendable progress has been made so far resulting from an improvement in financial inclusion reaching 69% of the population."

The strategy launched on 15 August 2012 targets 74% financial inclusion of the economically active portion of the Namibian population by 2021.

The financial inclusion strategy rests on the two pillars of consumer financial literacy and protection as well as access to financial services and products. Fundamental reform initiatives that remain vital include consumer financial education driven by the Financial Literacy Initiative also launched in 2012. "This initiative has since been rolled out to virtually all regions of the country and several educational programmes are being advanced to the public. But what matters most is the effectiveness of such interventions and progress made over time," the minister said. To determine that effectiveness the minister launched the first Financial Literacy Baseline Survey in Namibia in June. It revealed that financial literacy in Namibia is estimated at 42,8%.

In terms of consumer protection, Namibia has now gazetted the Credit Bureau Regulations to regulate credit information and for the registration of credit bureaus with the Bank of Namibia which will regulate the industry. The ministry has also facilitated the introduction of the basic bank account and removal of all cash deposit fees by 31 March 2015. At the end of 2013, the number of active basic bank accounts at banking institutions were about 96 072.

Other on-going initiatives to enhance access to finance by small and medium enterprises include the investigation of setting up a risk facility fund for start-ups led by the Development Bank of Namibia. A study to explore the viability of a credit guarantee scheme is also being undertaken by the Bank of Namibia. Regulations amending the Banking Institutions Act 2 of 1998 and aimed at protecting bank customers against the use of unfair and unclear terms in bank contracts are currently subject to consultations with the banking industry. Also the Financial Services Ombuds Bill has been drafted and is being refined.
Source: © Informanté - http://www.informante.web.na
Education, Training are the Main Pillars
ONGWEDIVA – President Hifikepunye Pohamba believes education, training and capacity building are the main pillars for accelerating economic development, creating employment and combating poverty.

Pohamba made these remarks on Saturday at the Ongwediva Annual Trade Fair (OATF) whose theme this year is "Imparting Knowledge, Enhancing Capacity". He said the theme recognises the importance of the linkages between education and training.

Pohamba said the focus on imparting knowledge and skills and capacity building must remain central pillars of the national development agenda.

"It has been demonstrated in many countries around the world that education and training are critical factors in accelerating socio-economic development," said Pohamba.

He said Namibia needs an educated society and an educated workforce to achieve the goals of expanding the manufacturing base and industrialisation towards Vision 2030.

"It is important to expand vocational training programmes to equip our young people with practical skills and knowledge. Armed with such skills and knowledge, our people will be able to start their own businesses, or to be readily recruited in the labour market," stated Pohamba.

He said young people should equip themselves with plumbing, bricklaying, welding and electrician skills among others to fill the gaps and tackle concerns that many public facilities are falling into a state of disrepair.

"We need them as part of the maintenance teams within the civil service and also as entrepreneurs in the private sector who can be contracted by public institutions such as the central government, regional councils and local authorities to keep our facilities such as this hall where the Ongwediva Trade Fair takes place every year, in a good state of repair," said Pohamba.

The president also applauded entrepreneurs for being job creators and bringing services close to the people, adding that businesses create jobs and not the government.

Pohamba was pleased with the pace of business development in the area, saying that during the colonial era there were only four shops in the four northern regions.

He said the development fruits reaped are a result of the growing business population.
Source: © New Era - http://www.newera.com.na
Human Trafficking Bill Near Conclusion
Despite being a signatory to international and regional conventions against human trafficking, the lack of a national intervention plan to curb human trafficking will see the tabling of the long awaited Human Trafficking and Child Protection Bill in Parliament later this year.

In its annual report released in 2013, the United States Department of State's Office to Monitor and Combat Human Trafficking (TIP) classified Namibia as a 'Tier 2' and placed it on its watch list for a second year running for what it described as minimum effort from the Namibian government to combat human trafficking.

A 2009 Qualitative National Baseline Assessment by the Ministry of Gender Equality and Child Welfare (MGECW) found that Namibia is a key in a chain of organised crime between Angola, Brazil, Columbia, the Democratic Republic of Congo, South Africa, Zambia and Zimbabwe.

Another government study conducted late last year in a number of towns and border posts across ten regions urgently called for the conclusion and enactment of the Human Trafficking and Child Protection Bill.

Even though Namibia has a national plan of action on gender-based violence which called for an urgent solution against human trafficking, there exists no systematic anti-trafficking efforts to ensure progress in prosecuting traffickers.

At the moment, Namibian laws against trafficking are only covered under laws against forced labour and under the international conventions ratified by Namibia. MGECW minister Rosalia Nghidinwa and permanent secretary Erastus Nevonga both confirmed that the ministry has concluded the drafting process of the bill, with the draft currently under review by legal drafters. "Once our stakeholders refer the draft back to us, I will then take it to Cabinet before it is tabled in Parliament," Nghidinwa said.

Nevonga added that the bill will definitely see its way to Parliament for discussion not later than the end of the year. Namibia has never convicted a trafficking offender, with the latest case ending in the acquittal of a Namibian of Nigerian origin, who faced human trafficking charges but was acquitted on 17 July in the Oshakati Regional Court.
Source: © Informanté - http://www.informante.web.na
Young Inventor Turns Scrap into Satellite Booster
ONGWEDIVA – A self-made inventor from northern Namibia has invented a satellite dish booster from scrap material to boost internet connectivity through radio signals for people in rural areas or in areas that have weak network signal.

Josua Nghaamwa said he is inspired by Alexander Graham Bell who invented the modern telephone that has presently become a daily necessity.

Nghaamwa initially made his mark at the age of 18 when he created a cellphone using discarded radio parts and old toy cellphone scraps and other junk material. His first invention could reach a cellphone of the same altitude over 1000km using radio signals.

After four years since his first invention, Nghaamwa is back with a home-made foil satellite dish booster, which aims to deliver fast internet access to the widest population at the lowest usage and capital cost and create a strong competitive business.

Nghaamwa says the dish is designed to fit in a laptop bag and has a USB serial port that enables users to plug in their modem, router or cellphone into one of the ports to increase the internet connection speed and it is also a wireless device that supports Bluetooth and wireless (WI-FI) technology.

"The prototype satellite dish is a device which is built with foil, designed to improve internet speed and poor availability of Global System for Mobile Communications (GSM) signal, especially in rural areas were digital communication is at its fancy." According to Nghaamwa "the products target farmers, as well as anyone with internet access to a GSM device anywhere in the world and want to have a faster and more reliable connection."

Apart from its distinctive radio signal usage, the dish is designed in a small package with user-friendly satellite terminals that could be used by anyone depending on the wavelength and the location from where the recipient is using his amazing gadget.

Besides the great inventions including the unfortunate incident in which he half burnt his uncle's house after a mixed-herb experiment went out of hand, Nghaamwa says many promising inventors will continue facing the sad reality of having to store their work at the back of their garage instead of being transferred into something usable by society.

According to Nghaamwa, the inventions bring a lot of excitement, however, there needs to be complementary encouragement in terms of state funding to make the projects usable. "Many of these social networks that we use today were experiments from other young people in other countries," related Nghaamwa.

Nghaamwa said that there is much to be desired for young inventors saying it is about time that Namibia creates a manufacturing company of its own.

Despite the insurmountable challenges he faces Nghaamwa encourages his peers to invent things that could make life much easier. At the moment Nghaamwa is hopeful he would find sponsors to patent his invention for commercial use.

The young innovative man has a patent certificate issued by trade and industry.
Source: © New Era - http://www.newera.com.na
Namibia is on Track with Millenium Development Goals
The Director General of the Namibian Planning Commission (NPC) Tom Alweendo says Namibia has so far fared well in the United Nations Millennium Development Goals (MDGs), with the exception of the health sector where maternal health still needs improvement.

Alweendo said this when he briefed the media on preparations for the next global development agenda.

The African Union (AU) adopted a Common African Position (CAP) post the 2015 MDGs period, which ends in September 2015.

"The time has come for us to embrace the agenda, not because it's a global development agenda, but because it makes sense to us," he said, adding they will use the CAP as a negotiation tool for the global development agenda.

He said that as a continent it was time to embrace the agenda and also to start telling people "this is what Africa wants" when they meet at the UN Assembly in September next year.

The overall objective of the CAP is for Africa to assert itself in promoting continent-driven development initiatives as opposed to externally-driven ones.

Some of the key points on the CAP's agenda include structural economic transformation, science, technology and innovation, people-centred development, environmental sustainability, peace and security and finance and partnership.

"There is a commitment to remain focused on pertinent development issues by completing the unfinished MDGs," stated Alweendo.

He said that they resolved to reverse Africa's dependence on primary commodities, to create decent jobs and to strengthen resilience to external shocks.

The African leaders committed themselves to promoting effective, open and participatory governance at national, regional and international levels.

"To this end we need to develop effective resource mobilization programmes and embrace innovative financing mechanisms," he said, adding that foreign direct investment continue to be an important pillar for financing Africa's transformation.

He said that African leaders needed to ensure that CAP was implemented, but that it all ultimately lies with individual AU member states to provide leadership.

"For Namibia, we can say that we are in a lucky position because the areas are already part of our development agenda that just need to be strengthened," he added.

The MDGs are eight international development goals established in 2000 to eradicate extreme poverty; achieve universal primary education; promote gender equality and empower women; reduce child mortality; improve maternal health; combat HIV/AIDS, malaria and other diseases; ensure environmental sustainability and develop a global partnership for development by 2015.
Source: © New Era - http://www.newera.com.na
Namibia Gets a New Telecommunications Product
The ever competitive Namibian telecommunications market is about to get a lot more crowded with the arrival of miFone, Africa's first hand-set originating from Uganda.
According to Nashandi, the very first batch of miFone sets landed in the country last year on 8 August, and already a distribution and retail network has been established to take the smart little devices to the far-flung corners of this country. Some 17 towns already have outlets, many through the contacts of main distributor Kolok Namibia.

Most recently, Shift Technology Solutions, which is the Namibian company trading as miFone Namibia, have signed with tnMobile of Telecom Namibia, to access more retail space across the country, Nashandi said.

The product range covers low entry models through to the top of the smart phone range, the SAWA XL, which she describes as on-par with better-known Samsung products like the S4. However, the appeal of these phones, apart from their African origin, must be in the pricing. Entry-level models are expected to retail for less than N$200, while the SAWA XL is being provided to tnMobile at a cost price of N$3 500.
"This is the first African brand and we are the only ones who make an African phone, made for Africans," said Nashandi adding that, "everyone deserves a nice phone." The former model spoke of Alpesh Patel, the Ugandan born entrepreneur who quit Motorola to launch miFone in 2008, his dream of providing for the "bottom of the pyramid African consumer", his millionaire status at the age of 23, plans to build a US$30 million manufacturing facility in Nigeria, and the brand's product expansions into desk-top speakers, clothing ranges and even credit cards, for which they are currently negotiating with local banks.

Until now the manufacturing facility is running the phones, developed and processed in Uganda, are manufactured in Hong Kong. Currently they are sold in 14 African countries and last year more than 1,5 million units were sold. Nashandi also pointed to value addition packages sold with the phones including bags, caps, cups and phone accessories. Phones in Namibia are also preloaded with local content such as songs from Exit and Hella Nghifindaka.
Source: © Informanté - http://www.informante.web.na
Stimulus Grows on Local investment
Monica Kalondo and Rein van Veen led the presentation of Stimulus Investment Unlimited financial results up to June this year this week when she said that the success recorded proves that unlisted investment is viable in Namibia.

For the year, the portfolio which is listed on the Namibian Stock Exchange and run by 49% shareholder Stimulus Private Equity under management agreement, achieved returns of 23,8% on gross, excluding cash. The fact that N$166 million of the portfolio's funds are still not invested has admittedly put a considerable cash drag on performance, including that cash net return was a much more modest 12,3%.
Nevertheless, Kalondo highlighted the positive developments in businesses where Stimulus is invested, in particular its 36% interest in Plastic Packaging.
Now employing around 580 people, the plastic bag and sheeting manufacturer is booming on the back of strong exports to Angola. Anticipating Angola's imminent clamp-down on imports, Plastic Packaging is busy setting up a manufacturing facility in that country, while also acquiring Wilmore's Packaging in Kimberley, strengthening its position in South Africa. Through Plastic Packing, Stimulus also owns 12,5% of Polyoak Namibia, the only plastic bottle manufacturer in the country, and 36% of property group Plaspack Investments.

Stimulus' 26% in Nashua Namibia is generating stable earnings, while strong growth potential as Nashua Communications aggressively pursues government surveillance and communications contracts. The diversified media group Namibia Media Holdings (NMH) in which Stimulus holds 50% may face profitability challenges in the 2016 financial year due to increased competition, she pointed out.

Stimulus now holds investments to a total value of N$283 million of which N$110 million are in the form of underlying properties. For the financial year it generated after-tax profits of N$12,75 million and an ex-dividend value has been attributed to preference shareholders at N$118,68 per share.

Apart from preference shareholders, Stimulus is owned by Monica Kalongo, Wilhelm Shali, Sisa Namandje, Pointbreak Equity and black empowerment vehicles Stimulus Trust, the Disability Benefit Trust, Vita Thom Scholarship Fund Trust for the education of Himba children, and the Mukwamhalan ga Tukondjeni Community Trust.
Source: © Informanté - http://www.informante.web.na
Rhino Poachers Must Get Life Sentences - Herunga
Environment and Tourism Minister Uahekua Herunga says rhino poachers must be sentenced to life in prison.
The minister was speaking at a dialogue held in Windhoek this week, titled ´Protected Area Governance for Livelihood Security and Biodiversity´, which highlighted that poaching remains one of the biggest challenges across Africa, including in Namibia.
The discussions brought together the heads of protected area agencies from the SADC region and other African countries.
Herunga opened the dialogue and pleaded for rhino poachers to be sentenced to life in jail.
He said that the protection of wildlife should essentially involve preventing crime.
"The focus should be on preventing animals being killed illegally and not just on following up after they have been killed. Perhaps the most effective component of wildlife crime prevention is that of establishing and maintaining a law enforcement or security presence on the ground."
Herunga said wildlife protection requires dedicated, well-trained and well-equipped field staff.
He, however, added that in the face of highly valued products, such as rhino horn and ivory, and the involvement of external criminal syndicates, this is seldom sufficient and additional components are required.
"We should find ways as the African continent to stop these illegal activities... We need to collaborate as African States. We need to have joint intelligence on this matter, and learn from each other."
Herunga said that human/wildlife conflict is another challenge that communities living in and adjacent to protected areas is faced with.
According to him, living with wildlife often carries a cost, with increased wildlife populations and expanded ranges into communal and freehold farming areas resulting in more frequent conflicts between people and wild animals, particularly elephant and predators in many areas.
"This has resulted in livestock and crop losses, damage to water installations and in some instances, loss of human lives."
He said that because of the scale and urgency of the problem, the ministry has developed an integrated, flexible and comprehensive policy toward dealing with wildlife conflict that can provide a framework for all stakeholders, and can meet the country's national and international commitments to biodiversity conservation, while taking into account the rights and development needs of the people.
Herunga said that through good governance the rights of poor communities living in and adjacent to protected areas can be respected within the frameworks of biodiversity conservation and human rights.
"Good governance in protected areas provides opportunities for win-win solutions for conservation and development, whereas poor governance tends to undermine both goals."
According to him the quality of governance affects management effectiveness, helps determine the generation and sharing of costs and benefits, and helps ensure community, political and financial support for sound management of natural resources.
He said that conservancies are now being established as local community-based institutions for managing natural resources.
Through legislation, communities that form conservancies gain management rights over wildlife and tourism. They are able to use these management rights to develop economic opportunities, such as ecotourism and hunting.
According to the minister these opportunities in turn bring income and jobs for communities in some of the poorest areas of the country.
Source: © Namibian Sun - http://www.namibiansun.com